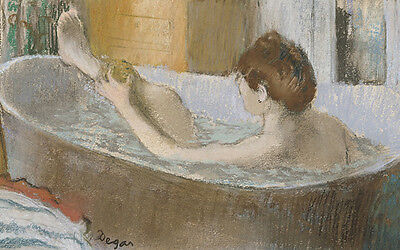 Having a bath is one of life's pleasures, but if you have difficulty getting in or out of the bath it can be frustrating and uncomfortable. Here are 8 clever ways to make having a bath easier.




1. Bath lift

An electrically-powered bath lift is the luxury way to enjoy a bath. All you do is sit on the seat and press the control, and you are safely and smoothly lowered into the bath. When you've finished bathing, press the button again and the lift raises you up. You can find bath lifts to fit most types of bath, even non-standard shapes, without having to alter your bath. A bath lift isn't permanently fixed to the bath, so it can be packed away when not needed. An inflatable bath cushion, which uses air to lower you right down into the bath and up again, is an alternative to fixed-seat models.

2. Bath board

If sitting right down in the bath is a problem, a bath board is a great way to have a wash or shower in the bath while still being able to get in and out easily. It fixes securely to each side of the bath at the opposite end to the taps and you simply slide onto it. Bath boards are lightweight, easily set up and dismantled, and are suitable for most standard bath types. If you like to sit deeper into the water but not on the bottom of the bath, you can use a bath board with a bath seat (see below).

3. Bath seat

You can use a bath seat on its own, or with a bath board to move from the edge of the bath down into the water. A bath seat fixes to the bath floor on suction feet and most are height-adjustable to be both comfortable and stable. An alternative to fixed bath boards and seats is a swivelling bath seat, which can be locked in four different positions, from the edge of the bath to facing the taps.

4. Bath steps

If you need a little extra help to get into and out of the bath, a bath step can be a very neat solution. Purpose-built bath steps are much safer than DIY versions as they are non-slip, stable and designed to be adjustable so you can position your step at exactly the right height for you. You can choose from versions that are stackable, with steps that link together, or a version that includes a hand rail for added safety. A bath step can be used on its own or with another bathing aid such as a bath lift, seat or board.

5. Grab rails and supports

If you are using any kind of bathing aid, a grab rail on the bathroom wall is a sensible addition to keep you supported as you move around. Grab rails come in different lengths and finishes and can be positioned exactly where you need them. It's best if they have a non-slip central section for safety when your hands are wet. As well as wall-mounted rails, you could choose a floor-mounted model that provides a firm, angled rail to help you in and out of the bath, or a rail that clamps securely to the freestanding side of the bath. When fixing bathroom grab rails to the wall or floor, it's best to get professional help to ensure you use the right fixings and avoid any cables.

6. Bath water alerts

Stepping to a scalding bath can be extremely dangerous – and of course no one wants to cope with a flood in the bathroom if the water overflows. If this is a worry for you, you can buy a handy gadget that sticks to the side of the bath and monitors both the temperature and the water level, and sounds an alarm if either is too high.

7. Tap turners

If you have rounded or cross-head bath taps, you might find that they are hard to grasp, especially when your hands are wet. This can be dangerous if, for example, you can't turn the hot tap off quickly. There's no need to replace your taps though; a set of tap turners can quickly and easily adapt your taps into long levers, so it takes far less strength to turn them on and off.

8. Washing aids

Once you're in the bath, having a good wash means being able to soap those hard-to-reach places such as between your toes or your shoulder blades. There is a wide range of bathing accessories you can buy to make this easier, including a long-handled towelling toe washer and bath sponges with extra-long handles – ideal gifts for the bathing beauty in your life!