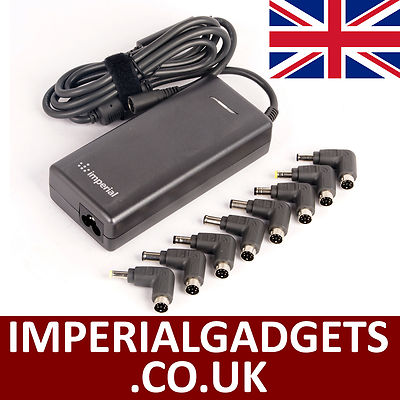 Laptop chargers don't tend to be thought about much as they come bundled with many new laptops - but when lost, stolen or damaged, it can sometimes be a pain to get a new one - where it's not a pain, it can be expensive!

Here are some quick pointers for you to follow when choosing a new laptop power adapter. We obviously stock a very good one ourselves but it's also worth keeping these points in mind no matter where you are shopping, on or off eBay! For more related news you can always check out the blog section of our website.
5 Tips on Laptop Power Adapters to AVOID
There are a vast number of different power supplies you can buy for a laptop. As a general rule, make sure you avoid the following:

1. Unless you have a super specific reason, don't buy a solar laptop adapter! It's super friendly to the environment but compatibility is seriously lagging behind and even though they're efficient, part of that reason is that they're very slow to charge.

2. Don't "cheap out" and go for the most inexpensive one you can find. The reason lots of laptop chargers are cheap is because they're MADE that way. Components inside are either really low quality or in some cases, safety components are skipped entirely in the name of cost saving. This is great on the wallet but really dangerous not only for the power supply but also for your computer - beware! There's a reason good chargers don't cost £10, don't be fooled.

3. This kind of goes without saying, but don't purchase a power adapter meant for another brand. It's possible the laptop tip (connector) is similar on a Toshiba vs a Sony for example, but more often than not there might be differences in voltage / current requirements and this could result in some serious damage. Match up your make as well as your exact model number, or get a universal charger that guarantees this compatibility for you.

4. Check for the right marks! Make sure you see a CE (European standards) and ROHS (no hazardous materials certified used in manufacturing) logos on the charger itself to know that what you're buying is of a great quality. Some cheaper chargers don't bother with either, and some banned substances unfortunately are cheap in the manufacturing industry so this helps them drive their costs down too. At the expensive of the environment and potentially your laptop!

5. Finally, try to avoid OEM chargers unless you absolutely have to. Laptop manufacturers (Apple is the most obvious example but all the major brands are the same) make all their money from the laptop itself, and not from accessories - so they try to make the charger as cheap as possible, then ramp up the price! The upside here is that the charger will definitely be compatible with your laptop, but you'd end up paying twice or thrice more for what is really a super-basic product.
3 Do's for Finding a Good Laptop Power Adapter to Buy
Now that we've gone through some of the Don'ts, let's check out the Do's!
1. Make sure the laptop power supply you're buying fits the voltage on your computer! If you're not sure about this, any good shop should respond promptly to an e-mail asking about it, before you ever make a purchase. Just let them know (such as on our site) your laptop's make and model number.
2. Ensure the power adapter you buy meets all the relevant safety standards. As mentioned previously in this article, the ROHS and CE marks tend to be great indicators of whether the manufacturers have put effort into ensuring your safety and that of manufacturing standards.
3. Look for extra-thick cables if you use your laptop a lot - so many companies make chargers that work but cables fray over time...I'm thinking particularly about Apple here whose chargers are famously known to fray and break very quickly compared to lots of other companies. Extra-thick adds a little bit of weight but a LOT of life to your charger!
4. Last but definitely not least, buy from a place that guarantees compatibility. Since OEM chargers are so expensive and lack advanced features in terms of safety as well as practicality, Imperial Gadgets ensures our universal charger matches your laptop make and model BEFORE anything gets shipped - you can either buy from our most common 8 tips (included) or you can go via the website for other models and include a custom tip with your order.
You can check out our
buy laptop charger
eBay auctions here, where the auction also includes 8 of the most common tips - but you can also go via our website if you have any other laptop, including MacBooks and MacBook Pros!