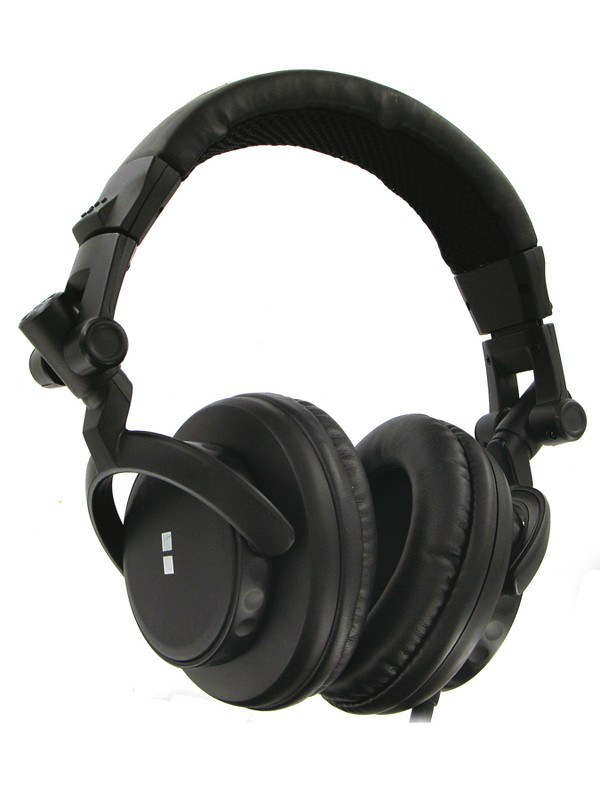 As any casual search on eBay will confirm, there are literally thousands of DJ headphones for sale on the site at any particular time. The range of types available is huge and represents just about every style of headphone currently produced by a wide range of manufacturers. It also includes a huge number of discontinued models being sold as used items. For anyone looking for headphones on eBay that are designed, or at least suitable, for DJ work, the following points are worth considering before making a choice.
1. Noise Isolation
DJs work in a variety of venues. Basically, DJ venues fall into two types: noisy venues such as clubs and pubs; and controlled sound environments such as radio broadcast studios. Controlled sound environments allow for a large range of headphone types to be used whether they're branded as DJ style or not. DJs working in noisy, uncontrolled sound environments, such as clubs and pubs, need headphones with good noise isolation properties. They need to be able to hear clearly the music being delivered through their headphone speakers and not have the sound quality or level compromised by extraneous noise from the crowd of people they're performing for. Circumaural headphones, which enclose the ears, provide excellent noise-isolating properties. Every eBay headphones listing will include a photo of the headphones, so it is usually easy to see at a glance if they are designed to cover the ears and exclude extraneous noise.
2. Quality
Conscientious and professionally-minded sellers on eBay typically provide lots of information regarding the specifications of their items. When selling DJ headphones, they will include data such as frequency response and sensitivity. Both of these are important factors for DJs. Modern, good-quality DJ headphones have high sensitivity, meaning they are able to reproduce weak input signals at a reasonable volume level. They also have an impressively wide frequency response with minimum distortion throughout the entire audible frequency spectrum, which means that deep pulsing bass and piercing trebles will be heard clearly. Good-quality DJ headphones will also be robustly built, but also light and comfortable to wear for extended periods.
3. Cord Length
Although wireless headphones are available and used in certain situations, the vast majority of DJ headphones on eBay, as well as in general use, are wired. While the included photo on any eBay DJ headphone listing is ideal for seeing the design and condition of the headphones, it may not be able to show the cord length clearly, so make sure the length is mentioned in the headphone description that appears in the listing. Nothing cramps a DJ's expressive style more than a headphone cord that is too short. It restricts freedom of movement. On the other hand, using headphones with a cord that is too long risks tangling and snagging of the cord. A two to three metre cord is considered ideal for most situations. Any cord shorter than one and a half metres is too restricting and would almost certainly need an extension cord to provide the required length and freedom of movement. Inexpensive headphone extension cords can easily be found on eBay, however, so it is a problem easily solved.
4. Cord Style
A fair amount of importance is also given by DJs to whether the cord is single-sided or double-sided. Double-sided cords are split and then fed individually to each speaker, forming the familiar 'Y-shape' dangling below the wearer's chin. Single-sided cords are fed to one headphone speaker and then connected electrically to the other speaker via the headband. Many DJs find the single-sided cord style more convenient and less liable to 'curling' below the chin. Curling of the cable not only looks unsightly, it effectively reduces the length of the cord. If the eBay listing description of the headphones doesn't mention which style of cord is used, check the photo. It should be possible to see whether the cord feeds just one earphone speaker or both. Otherwise, the Ask the seller a question option can be used to obtain any required information directly. The question and the seller's answer will be posted on the listing page.
5. Jack Plugs
Most DJ Headphone cords terminate in a jack plug that is either 3.5 millimetres or 6.5 millimetres (more commonly referred to as quarter inch) in diameter. This is not a major consideration as headphone jack plug adaptors, like extension cords, are relatively inexpensive and easily obtained on eBay, so don't make the wrong jack size a reason for not buying an otherwise perfect pair of DJ headphones. There may even be an adaptor included with the headphones. The size of jack will be mentioned in the listing's item description section along with other specifications.
6. Price
The prices of DJ headphones advertised for sale on eBay are highly variable and depend on many factors, such as the quality of the headphones, their condition (in the case of used headphones) and delivery and packing charges. A no less important, but far less predictable, factor applies to headphones being sold as auction items. If a particular pair of headphones is being auctioned but has attracted little interest in the form of bids, there is a good chance that they will be sold to the highest bidder at a price far lower than they're worth. The seller may have specified a minimum selling price meaning that if the bids don't meet that price by the time the auction ends, the auction will be cancelled. However, as selecting this option incurs a fee; many sellers don't use it for relatively inexpensive items, such as headphones. When the auction ends, the seller, in accordance with eBay's terms and conditions, will be obliged to sell the headphones to the highest bidder, however low the price.
7. Location
It is obviously a lot more convenient to buy DJ headphones that are physically located within the UK rather than from abroad. For that reason, eBay UK should be the default eBay site as most of the DJ headphones listed will be from UK-based sellers. eBay UK even provide a distance filtering option that enables anyone to filter out from the search results headphones that are located beyond a certain distance from their postcode. With so many headphones available, the chances of finding a suitable pair within the same town are high. In many cases, they can be collected in person, which avoids the inevitable delay and expense of posting and packing.
8. Condition
Many used DJ headphones are also available for sale or auction on eBay. Headphones sold as new will, of course, be in perfect condition. Those being sold as pre-owned may not be, but any imperfections will be mentioned in the listings. They should still be in excellent working order, however. They may not look quite as pristine as they did when first bought, but they should still deliver the same sound quality. DJ headphones tend to suffer more wear and tear than other headphones due to the environment they're used in, but any imperfections will be superficial and won't affect the sound quality.
9. The Seller
Before buying a pair of DJ headphones on eBay, take note of who is selling them. In order to reassure all their users of a safe and trustworthy online buying and selling platform, eBay provide a very reliable method of gauging the professionalism of anyone selling items. Their feedback system allows anyone to view any seller's previous transactions and to see the feedback and ratings supplied by past customers. Sellers who offer a professional and helpful service consistently receive good ratings from satisfied customers. Buying from a highly-rated seller ensures a smooth and quick transaction with minimum waiting time. Look out, too, for sellers displaying eBay's Top-rated Seller accolade.
How to find DJ Headphones on eBay
The most obvious first step in finding a suitable pair of DJ headphones on eBay UK is to enter the search term "DJ headphones" into the search box at the top of the eBay UK homepage. From the literally thousands of items returned in the search results, it is necessary to filter out those that are unsuitable for whatever reason. Fortunately, eBay provide a convenient method of categorising their items so that similar types can be grouped together. In the case of DJ headphones, most are to be found within the category called Sound & Vision. Within that category, there are some relevant subcategories and some less relevant ones. The most relevant subcategories are Headphones and Performance & DJ equipment. All categories and subcategories in which sellers have chosen to list their DJ headphones are clearly seen on the left-hand side of the listings pages. Click the most relevant ones to tailor the search results to deliver a list of headphones that are suitable and of the type required.
Conclusion
As there is no shortage of DJ headphones available for sale on eBay, the chances of finding a suitable pair is reassuringly high. All that's required is to take a little time to search in the recommended way. In the unlikely event that a suitable pair is not available, try again next day. New listings are constantly being added, and it shouldn't take too long before that perfect pair of DJ headphones shows up ready to be bought, delivered and used.