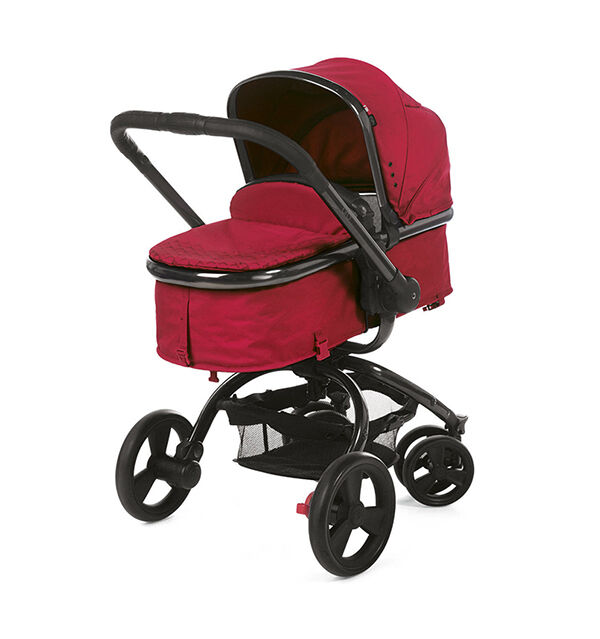 A pram is a four-wheeled cot with a handle that people use to transport infants by pushing it around. Prams usually have the newborn baby lying down and facing the pusher, while push chairs or buggies have the baby sitting up and facing forward. Prams put the joy back into spending time with children as they literally take the weight off harried mothers and caregivers so that they can shop, coo, and stroll to their hearts' content. Most new parents buy prams long before the arrival of the newborn because they want time to secure a solid asset with good value for their money. While some choose to browse in brick and mortar mother-and-baby stores, others opt for the speed, convenience, lower prices, and variety of online stores. Online auction sites such as eBay are a magnet for bargain hunters looking for a steal, the hard-to-find, and the rare item.
Clear-cut, practical information helps consumers figure out what to look for when shopping for prams, including the different types of prams, their distinguishing features, a host of safety guidelines that all pram pushers should follow, and helpful tips for buying on eBay. Armed with this knowledge, shoppers are prepared to shop for and find just the right pram for the baby in their life.
Types of Prams
There are five common types of prams, categorised according to their function and features, each with its own merits and demerits. Almost all have covers to protect the baby from the sun and other elements.
Traditional Prams
The classic pram is appealing in its simplicity, reclining fully flat with a strong back support. It offers an easy and comfortable environment for a newborn to sleep in, especially as the baby faces the pusher, allowing for greater interaction and bonding between them. Unfortunately, it is not suitable for older children and toddlers who want to look out at the world.
2-in-1 Prams
More diversified and efficient than the traditional pram, 2-in-1 prams save parents money as they are suitable for newborn use but then can be converted into strollers or travel systems when the child is older. They are compact in size and usually have fabric hoods and aprons.
3-in-1 Prams
These prams consist of a carrycot, a push chair, and a car seat. Their 'traditional pram' look is a favourite with many buyers despite their bulk, and their large chassis offers good suspension. Some have reversible seat units so the baby can face either the pram pusher or the front.
Double Buggies
Double buggies are double the fun, and probably double the trouble too, with twins or siblings sitting side by side or front and back. The side by side double buggy keeps the children together, allowing them to interact with one another; however, its width makes this pram difficult to manoeuvre in narrow spaces.
Travel Systems
The highly versatile travel systems are a boon for busy parents. They consist of the standard pram with an infant car seat snapped on, making it easy and quick for parents to move the baby from the car to the pram. Others come with a carrycot for travelling and are very convenient for transporting sleeping babies.
9 Features to Look for in a Pram
It is important for consumers to choose the right type of pram as part of the safety needs of their child. Researching parenting forums and online groups for information on prams unearths a slew of options for everyone. One can get further information from reviews of the different pram models and brands available, many with tried-and-tested suggestions. Even next-door neighbours with young children often have something to say about their experiences with prams. A parent might initially find it difficult to come up with a pram that covers all their needs and those of the child; however, a consideration of the pram's most important features, including brakes, seat restraints, and material used in its construction, allows one to be assured of good choice with value for the money.
1. Stability
Pram stability ensures a smooth ride and prevents it from tipping over. Wide wheel bases help to balance out the weight while prams with adjustable suspension mean that they can be attuned to suit any terrain.
2. Brakes
Parents should select brakes that are smooth and highly responsive under any environment, with locking brakes keeping the pram in place and the child safe even when they are moving around in the pram. Some brakes are centrally located and lock in both the rear wheels at the same time.
3. Safety Restraints and Locking Mechanisms
Proper use of child restraints saves parents a lot of heartache, protecting the child from finger injuries, falls, strangulation, and even death. Prams for all types of terrain need the five-point safety harness to keep the child in a secure and comfortable hold over rough ground. Easy-clip buckles and solid locks of quality construction guarantee safety from sudden falls, while a well-padded seat belt offers comfort.
4. Material
While a huge variety of materials, designs, and patterns are used in the construction of prams, quality fabric is both durable and comfortable, regardless of design. Since spills are an everyday part of a baby's life, the best choice of material is one that cleans easily and quickly. Fancy fabrics are pretty, but might cost a pretty penny to clean up; moreover, some fabrics stain easily and fast, making for unsightly splotches.
5. Weight of the Pram
The material used in the construction of the different parts of the pram determines its weight: for example, air tyres are heavier than foam tyres. Those shopping for prams must factor in the overall weight, because it is they who are going to be pushing around the pram, lifting it from the pavements, pushing it up steps, and popping it in and out of car boots. While features such as extra padding add comfort, a heavy pram might be cumbersome and difficult to manoeuvre.
6. Wheels
The type of wheels a pram has reflects its manoeuvrability. Traditional fixed wheels with broad bases suffice for rough surfaces with little need for movement, while modern swivel wheels are useful in tiny spaces and narrow streets. The wider the wheel base, the steadier the pram is, with less chance of tipping over. Some prams are three-wheeled buggies, with one wheel at the front and two at the back, making them comfortable for children in all terrains because they are highly manoeuvrable. Wheels can be made from foam, which is lightweight; air tyres, though heavier, are good for all terrains.
7. Handles
Most modern pram models have adjustable-height handles, a useful feature when more than one person pushes the pram. A tether or wrist strap attached to the handle keeps the pram never more than a handbreadth away. The shorter the strap, the less the risk of strangulation if the child gets in contact with it.
8. Storage Space
Prams with roomy storage spaces can accommodate shopping bags, bottles, changing equipment, and toys for the baby. Most prams have trays under the seat or mesh pockets specifically for storage; others have hooks for jackets and the baby's blanket. Lightweight prams do not have much storage space as extra weight increases the risk toppling over, while more stable prams demand a strong hand and push.
9. Bells and Whistles
Consumers are spoilt for choice with the myriad cool features on some high-tech prams. From LCD screens with weather update to automatic folding and phone charging capacities, modern prams seek to integrate numerous features to woo buyers. Prams with such features come with a higher price tag, and it is up to the buyers themselves to decide whether what is on offer is essential to them.
Important Considerations When Buying a Pram
Aside from the features that make up a good-quality pram, consumers must think about a pram that suits their needs and those of their child by considering their lifestyle, location, and budget. Knowledge of the features to look for in a pram allows consumers to come up with the features they like to have and any models that they are interested in.
Lifestyle and Family
A family with an active lifestyle requires a pram with a solid suspension and stability system, while another family that travels frequently seeks prams that collapse and fold easily for quick storage and removal. Shoppers look for storage space, while families with twins need more than a single pram and those who want to exercise with their baby look for a jogging pram.
Location
The family's location is another factor that influences the type of pram to buy. Those who live in the city can do with a less sturdy version than those who live in the countryside. Some prams, such as the three-wheel joggers, are comfortable in all types of terrain, be it beach, hillside, or city streets.
Budget
There are prams to suit every pocketbook, style, and need. New top-end models undoubtedly cost more, though buyers who check for important features such as those listed above can determine whether they are paying for extra safety and comfort features or frilly accessories that are not as useful. Buying a quality used pram saves consumers money in the long run, provided they ensure that the pram is in good condition and safe for use.
Special Note on Safety Labels on Prams
Safety is paramount and should be the overriding concern of all consumers shopping for prams. A pram constructed in accordance with the British or European Safety Standards requirements for childcare articles offer parents peace of mind, as the stringent rules of manufacture guarantee that the pram is safe for a child. Prams constructed under such requirements always have a safety label, usually found on the frame or seat cover.
Safety Tips When Using a Pram
The parent or child caregiver is wholly responsible for ensuring the safety of the child when using a pram and this should be their overriding concern at all times, even with the most stable or properly constructed of prams. The straps and harnesses should always be locked correctly and used to safely restrain the child, without exception. A caregiver should never leave the child alone in the pram or stack shopping bags on the pram's tray or handle as this could destabilise the pram and tip it over. When on slopes, near water, or at a railway station, the caregiver must ensure that the pram's parking brakes are locked in and that they are using a tether strap: it takes but a moment for a loose pram to roll away and not everyone can stop it in time. Everyone must check the pram's brakes, wheels, and fixtures regularly for damage or dangerous signs of wear like worn tyre treads and fraying straps.
How to Buy a Pram on eBay
Buying a pram or push chair on eBay is child's play. A simple keyword search on the homepage garners a profusion of styles and designs with different features in both new and used conditions. Take your time going through the sellers' descriptions of their items and the photos offered; if any questions arise, ask for clarification by contacting the seller. If you want to know whether the pram complies with the British or European safety standards, look for a label on the photo of the seat cover or frame that states this.
Purchasing from a local seller saves you shipping costs and gives you the chance to test the belts, fixtures, and straps. Check the locks, wheels, and brakes to see if they engage and work properly and are not loose or so worn that they endanger a child's life. You can also ask the seller to demonstrate how to open, collapse, and disassemble the pram when picking it up. With any eBay purchase, it is a good idea to leave feedback for the seller on your buying experience.
Conclusion
Anyone looking to buy a pram must be both prudent and knowledgeable in order to find the most suitable pram, both for their needs as well as for those of the child. It is important for consumers to know the most salient features to look for so that their purchase nets them a safe, durable, and good-quality pram; these include brakes, stability, seat belts, and locking mechanisms. A simple consideration such as weight can make a big difference to how well one is able to handle the pram. Other factors that buyers should consider include their location, lifestyle, and budget. Innovation and technology enthusiasts can find exciting features in modern prams that might just convince them to go for that walk in the park.
Coming up with the right pram takes time and patience but, always providing that they follow the obligatory safety requirements, a good choice gives not just years of joy to both parents and child but peace of mind.