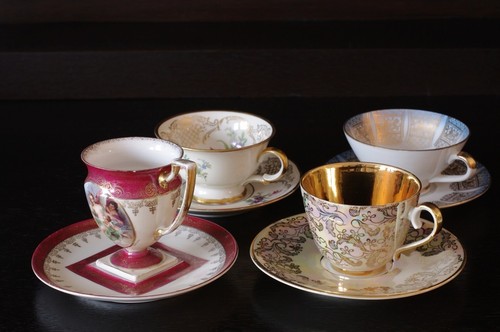 Choosing china patterns can be a long process, and it is often difficult to settle on just one design. While having an entire set of matching china is certainly an elegant choice, a mismatched set is unique, has a charm all its own, and makes a style statement. Whether the china is needed for a wedding or for everyday use, a mismatched set can often portray a person's sense of style and individuality. Putting together a mismatched set of china requires that one combine the right elements. Mismatched china is a good way to make a formal occasion appear laid back and evoke a more casual atmosphere. When shopping for mismatched china, it is important for shoppers to consider a variety of elements, rather than simply purchasing dishes that do not match. Elements such as colour scheme, design, shape, and plate size should all be factored into the decision-making process. When looking for a good deal on china, shoppers should consider browsing the extensive listing on eBay..
1. Colour Scheme
When choosing mismatched china for an event or just to use at home, shoppers may first want to consider the colour scheme. This is perhaps the easiest way to put together a set of china, because shoppers only need to find dishes that have similar colours rather than similar patterns. Additionally, shoppers do not have to choose one colour but rather a range of colours. For example, they can choose cooler colours and select china pieces that feature blues, greens, and purples, or they can choose warm colours and select china pieces that feature reds, oranges, and yellows.
2. Pieces of a Similar Theme
A person who is not fond of a particular colour can piece together a mismatched set of china by choosing pieces that have a similar theme. The floral pattern is a very common type of china pattern. Shoppers can choose pieces that feature roses or pieces that feature small flowers rather than large ones. Additionally, shoppers may choose pieces of china that have a design around the rim only, designs that cover the entire dish, or designs that are only found on one side of the outer rim.
3. Shapes of the Pieces
When putting together a set of china by colour or theme, one does not need to focus on the shape or design of the piece. Other visual elements tie the pieces together to make them look like a complete set. However, a shopper may wish to go for a less obvious match. This can be achieved by focusing on the shape or design of the dishes instead of the colours and patterns. Round, oval, and square are the most common shapes for china dishes. When choosing one of these shapes, it is important for the shopper to choose the shape that matches the shape of the table he or she plans to lay the china out on. The edges of the dishes may also have a decorative shape, such as wavy or scalloped.
4. Sizes of the Pieces
China dishes also come in a wide range of sizes. Dinner plates range from 28.0 cm to 35.5 cm in diameter, salad or side plates are 17.8 cm to 21.6 cm in diameter, and a luncheon plate is about 20.0 cm to 23.0 cm in diameter. When putting together a mismatched set of china, it is important to make sure that the various pieces are the same size. Because some of the different plates have overlapping sizes, it is important not to have different types of plates of the same size. For example, if the luncheon plate is 20.0 cm, then the salad plate should be slightly smaller.
5. Number of Settings
One of the disadvantages of buying mismatched china is that shoppers must choose their own pieces. When purchasing china in a set, all of the pieces are included, as well as the right number of each piece. Shoppers need to determine how many of each piece they need to meet their needs. The average set of china includes enough dishes for eight settings. For larger events, shoppers may need a larger number of settings.
6. Types of China
There are several different types of china. Each type of china varies in appearance, weight, and quality. When putting together a mismatched set of china, it may be necessary to match the types of china.
| | |
| --- | --- |
| Type | Description |
| | Fired at low temperature; can be glazed or unglazed; fragile; can crack or break when exposed to high temperatures |
| | Fired at high temperatures; durable and chip resistant; often dishwasher-safe |
| | Fired at the highest kiln temperatures; durable and nonabsorbent; delicate appearance but resistant to chips, cracks, and breaks |
| Fine China | High quality porcelain; translucent appearance; very durable |
| Bone China | Made from clay but contains a small percentage of bone ash; has a white and translucent appearance; very durable |
The various types of china are all made from clay that has been fired in a kiln. The temperature at which it is fired affects its durability. It also affects its price. Those types of china fired at lower temperatures are considered of lower quality, but may be better options for people who have limited budgets to work with.
7. Price
When shopping for any kind of china for a special occasion or for everyday use, it is important that shoppers first determine how much they can afford to spend. Shoppers should take the time to research the different types of china to determine what price range they can afford. Bone china is considered to be of the highest quality, but it is also the most expensive china. For formal events with a small number of people, this may be the best choice. However, earthenware is an affordable option when place settings for a large group of people are required.
8. Quality of the China
In addition to the price of the china, the quality also needs to be assessed. For everyday use, a durable set of china that is resistant to chips and can be washed in the dishwasher is ideal. Stoneware and porcelain are both ideal choices for frequent use because they are both affordable and extremely durable. Bone china is the highest quality in terms of durability and appearance. This type of china is ideal for special occasions.
9. Condition of the China
When shopping for mismatched china, it is likely that most people have to buy used sets. It is often easier to sell an entire set of matching china than to break it up and sell it piece by piece. People who have an entire set of china may not be willing to sell just a portion of the set to buyers who are trying to put together a mismatched china set. For this reason, shoppers should look for incomplete sets or individual pieces. They should avoid pieces that are chipped or have cracks. These damaged pieces not only appear unattractive, but are more likely to incur further damage when they are used and exposed to changes in temperature.
How to Find Mismatched China on eBay
When shopping for mismatched china, the largest selection and best prices can be found on eBay. You can find china in all colours, designs, shapes, and sizes on eBay. Additionally, you can purchase full sets of china and combine them to make your own set of china with varying patterns. In order to find the best deals on eBay, you need to know how to search the site effectively so that you do not miss anything.
Search for China
Begin your search for china by performing a basic search. Enter keywords to describe the type of china you are looking for into the search bar. For example, you can search for 'stoneware china' or 'bone china'. Once the initial search results are returned, begin narrowing down the thousands of listings. Refine the search results by type of china, material, condition, price, design, and more. From there, look at pictures and find patterns that you like. Be sure to read item descriptions to make sure that the china matches what you want. Once you have chosen the china that you want, you can have it delivered right to your door.
Conclusion
China is an important aspect of a formal dining occasion. Whether it is a wedding or a classy lunch, the china design is important to portray the look and feel that the hosts are going for. Oftentimes, an otherwise overly formal event can be made to feel more casual by simply adding mismatched china to the decor. Mismatched pieces can offer touches of whimsical glamour to the occasion and show off a sense of personal taste. Because there are so many colours, patterns, and styles to choose from, just about any look or feel can be created with the right combination of pieces. Shoppers must choose carefully, as there is a difference between a tasteful combination and dishes that simply do no match. Before shopping for mismatched patterns to put together a set, shoppers need to take the time to consider all of the elements of the china before making a purchase. These elements include design, colour, number of pieces, shape, and quality. No matter what kind of china shoppers are looking for, they can find everything they need on eBay..