Adding the beauty and lustre of a 9ct gold chain to your jewellery wardrobe is a good way to add versatility and flexibility. You can wear a gold chain as a single item or pair it with a charm to add personality. In several different length sizes, gold chains can be discrete or bold, and choosing the right one makes all the difference to the look.
Select Solid, Plated, or Hollow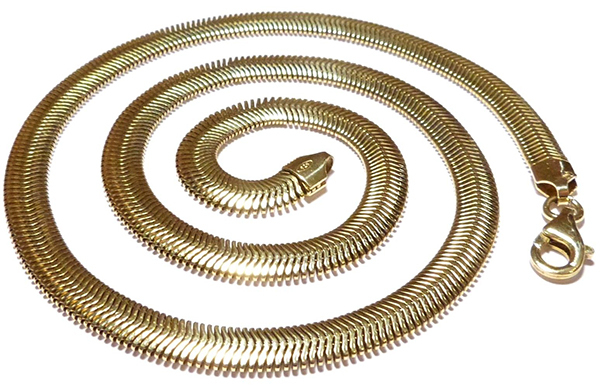 When selecting a 9ct gold chain, the first things you need to look at are the amount of gold in the chain as well as how the manufacturer uses that gold. Gold plating is a process where the manufacturer overlays gold onto the chain. The plating can wear off over time and requires replating by a professional in order for the chain to regain its lustre. Hollow chains feel much lighter than other gold chains. Hollow gold chains break and dent more easily and are difficult to repair. Manufacturers create solid gold 9ct chains from gold and an alloy to add strength. They feel heavier than plated or hollow chains, are more durable, and retain their lustre for the life of the chain.
Determine the Length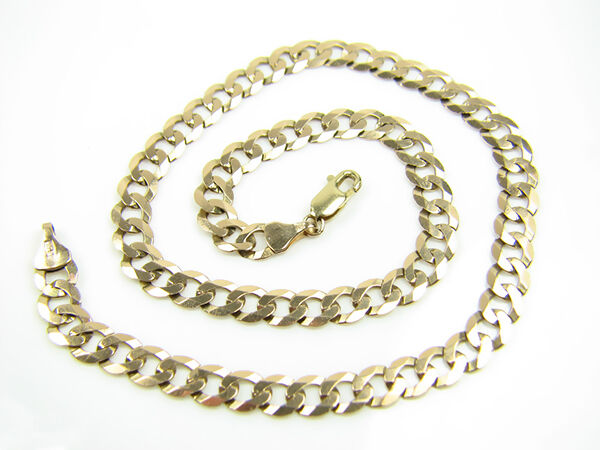 Gold chains come standard in several different lengths. A 16-inch chain is a choker and lies very close to the neck and an 18-inch chain creates a flattering V-drop. Longer chains, such as 22-inch and 28-inch chain are dramatic but can tangle in clothing and hair quite easily.
Choose a Link Type
Link style determines the gold chain's construction and the durability of the links. For example, chains that are flat like the omega and herringbone are prone to twisting, which can cause the chain to break. The round snake chain is also problematic as the chains can catch on clothing and twist causing it to permanently kink or break. The box chain and wheat chain are both strong and flexible, making them especially strong if you are going to add a charm to the necklace. Rope chains, curb chains, the anchor, and Figaro are all good designs that wear well over time.
Inspect the Clasp
Be sure to understand the clasp on your gold chain. Spring loaded clasps, made with an O-ring that attaches to a spring clip, break easily if you pull the chain too hard or it catches on something. Lobster clasps do not open easily, adding an extra layer of protection to your gold necklace. Magnetic clasps are easy to use but it does not take much for the necklace to pull open, which can result in the loss of your jewellery.
Check the Chain Smoothness
People often overlook the smoothness of the surface of the chain. To be sure it is smooth, run the chain over your skin or clothing to be sure it does not catch. A rough chain can irritate the skin if worn for several hours.