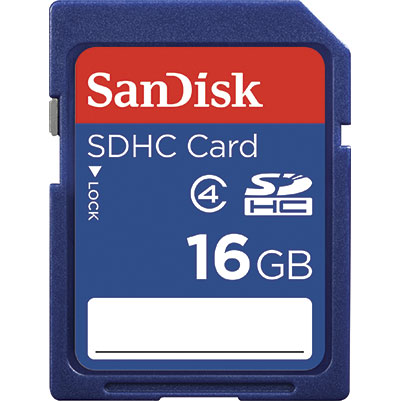 The invention of the digital camera has made photography easier than it has ever been. Storing images digitally on memory cards is not only instant, but it also means that photographs can be easily transferred between devices. There is now no need to wait to have photographs developed from film, and no expense involved other than the original purchase of the necessary equipment. There are many different memory cards available to buy, and it is important to know how choose the right one at the best price.
Camera Memory Card Storage Capacity
One of the most important considerations prior to buying a memory card is how much storage will actually be required. It stands to reason that somebody who takes a lot of photographs will require a larger capacity camera memory card than an infrequent photographer. The type of camera being used, and therefore the digital quality of the images being takes, is also a factor since the higher the definition of photographs the more storage is required.
There are many different capacity options when it comes to buying a camera memory card, and in general, prices increase along with memory. The smallest typically available is 16MB, and the largest 128GB although there is the potential for cards to offer 2TB of storage. A 64GB or 128GB memory card can store tens of thousands of extremely high-quality images. In most cases a 1GB, 2GB, or 4GB memory card with storage space for hundreds of images will suffice, but it should also be remembered that modern digital cameras can also record video. Since video files require more storage space then images, consumers who do a lot of filming would be best buying a larger capacity memory card.
Camera Memory Card Speeds
The speed of a camera memory card refers to how quickly data can be written to it or extracted from it. It is not a particularly important consideration for most camera users as the differences in transfer rates are often barely noticeable. Nevertheless, anybody who takes photography seriously as a hobby would be advised to purchase a memory card with a high transfer rate for convenience and ease of use. This is due to the fact that a higher transfer rate allows each individual photograph to be written to the memory card quicker, meaning a shorter delay before the next image can be captured. The process of transferring images to a computer or other device will also be faster.
Camera memory card speeds are generally listed in megabytes per second; however, some manufactures opt instead to designate each card with a transfer rate class. The number of the class corresponds to the transfer rate in MBPS. In addition, yet another way of displaying a memory card speed is as a multiplication of 150 kilobytes per second. A transfer rate of 3 MBPS would therefore be categorised as 20x speed.
Different Camera Memory Card Formats
It is crucial when buying a memory card to be aware of the fact that there are several different formats available that vary in size and shape. Memory cards will only fit into cameras that they are compatible with, and therefore, choosing the correct format is the most important consideration when making a purchase.

SD Memory Cards

Although there is no standard camera memory card format, Secure Digital (SD) cards are arguably compatible with the widest range of cameras. Although they have been popular for many years, they have now been superseded by faster, more efficient Secure Digital High Capacity (SDHC) cards. SD and SDHC cards are exactly the same size and shape, but they should not be confused. While modern digital cameras will accept both types of cards, older cameras are only compatible with SD versions. It is important to check the compatibility of a camera before buying a suitable memory card.

SDXC

A further technological advancement has been the introduction of Secure Digital Extreme Capacity (SDXC) memory cards. These cards have extremely fast transfer rates and can store up to 128GB of data. They are only compatible with top-of-the-range digital cameras, and so for most consumers, an SD or SDHC card will suffice.

Compact Flash Memory Cards

Compact Flash memory cards are the best choice for many professional photographers and owners of high-end digital cameras. They are larger than SD cards and more robust. Type II Compact Flash memory cards are slightly thicker than Type I versions, with the former slowly becoming obsolete in favour of the latter. In fact, Compact Flash cards have been superseded to a large extent by CFast cards, which offer faster transfer rates and more storage.
Many of the extremely popular modern digital SLR cameras are designed to accommodate Compact Flash or CFast memory cards. However, it is becoming increasingly popular for SDHC and SDXC format cards to be compatible with these devices. SLR owners should therefore be aware of their storage options before buying a new memory card.

Memory Stick Camera Memory Cards

The Memory Stick range of memory cards are developed by Sony for use in their digital cameras. The original cards were limited in their storage capacity, but more advanced versions, such as the PRO Duo and XC cards, offer large amounts of storage and faster data transfer speeds. Sony were also involved in the development of XQD memory cards, which advance storage and transfer speeds yet again, and are designed for used in DSLR cameras.

XD Memory Cards

XD memory cards,, which are relatively limited in the storage capacity sizes available, were designed specifically for use in Olympus and Fujifilm digital cameras. Owners of these brands of cameras would therefore be best advised to purchase XD memory cards, although it should be noted that some newer models of Olympus and Fujifilm cameras are compatible with SD and SDHC memory cards.

Micro and Mini Camera Memory Cards

Micro and mini camera memory cards are an alternative to full-size versions, although they are usually only suitable for devices such as mobile phones and some compact digital cameras. By utilising a memory card adapter, however, they will fit securely into cameras designed for full-size cards. Micro and mini versions of SD and SDHC memory cards are available as well as a micro version of Sony's Memory Stick, known as the M2..
Brands of Camera Memory Cards
Although there are some proprietary brands of memory cards, such as the previously mentioned Memory Stick range for Sony cameras and XD cards for Olympus and Fujifilm devices, in general each brand of card can be used in many different cameras. Some brands are more established in the market than others, and the most highly respected names are usually a sign of quality and reliability.
Camera Memory Card Condition
One of the main advantages of camera memory cards is that they can be used over and over again. Once images have been transferred to a separate storage device, they can be safely deleted, leaving the card empty for new photographs. This has meant that there is now a large market for second-hand memory cards.
Used and refurbished memory cards are typically cheaper than their brand new equivalents, and providing they have been reformatted properly before being sold, there should be no issues with their performance. All data that was stored on them should have been completely wiped, meaning that the full storage capacity is available for use.
It is possible for corrupted data to be left on a second-hand memory card, so before making a purchase, it is important to check that it has been successfully reformatted. Whether a card is new or used, it is also essential to check that there is no damage to the plastic casing or the metal contact strips, although memory cards are generally very robust.
Conclusion
Digital camera and memory cards have changed the way that people take photographs. Memory cards provide an extremely convenient storage option for images, and allow files to be easily transferred to other devices. This means that they are re-usable, and extremely cost-effective. Their importance as a technological advancement is evident in their popularity on eBay, where different brands continually sell in great numbers, and by being aware of the different format, speed, and capacity options it is easy to find a suitable card for every camera.