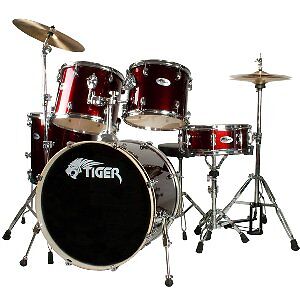 Although often unfairly dismissed as an instrument which can be used without any real training, the drum is, in fact, an integral part of most music groups. Anybody who is interested in learning to play the drums will find it to be a complex but rewarding discipline, and there are many considerations which must be made when it comes to picking up this seemingly straightforward instrument. Many people who are new to the area may be considering the possibility of starting small by buying a single
snare drum
or a practice kit. The problem with this approach, however, is that such items are restricted in their musical capabilities, and therefore, their usefulness as learning tools is limited; a full drum kit is generally the best place to start.
About Drum Kits
A complete drum kit will have three main sets of components: the drums themselves, the cymbals, and what is generally termed the hardware - this third group consists of the pedals used by the drummer along with the stands that hold the drums in place. Most contemporary drum kits contain five drums along with necessary hardware.
A key thing to remember is that shop-bought drum kits do not always contain cymbals as these instruments are generally made by different manufacturers to drums and drum hardware. This has begun to change in recent years, and there are more drum kits being sold with cymbals included. These cymbals are generally not very high quality, however; although they are good for beginners, a serious drummer will have to bear in mind that, somewhere down the line, they will need to invest in a separate set of cymbals.

It is best to fully inspect any second-hand drum kit before purchasing; obviously, a well-used kit may begin to show wear which could impede performance. If the buyer is in contact with a teacher or any other professional who is experienced with drums, then they may be willing to provide help in this area by offering an expert opinion.
Drum Kit Components in Detail
A drum kit usually contains a bass drum, which is the large floor-mounted drum that is played using a pedal; two or sometimes three tom-toms, the medium-sized drums which are generally mounted on top of the bass drum; and the snare drum, which is used for creating the backbeat.
The cymbals included in a complete drum kit may vary but amongst the standard inclusions are the hi-hats, two cymbals mounted to face each other; the ride cymbal, which is often used as an alternative to the hi-hats; and at least one crash cymbal. Other types of cymbal, such as the China cymbal and the splash cymbal, are used in certain kits but are not as widespread as the previous three varieties.
Electronic Drum Kits
The above information applies to a specific type of drum kit: the acoustic drum kit. There is a second type, the electronic drum kit, but it is a very different instrument.
Although electronic kits are designed to resemble regular acoustic kits, the individual pieces that make up each kit are not true musical instruments but rather electronic pads. Hitting one of the pads will trigger an electronic sound modelled around that of an acoustic drum. Electronic drum kits are intended to emulate the acoustic variety as closely as possible - for example, by using pressure sensors to read how hard the player has hit a drum and modifying the electronic sound to fit, but there will always be many subtle differences.
Choosing a Drum Kit
Drum kits are available for a range of different skill levels. There are many starter kits on the market that provide most of the elements that a beginner will need at an affordable price. However, these are not taken seriously by professional drummers as they have limitations as instruments; anybody who is planning to enter the world of serious drumming in the near future is advised to spend a little more money and buy themselves one of the many name brand kits that are on the market.
Big-name companies generally have their own budget lines of inexpensive drum kits. These tend to have more to offer than their cheaper generic counterparts while still remaining affordable for beginners. This makes them an ideal starting point.
A buyer who does not mind spending extra money may wish to look at some of the mid-range kits that are available although these are generally suggested for people who have some experience playing on cheaper kits and so are in a position to decide whether they want to commit to buying a more expensive make. The mid-range kits are sturdier and more reliable than their budget counterparts, but bear in mind that they are less likely to come with cymbals - buyers of low-end kits are expected to want cheap cymbals included in the package, but it is generally assumed that buyers of more advanced kits are willing to purchase good quality cymbals elsewhere.
Beyond this there are the top-of-the-range kits intended for professionals. The difference in performance between these and the mid-level kits are not as noticeable as may be assumed. They do exist, but for most people, and definitely for beginners, they will not be enough to justify the extra cost of a high-end kit. A buyer with any interest in drum kits such as these will be best off waiting until they already have plenty of experience with drums and will notice the subtleties of differing drum kits.
Compact Drum Kits
One factor in selecting a drum kit which should not be forgotten is size. Some players may find the sheer volume of standard drum kits to be too cumbersome. They may not have room to keep one in their home, for example, or they may run into problems transporting their kits from one place to another - a key point of concern if the player is a member of a band and will need to travel between performance locations on a regular basis. If this is a severe problem then a buyer should consider the possibility of buying a smaller kit. A number of manufacturers deal with compact kits, and the best of these are not too far removed from their bulkier counterparts: their small size does not necessarily translate to a small noise.
Find Drum Kits on eBay
Most people associate eBay with small knick-knacks, but it is in fact a perfectly good place to find a complete drum kit. The site has an entire section for musical instruments which can be found by visiting the eBay home page and selecting musical instruments from the drop-down menu next to the search box. This will bring up a list of subcategories on the left-hand side of the page; click percussion and then drums and drum kits. This will bring up several more subcategories, the most relevant being acoustic drum kits and electronic drum kits. From here, a shopper will be able to choose more options from the left-hand column that will adjust their searches to take various factors such as price into account.
A disadvantage to buying second-hand drum kits online is that it is hard to examine the goods before purchase. Some sellers will provide a range of photographs of the drum kits which they are selling. If they have not posted enough images to help make an informed decision, then it will be worth sending the seller a message asking for more information on the item which is being sold.
Conclusion
The process of buying a drum kit for the first time may be intimidating to start with. There are so many different instruments included in a single kit and so many considerations that need to be made by the potential drummer. But it does not need to be so complicated. For a start, the drum manufacturers have done a large amount of the necessary work already by selling standardised kits at a range of different prices and targeted at a variety of skill levels. By learning about each individual element of a drum kit and the differences between makes and price ranges, any buyer will be able to put together a good idea of what kind of drum kit will be needed.