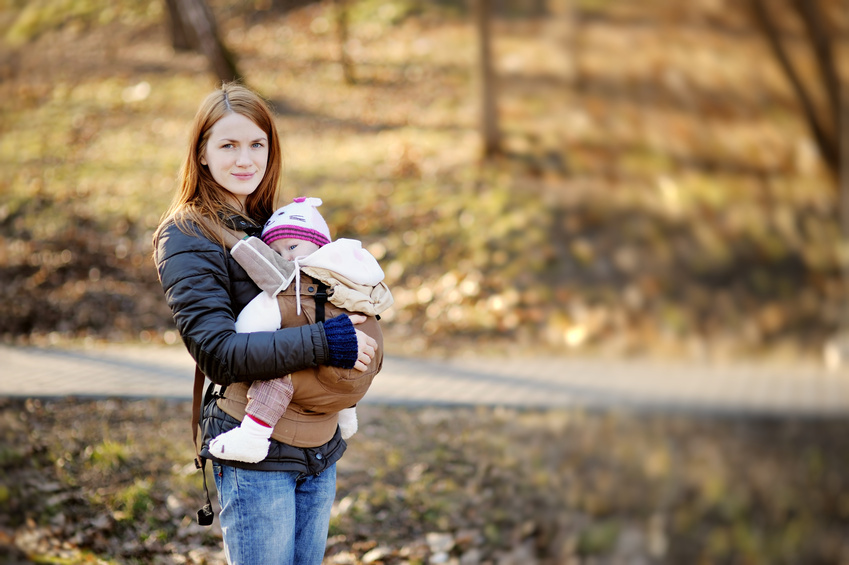 One of the highlights of having a baby is all the snuggling. However, sometimes mum or dad needs free hands to do other things. A baby carrier allows you to transport, feed, and comfort your baby, while also holding a toddler's hand, travelling, or completing tasks around the house. To choose the right baby carrier, consider the types available, the size and age of your baby, and your lifestyle.
Types of Baby Carrier

Baby carriers are available in several styles, which all have benefits. Sling-style baby carriers come in wrap-around and ring models. Baby wrap slings tie around the body and allow the parent to wear them in multiple ways. Tie the sling in a one-shoulder style for quick trip to the car or to enable the baby to lie down. Alternatively, tie it around your back to keep your child in an upright position. Ring slings resemble a shawl and encircle the body, with the fabric secured through a ring at the shoulder. Many breastfeeding mothers prefer this style. Baby backpack carriers are ideal for toddlers and allow you to carry them comfortably when out and about.
Choosing the Right Carrier for Your Baby

Parents with larger babies need a carrier that provides plenty of support. Some models, such as the Moby wrap carrier, help you to distribute the baby's weight evenly, which reduces the strain on your back and shoulders. Soft-structured carriers, such as the Baby Bjorn, provide additional lumbar support. Smaller babies do well in most sling-style carriers, but as they grow, many parents find that they need to switch to a style that has more support. If you plan to carry your baby for a long period of time, choose a carrier that grows with them.
Choosing the Right Baby Carrier for Your Lifestyle
Active families that spend a lot of time outdoors often find that sturdy backpack-style carriers work best. Many of these carriers have a rigid body that provides extra support and wide, adjustable straps. Some models, such as the Beco baby carrier allow you to wear your child on your front or back. Parents that want carriers just to wear at home or for brief trips to the shops may prefer slings, such as the Mei Tai. Some buyers may find that having more than one carrier provides options for a range of activities.