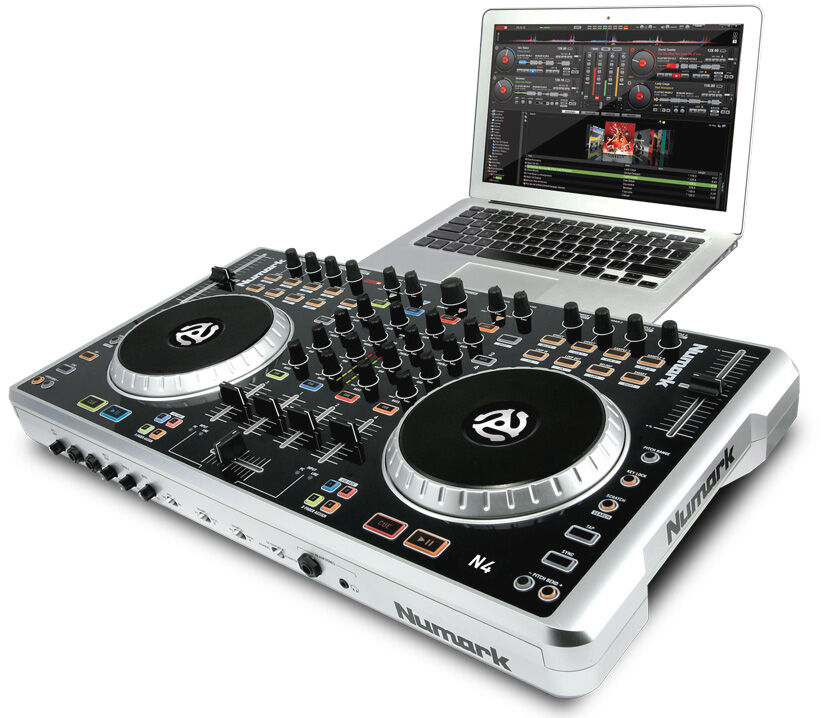 It takes more than innate talent or solid samples to make a good DJ: it takes quality technology. A DJ's mixer is often lauded as the heart and soul of his or her setup, and it is the last place any aspiring DJ should skimp. A beginning DJ should be familiar with the different types of mixer as well as the various options available in mixers, and prioritize those most important to his genre and style before committing to a purchase. Unfortunately, a mixer's price is rarely a good indicator of quality, and it absolutely possible for a DJ to purchase a mixer at a good value.
For most DJs, shopping for a good mixer online is the way to go. Websites such as eBay allow a shopper to browse through a wide variety of items which are usually available at very steep discounts compared to the price one might pay at a retailer. When shopping for a mixer, a buyer should consider the different types, number of channels, tapers, displays, and a variety of other features available before making a final purchase.
Mixer Types
A beginning DJ can easily be overwhelmed by the wide variety and options available in mixers on the market today. Before shopping, a DJ should first establish what type of mixer to purchase. Mixers come in three basic categories: scratch, club, and house. Most DJs purchase a mixer based on the genres of music they are most interested in mixing and performing with.
Scratch Mixer
A scratch mixer generally comes with a turntable assembly so that DJs can sample from vinyl. The turntable allows users to produce the iconic scratching sound popular in hip-hop tracks and mixes, and to implement other iconic elements such as a backspin and a needle drop. Some scratch mixers also allow users to sample from CDs and tape tracks.
Club Mixer
A club mixer relies almost exclusively on electronic sampling, and instead offers plugs to attach to iPods or computers so that MP3 tracks and other digital audio can be used. Because of this, DJs cannot produce the iconic 'scratching' noise used in scratch mixers without having a sample of a scratching sound. This type of mixer, as the name implies, is more common for DJs operating in electronica or club music genres.
House Mixer
A house mixer combines the elements of a club and scratch mixer, allowing DJs to sample tracks from CDs, vinyl, and electronic sources. A house mixer is sometimes also known as a standard or general mixer, and is ideal for beginning DJs who would like to experiment with the different genres.
Mixer Channel Number
A mixer's number of channels is one of the most significant aspects to look at for a beginning DJ. The number of channels determine how many different tracks a DJ can sample at once. The number of channels generally influences the size and cost of a mixer, as well as the inclusion of any other ancillary elements.
Beginner Channel Mixers
Those DJs who have little to no experience operating a mixer should stick to offerings which have only two or three channels. These are the most basic mixers available on the market, and generally have fixed tapers to provide a consistent sound at each stage of mixing. This type of mixer is also usually the smallest and cheapest option.
Intermediate Channel Mixers
Intermediate channel mixers feature between three and six channels, but also introduce other elements into the mixers, such as crossfader adjustments. Intermediate-level mixers are naturally larger and more expensive than beginner mixer options.
Expert Channel Mixers
Expert-level mixers usually feature five or more channels for audio, and they are available with many other elements including different taper lengths and adjustments, as well as crossfader adjustments. Mixers with this many channels are generally not recommended for beginning DJs, as the greater amount of channels and options can quickly overwhelm those unfamiliar with their basic operation.
Mixer Taper
The taper is one of the more complex elements of a mixer, and for that reason most beginning DJs are encouraged to purchase a mixer with a standard taper and first master the operation of all the rest of a mixer's elements before beginning to experiment with taper. However, for those DJs who do want to begin experimenting, there are a few other types of taper available.
Short Taper
Mixers with short tapers are generally only found in turntable assembly mixers and are specially designed for scratching. Correct short taper usage allows for a clean break and transition between audio feeds.
Long Taper
Longer tapers are generally only seen in professional-quality mixer assemblies, and they are manufactured using high-quality materials and strict adherence to complicated tracking chart logarithms. This of course impacts their price, making them extraordinarily costly compared to standard or short taper mixer varieties. Long tapers produce more consistent and smooth fades between samples, and they generally last longer than standard tapers.
Mixer Display Types
Mixers generally come in one of two different user interface and display types: radial mixers, which feature turning knobs to adjust each of the their functions, and bar mixers, which feature neatly organised rows of sliding bars. The type of mixer display which individuals select is generally a matter of user preference, though radial designs are usually smaller and more portable.
Mixer Crossfaders
Mixer crossfaders of any brand have a limited lifespan and need replacing. While in most cases this is limited to around 100,000 playbacks, beginning DJs can easily meet or exceed this number in a short period as they experiment with new sounds and styles. While most mixer brands also manufacture replacement crossfaders for their mixers, in most cases replacing mixers requires disassembling the mixers. Those without at least a little mechanical expertise should either purchase mixers with accessible, easily replaceable crossfaders or be willing to bite the bullet and purchase all-new mixers.
Mixer Brands with Accessible Crossfaders
Any beginning DJ looking to invest in a mixer to last for a significant duration of time should purchase a mixer in which the crossfader can be easily replaced. Several mixer manufacturers have caught onto the needs of their consumers and have compartmentalised their crossfaders, making them easy to switch out and replace. Some of these brands include Gemini, Behringer, Rane, Vestax, and Pioneer. These brands offer relatively inexpensive replacement crossfaders separate from their mixers, which can be quickly and easily installed.
Other Features Found in Mixers
For a quick comparison of the other different features not always, but commonly offered in different faders, consider the chart below. Descriptions of the feature are listed for easy reference.
| Feature | Description |
| --- | --- |
| USB Input | Port which allows a DJ to connect a computing device to the mixer |
| Record Output | Allows a DJ to record the mix produced |
| LED Meter | Displays the beat scale of a sample |
| Channels | Available in a mixer to access the samples (sometimes called inputs) |
| EQ Kill Switch | Allows a DJ to easily kill a band of frequencies or samples at once |
| Crossfader Reverse | A reversed turntable switch which allows for easier scratching |
It is important for a beginning DJ to purchase a mixer which has an ideal channel distribution. Most mixers distribute channels between a mic line, traditional lines, auxiliary lines, and phono lines. A beginning DJ should select a mixer with channels distributed to the ideal sampling of the genre, style, and sample type they wish to use.
Purchasing a Beginning DJ's Mixer on eBay
Buying a beginning DJ's mixer on eBay is simple and easy, and even for those unfamiliar with the website. You can find the eBay search bar on any of eBay's pages. Simply click on the search bar and type in the words which describe the type of mixer best for you, and press enter. Some examples include, "Gemini player mixer combo", "Rane rotary mixer", and "10-channel mixer". Making your initial search general ensures you get the most possible results. Once you have the list of items which match your search query, you can refine your search based on several qualities, such as price and proximity to your location.
In some cases, you may need more information about an item than a listing provides. Simply find the "Ask a question" link, which is available directly on the listing page. This allows you to communicate directly with an item's seller and to ask any necessary questions.
Conclusion
A beginning DJ in particular is likely to want to stick with a mixer which represents a good value, because certain parts of a mixer, such as a crossfader, have a very limited lifespan, and it is likely to need frequent replacing. A beginning DJ should also take the number of channels, the type of dial assembly, and the length of the taper into account. More channels allow a DJ to incorporate more clips, and some may prefer a bar-style mixer over a radial assembly mixer, and while typically a beginning DJ is encouraged to stick with a standard taper, a more advanced taper is readily available for a DJ wishing to experiment.
In light of the fact that a beginning DJ likely goes through several mixers, it is important to purchase a mixer for a good value. Purchasing a mixer through online venues such as eBay helps a shopper save substantially compared to shopping through other avenues.