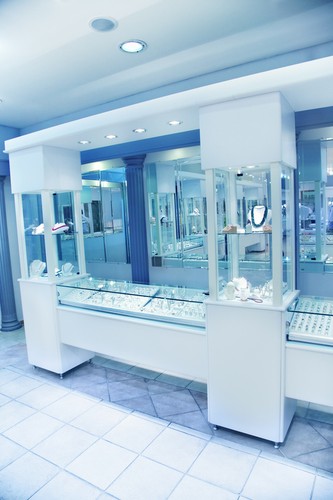 There are many businesses that find displaying items for the public to view not only increases the customer's awareness of the those items being carried, but when properly used, the display equipment can dramatically increase sales as well. This is especially important to retail business owners who find that there are certain items that are undersold that should not be and to also showcase items that are in high demand.
Retail display equipment can play a big part in how well a business does in certain areas, so it is important when buying display equipment that it is of good quality. There are various types of retail display equipment which can be located in catalogues and online at eBay. Knowing which types of retail display equipment works the best for various items and how to tell if the displays are of high quality are easy when the a person knows what to look for. Making the purchase affordable only adds to the value of the display equipment.
Retail Display Equipment Overview
Retail display equipment encompasses a broad spectrum of items. The types of display equipment needed depend largely on the type of retail business that the equipment is used for. Choosing the right display equipment is essential for it to fulfil the purpose intended from the equipment, which is to attract customers. In addition, choosing quality display equipment for a retail business is even more important, and it is easy to do when the buyer is familiar with some of the various types of display equipment that is often used.
Clothing Stores
Retail stores use various types of display equipment. One of the items that are popular for a clothing store business to use to display items is on racks. There are various ways in which clothing can be displayed, which makes it easy to choose the right ones according to the display space that is available. The table below lists some of the most popular types of display equipment used by retail clothing stores along with the notable characteristics of each.
| Type | Notable Characteristics |
| --- | --- |
| | Constructed of heavy duty metal; single and multiple rails available |
| | Lightweight dummies used to model clothing; may be full or partial body |
| | Space-saving display that uses less floor space |
| | Often used with display racks but can stand alone |
These are just a few of the quality retail display equipment types used by clothing stores. Clothing stores often carry items to accessorise clothing as well. Accessories, such as hats, belts, and purses, can also be displayed using any of the above display methods. All items should be sturdy and railings if included should be strong and not bent. The display should be able to stand freely without assistance and move freely if the unit is a mobile one.
Jewellery Stores
Jewellery stores are another type of retail store that use various displays and sometimes a lot of them. Jewellery stands are one common type of display equipment that is prevalent in this type of business. Without the use of this type of display equipment, it would be hard for a customer to see the merchandise that the seller has to offer.
Sometimes, more expensive jewellery is kept behind lock and key in a glass display cabinet that allows the customer to see the items but still keeps them safe for the seller. For this type of item, it is important to make sure that all locks are working properly and that all the keys both fit and are in possession. The glass should be as free from scratches and other defects as well.
Eating Establishments
Eating establishments, including cafes, restaurants, and fine dining facilities, often use display equipment to showcase their popular items such as deserts or maybe even lobsters. Like using pictures of dishes on a menu, display equipment is able to make an item more appealing to a customer than just a description of the item being sold is alone.
Being able to see items, even if behind a glass, makes the item more appealing to the customer. Refrigerated counters are often used to display these items to the public and keep them fresh for serving at the same time. It is essential to make sure that the cooling and venting equipment is working properly and that all doors are able to seal properly.
Convenience Stores
There are many businesses that use refrigerated chillers for displaying cold drinks and sandwiches. Almost every convenience store has at least one of these located inside to make grabbing a cold drink quick and convenient for the customer. This type of display equipment increases the amount of product sold by displaying popular items that a customer may want while travelling but does not have the time to stop elsewhere for.
Refrigerated chillers that are a good quality product have all interior and exterior components working properly. It is important to make sure that the interior is able to keep the items stored at the appropriate temperatures and that all gauges and lighting is working properly.
Fast Food Chains
Fast food chains are one of the main retail businesses where customers expect the service to live up to its name of being fast. In order to keep up with the competition and satisfy the needs of the customer, many fast food chains make food in advance of known rush hours. Burger and fry chains may prepare some of their most popular items that sell quickly and place them under heat lamps or warmers. They also use these warmers to display other items for a customer on a front counter, such as fried pies for example.
As long as the food is sold in a short amount of time, this type of display equipment helps to keep food warm and fresh. Since items such as these are used for storing food for public consumption, it is important the display be of good quality. Making sure that the exterior, interior, and all electrical parts are in good repair and functioning correctly helps to ensure that the item is of good quality for the purpose intended.
Bakeries
As if the smell of freshly baked goods were not enough to draw customers in, bakeries also are another retail business that displays their goods for customers to view. Some bakeries may only specialise in making cakes and make use of several cake displays to show the cakes off. This is especially important for bakers who specialise in a particular area of cake making and decorating, such as those who solely create wedding cakes.
Most bakers use models instead of real cakes so that they product always looks fresh and inviting. Investing in display equipment that attracts attention to the merchandise by investing in high quality display stands also make the item displayed appear to have higher quality as well, which is important when selling expensive items, such as wedding cakes. No matter how beautiful the cake model might be, having a low quality display stand only cheapens the appearance of the items.
Beauty Salons
Beauty salons are another business that makes heavy use of retail display equipment. Although beauty technicians do make a profit from cutting, colouring, and styling hair, they rely on a bigger profit they often receive from selling the products used on the customer, such as shampoos, conditioners, and sprays. Salon technicians are not just stylists, but they are also salespeople as well. Many times these types of businesses rely heavily on the profits made from selling their products to stay in business, especially many of the smaller salons.
In addition to styling hair, many beauty salons also perform manicures and pedicures and find that using display equipment like shelving is ideal for displaying their products. Some salons also offer other types of services, such as spa treatments and facials, in order to not limit themselves to making a profit off of just one type of service. Having quality retail display equipment is a valuable tool for showing off informational brochures as well as beauty aids. If wooden shelving is the display equipment chosen to represent the products, making sure that the wood is not scratched, scuffed, or warped is very important before investing in such a purchase.
Increasing Quality and Affordability
In order for any of these display types to work properly, they must be of good quality, or there is not much point in using them. There are a few things that need to be watched out for when buying such equipment. It is important when buying cases, stands, and other items for display that include glass components that the glass is not chipped, cracked, or cloudy. The display should be able to stand firmly on a surface without being wobbly and any wheels should roll smoothly.
Often, used retail display equipment is in great shape, but if items such as these are not properly cared for, they could do more harm than good in a retail business. Buying used equipment is one of the best ways to get the most value from every dollar that is spent. It is important to make sure that if possible items are viewed prior to purchasing them, and if possible find out how old an item is and how it was used. Display items that have minor flaws and defects may still be worth the money if they can be fixed without the expense being too great.
Buying Retail Display Equipment on eBay
If it is quality retail display equipment that you are after, eBay is the place to go. There are several ways that eBay makes it easy to find the right equipment for the job. One of the easiest ways to find quality display equipment is to perform a keyword search. This can be done at the top of the eBay home page or any subsequent page on this website.
To perform a search, simply type in descriptive words for the item you are searching for and then click on the search icon button. For example, if you need shelving for an industrial display, type in the keywords "industrial display shelving" and a large variety of shelving, storage, and bookcases is available for you to browse through. At this point, all that is left to do is to click on an item that interests you in order to see the entire listing, which offers much more information about that product.
Conclusion
There is such a large variety of high quality display equipment that can be purchased for a variety of retail businesses. It is essential for business owners to find items that are not only a good value, but ones that make their products stand out as well. Buying used display equipment is a great way to save money, but only if the item purchased does what it is intended to do.
Making sure that the display equipment is in proper working condition is necessary before purchasing products such as these. Finding out additional information from the seller as to how long the retail display equipment was used and how it was used can help determine if the product is the right one for a new business. Inspecting the merchandise and following up with the seller for more information when necessary only helps to increasing the chances of obtaining a quality item that is still affordable.