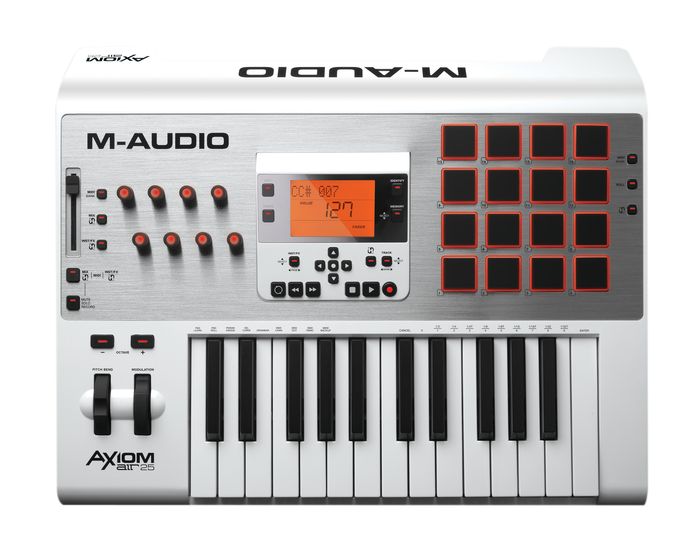 Ever since the release of "Dark Side Of the Moon", musicians have searched for ways to create the perfect sound. Custom-designed recording studios, advanced computer technology, and acoustically-maximised instruments have all contributed to cleaner and more powerful projections. However, there are a couple of mostly unnoticed pieces of small equipment that when installed in a user's stereo or computer system, can convey analogue audio signals into rich digital audio files that present bolder sounds. Preamplifiers act as an intermediary between a transmitting source and an amplifier by expanding the power emitted from the transmitting source. Audio controllers, which can be found in both stereo and computer systems, give users more control over sound quality. The addition of these small devices to any sound system is well worth the investment.
Consumers can find audio controllers and preamplifiers in most electronics shops that offer an extensive sound system section. They can also find these accessories in smaller shops that cater to music aficionados. Possibly the best shopping venue for audio controllers is eBay. Before shoppers begin their quest to enhance their sound systems, they should first learn about how preamplifiers and audio controllers work, the differences between the two major types of audio controllers, and the steps required for purchasing a high-quality preamplifier.
How a Preamplifier Works
Preamplifiers are one of the lesser known audio components. Many high-fidelity aficionados prefer to utilise some type of receiver to catch the signals sent by a transmitting source, such as a radio station. However, preamps, as they are often called, can enhance user listening experiences. For the sake of clarity, the terms "transmitter" and "transducer" mean the same thing and are used interchangeably. The nuanced differences between the two audio projection devices do not require two separate discussions about how preamps work with each type of electronic device.
Voltage and Current
A preamplifier takes the electrical current emitted from a transmitter or transducer and increases the voltage to expend more power. Transmission sources can include audio projection devices, such as guitars, turntables, or microphones. Because of the electrical current surge, preamps are commonly found in live music performances that occur in large open spaces.
Audio Signals
Most transmitters possess very weak audio signal output. Preamplifiers boost the signal to the level-line, the minimum level that allows the sound emanating from speakers to be loud enough to be heard by someone who has set the sound system at a nominal voltage output level. For example, a preamp strengthens audio signals that emanate from microphones, which means the singer's voice can be heard throughout a concert hall or outdoor amphitheatre.
Types of Preamplifiers
Preamplifiers are typically small, single unit devices that connect a transmitter to an amplifier. Some manufacturers build preamps into the electronic devices that need more power to attain a wider range of clarity. High-end microphones, which are typically used by professional music artists, have the preamps built into the microphone's casing. Guitarists use preamps by setting them on top of their amplifiers to receive the notes played and project the notes to the audience at a higher listening level.
Function of Preamplifiers
In the most facile form, preamplifiers comprise the main control system for stereos. Look at the unheralded audio device as the conduit between the audio input and the amplifier. Preamplifiers receive voltage and send the stronger signal to the amplifier. Amplifiers provide the majority of power for speakers.
Features of Preamplifiers
In addition to its primary function as audio signal middleman, preamplifiers can be home to a number of inputs and controls for the entire sound system. Consumers can purchase preamplifiers that possess volume, programme mode, and balance controls, just to name a few features.
How to Buy a Preamplifier
As this guide mentions, preamplifiers that works with an amplifier provide users with the best possible sound quality of their stereo systems. How to create such a system varies by the components used, but the following explanation provides a general guide for buying a preamplifier for home use. Just remember that even the highest-quality preamplifiers add noise to a sound system's output.
First, decide if a preamp is needed for a phonograph to play records. Yes, there are people who still love to hear the sounds of music come from a record. Consumers who plan to use preamplifiers for playing records need to determine the number of inputs and outputs. Then, learn about the sound quality differences that exist between solid-state and tube amplifiers. Research consumer reviews and ask for advice from electronics sales professionals to determine which preamps to audition. There are plenty of online audiophile magazines that contain reviews and expert research. After creating a list of preamp candidates, take a few compact discs for the preamplifier audition. Try to audition preamps with CDs that push bass and treble levels, as well as provide insight into dynamic range capabilities.
Some electronics shops allow customers to take a couple of preamps home to test them in different rooms. This is highly recommended since electronics shop acoustics differ from the acoustics found in most homes. Ask the electronics dealer to provide the cables required to power the preamps. Conduct a bypass test, which connects a CD player or other audio transmitting source to the power amplifier. Use the bypass switch to activate the preamplifier. Base the final purchasing decision on a combination of factors that include features, the quality of the current sound system, price, warranty, and dealer maintenance services. Rank each factor in terms of importance and try not to let the price solely dictate the final decision.
Stereo Audio Controller
Audio controllers synergise every audio source to project out of stereo speakers. Audio controllers combine high-quality preamplifiers with audio enhancement technologies to produce the best audio quality from any source, such as a transmitter, transducer, or turntable. Some of the devices that connect to audio controllers include CD players and audio replays via USB ports. Audio controllers also connect to digital media systems, such as iPods. Intelligent front-panel controls feature intuitive control buttons, which are often referred to as smart buttons. Most audio controllers only require a simple, single wire connection to maximise sound quality. Most audio controllers feature audio processing and controls.
Audio Processing
The primary function of an audio controller is to provide bass, treble, and stereo width audio processing. Analogue signals convert to digital signals at a specified kilohertz sampling and every input processes through a filter to ensure optimal audio quality. The filter cleans up any extraneous signals that previous digital filters missed during the conversion of analogue to digital signals. Studio musicians record using audio controllers to ensure the cleanest sound comes from their sessions. Most sound systems possess a speaker link that replays high-resolution audio files.
Controls
Most stereo audio controllers feature front panel keys that include software-defined keys located in the middle of the panel. There are also four fixed control keys on each end of the panel, with the far left home key returning to the home display, and the far right display key cycling through information that is displayed to the user. Other control keys cycle through the remaining functions available to the user. Most audio controllers display information with an advanced OLED design that allows users to control ambient light levels. Users can keep the ambient light on or decide to turn off the light to conserve power.
What Is a Multimedia Audio Controller?
The second type of audio controller is called a human interface device (HID), which applies to controlling audio that projects through computer systems. Users control a digital audio workstation or other digital audio applications. The HID has one or more controls that software assigns defined parameters for controlling sound quality. Users install the audio controlling software via a driver that comes with the software package. The following are some examples of multimedia audio controllers.
Multimedia Audio Controller

Description

Smart AV Tango

Hybrid controller with 55 cm touch screen interface

Compatible with a Mac and PC

M-Audio ProjectMix

Controls numerous audio applications

Often found on recording studio mixing boards

Mackie

High-end controller used on PCs
Multimedia audio controllers vary in size, shape, and the number of controls. The variations typically depend upon how users want to utilise multimedia audio controllers. A generic multimedia audio controller features an analogue mixer, faders, rotary encoders, and buttons that users assign parameters to during the installation process. Musicians use multimedia audio controllers for control over the sequencer during a recording, including remote control of playback and song position. Some multimedia audio controllers can isolate instruments, which musicians manipulate to blend into their version of a recording. While MIDI was the first audio controller interface, many contemporary computers use USB ports and Ethernet to control sound.
Buying Audio Controllers and Preamplifiers on eBay
You can find a wide selection of preamplifiers and audio controllers on eBay. In fact, some sellers offer both electronic products in near mint condition. The only reason the products are not considered mint condition is that the sellers have removed the preamplifier or audio controller from its original packaging. Utilise eBay's search engine to find sellers who offer the type of preamplifier or audio controller that matches your buying criteria. Type specific keywords into the search engine to reduce the number of search result pages. For instance, type "Kenwood preamplifier" or "computer audio controller" to narrow your search. Once you find a seller that matches your buying needs, navigate to the seller's product page to review accepted payment methods and delivery terms.
Consider buying from eBay's Top-Rated Sellers. These sellers have established a lengthy history of selling high-quality products and offering generous return policies. You should find a preamplifier or audio controller seller who offers at least a 30-day return policy to ensure your new sound enhancer integrates seamlessly with your stereo or computer. You should also review the customer feedback found on seller product pages. Look for sellers who have earned high praise for selling products on eBay for at least the past year and who have received positive feedback for selling electronic devices.
Conclusion
When sound quality begins to diminish on stereo and computer systems, many people rush out in haste to upgrade their systems. They look for the most advanced stereo system or the most intricate computer system to produce superior sound. However, the answer to many of the sound quality issues found on stereos and computers can be found on the shelves of electronics shops and on eBay. The integration of preamplifiers and audio controllers into a stereo or computer system is often enough to revitalise fading sound quality. Users basically just need to know the differences between preamplifiers and audio controllers.
Manufacturers produce preamplifiers to be the conduit between a sound transmission source and a sound system's amplifier. The primary purpose of a preamplifier is to boost the audio signals released from a transmission source before the amplifier expands the sound even more. Audio controllers, for both stereos and computers, work on the quality of sound. Some musicians incorporate both preamplifiers and audio controllers to boost sound power and enhance sound quality. For users who want to improve the quality of their home sound systems, all they need to do is find the right preamp or audio controller and spend a little time installing the small devices into their systems.