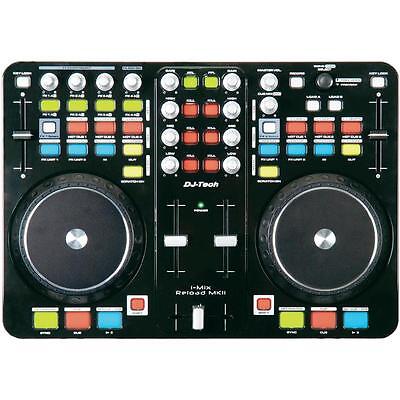 The acronym DJ stands for disc jockey, a term that sprung up in the early 20th century to refer to a person who plays music discs between news and other broadcasts on the radio. Over the years, the term has come to mean many things, from a person who plays music at various functions to the facilitator of various ceremonies, which include playing music. The modern DJ became famous when nightclubs and dance clubs became popular, because the need for an uninterrupted flow of music and smooth turnover of events became important.
The modern DJ has, for various reasons, become inextricably linked with scratching vinyl on the turntable. While these are key pieces of equipment in a DJ's repertoire, they are not the only gadgets available to the aspiring and professional DJ. It is possible to buy a turntable, DJ decks, and the more technologically advanced DJ gadgets on eBay, as well as many music shops online and offline. For the many DJs who are serious about their art, good-quality equipage is essential. Successfully acquiring the type of fittings needed to be a good DJ means a person has to do a little research and get to know the types of DJ gadgets available, the various options possible for the equipment in question, and ways to get good sound quality.
Basic DJ Gadgets
There are increasing numbers of DJ software and hardware available that can be used to mix or manage music. While a complex mixing console may look impressive, they are more for those who have regular gigs, and even then, a professional may have to acquire some individual components.
Headphones
DJs are rarely far from their headphones because they link them to the entire assembly. Make sure that quality headphones, which are comfortable and not too heavy, are purchased; they are going to be used for hours at a time when a DJ is at work. Check for headphones that can swivel, as they are easier to hold to just one ear.
Turntables
Many DJs use turntables and vinyl records or CDs to create the unique sounds that are de rigueur in many clubs and parties. Vinyl is becoming rare, however, and CDs are becoming the norm. There are many types of CD decks, which can be acquired at the larger music shops or from online retailers. DJ sets can have more than one turntable, and the finesse of wielding multiple numbers of these depends on the expertise of the user. Two turntables are the norm, which can be used for any number of casual to professional activities.
Turntables come in three varieties: vinyl, CD, and digital. While real vinyl decks can be difficult to blend with modern technology, there are time-coded vinyl options, which allow the DJ to use digital formats with the feel of real vinyl. There are software programmes that allow a DJ to create MP3s for mixing purposes as well.
Amplifiers and Speakers
The output of a DJ deck has to be of high-quality or it interferes with the enjoyment of listeners, dancers, or partiers. Well-made speakers and amps also decrease the chances of overheating or blowing out. Make sure that amps used in the setup are paired with the correct speakers or the sound may be substandard.
Audio Mixers
There are some who think the DJ's job is only to cue music, but it is more than that. They also need to control various input devices, audio levels and channels, as well as the outputs of various DJ paraphernalia. The audio mixer connects all pieces of a DJ's deck to one single controller, making the individual's work easier.
Laptop
Nearly all DJ hardware can be replaced by software programmes, meaning the laptop is an important tool in the DJ's repertoire. A single laptop can be enough to DJ at small and medium functions, or can allow the user to sound like a professional.
DJ Equipment

Advantages

Disadvantages

Hardware or DJ deck

Better sound, according to some

Looks more professional

Better at complicated sound manipulations

Even basic DJ decks are bulky when transported

Software or laptop

Portability

Existence of free DJ software

Can be less costly

Increasing numbers of DJ apps

Can carry around entire repertoire of music

Doing everything on a laptop can be confusing

Can be more difficult to do complex manoeuvres than with a deck
All that a laptop DJ needs is a good computer with a great sound card; most people use Macbooks, a MIDI controller, and a slew of software. Laptops are a good idea for beginners and part-time DJs who do not want to commit to buying DJ equipment, although for those who are planning on making a career out of managing and mixing music it is best to be flexible. Turning up at a venue and discovering that they have turntables, rather than the digital options a DJ is used to, can be disastrous.
MP3 Player
An MP3 player can be used as a backup for a DJ's audio. DJ accessories, apart from laptops, can play MP3s as well as CDs, so it is possible to backup a set list on a digital player. Of course, it can also be used as the primary source of music and audio effects.
Good MP3 players are not all that expensive, and are a good addition to any DJ's gear all the same.
Microphone
Many DJs also act as the master of ceremonies at many events, hence the need for a good microphone that allows announcements to be heard. There are also DJs that require vocals along with music. A mic does not have to be handheld, just good enough to project a DJ's voice clearly.
DJ equipment is made by many different brands; most shops do not carry all of the available options, leaving a DJ to compromise. Still, what are said to be the best DJ tools available may not be the best for a DJ who has his or her own style, preferences, or circumstances.
Sound Quality
The success of any DJ depends a great deal on the quality of the sound they produce. Buying fittings that boost sound quality is important. A good set of speakers, for instance, can make all the difference between music that is muffled or cut off and a successful performance.
If possible, consult someone knowledgeable about DJ mechanics when putting together a DJ console. Basic DJ equipment consists of two turntables and a mixer, hardly complicated at first glance. But the buyer also has to contend with the compatibility of various items. Amps that are too strong for the speakers, for instance, may cause those speakers to blow out sooner or later. Asking a professional DJ for assistance when selecting the appropriate gadgets is a good idea.
There are other gadgets that help a DJ boost the quality of their sound, like effects boxes or sound recorders, to digitise audio enhancements when mixing and blending music. Visual effects gadgets are not as important as the others mentioned here, but for sheer showmanship they are some of the most effective.
How to Buy DJ Gadgets on eBay
The online retailer, eBay, is one of the largest websites for buying paraphernalia to be used in a budding DJ career. It is also easy to navigate. To use eBay, simply go to any page of the site and type the keywords or key phrases for what you are looking into the search bar. Typing in "DJ gadgets" or "DJ equipment" can result in thousands of items in that category. Fortunately, you can narrow down your search using the site tools provided by eBay. You can get more relevant results on the first try if you type in a more specific keyword, for instance "DJ controller" gets you numerous choices for controllers that can be used with a laptop or DJ deck. The keywords "Pioneer DJ headphones" show headphones that are especially effective for DJs that are made by that company.
Many pieces of DJ paraphernalia can be expensive, so make sure to evaluate both the seller and the product before deciding to acquire these gadgets online.
Conclusion
A DJ needs various types of equipment to get sound to the levels and atmosphere he or she wants. Laptops with free software are great for basic DJ needs, though being able to meld in samples and loops require better software, or a mixing deck instead of a computer. The quality of sound that a DJ produces is one of the major reasons for success; another is the ability to read the audience and play to the crowd. Great equipment does not automatically make a great DJ. Whether DJing by digital means or a deck, a DJ still needs to master various skills, like being able to beatmatch manually, read waveforms, and more.
DJ gadgets can be purchased from many music shops online and offline, though many Internet retailers, like eBay, have more variety in their selections, offering the buyer the ability to acquire the best accessories for his or her needs and preferences.