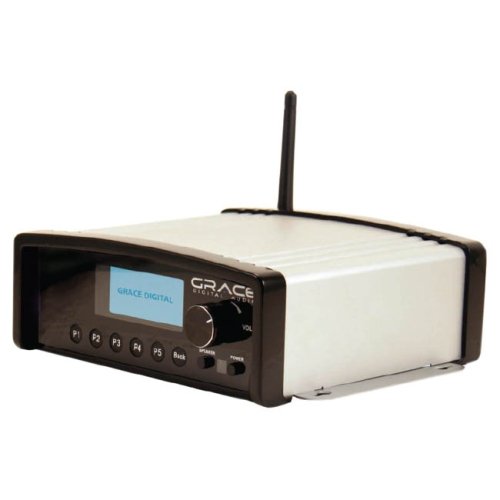 Digital radio is becoming increasingly popular in the UK for many reasons including the wide variety of stations, as well as the ease of use. Digital radios come in many shapes and sizes, and a new radio should be chosen with care depending on one's needs. Some models are dedicated DAB radios, while others are DAB adapters intended to work with other speakers. The digital screen that shows the song name and artist, is just one of the features that makes digital radio so useful and enjoyable. There are many other features that a shopper should know about before buying a digital radio. Some features, like a large number of presets, are only used by a select few users while others, like audio line out sockets, are useful in any situation. By learning about digital radio types, features, and brands, shoppers can make well-informed decisions when it comes to choosing a new digital radio..
What is DAB?
The acronym 'DAB' means 'Digital Audio Broadcasting' and refers to a digital radio standard used in many countries including the UK. It differentiates digital radio from satellite radio and internet radio, both of which also use digital signals. There is a new standard, called 'DAB+' that is in use in some countries like Australia.
Digital Radio Types
As any device becomes popular, manufacturers typically look for new designs in different shapes and sizes that meet different needs. Digital radio is no exception. From small USB adapters, which allow one to listen to digital radio through a personal computer's speakers, to larger stand-alone models designed for a living room, there are five types of digital radios commonly found today.
Handheld DAB Radios
Handheld DAB radios resemble Walkmans, or MP3 players. They are primarily intended to be carried by those on the move, and they usually run on batteries. The headphones usually act as an aerial to receive the signal. While handheld digital radios are extremely convenient, rechargeable batteries are a good idea since they generally consume significantly more power than a regular radio. Also, the signal strength can be expected to be weaker than a comparable handheld FM radio.
Portable or Tabletop Digital Radios
Possibly the most common digital radio type, portable radios, can be carried from room to room in a house. They are usually mains-powered, and have a larger aerial than handheld units, making it easy to get a good signal in most places. Many portable models also come along with alarm clock functions, as well as FM radio.
DAB Adapters for PC
Some people do not want a separate radio, and instead choose to get DAB adapters for their computers. These devices connect to the computer through a USB port or other port, and play through the computer's speakers. One advantage of this setup is that the computer's memory can be used to record radio programmes.
Hi-fi Digital Radio Tuners
These radio tuners fit into an existing hi-fi setup so that one can listen to digital radio through the hi-fi's speakers. This is one way to listen to digital radio in stereo since portable DAB radios either have only one speaker, or two speakers, that are too close together to achieve stereo sound.
DAB Car Adapters and Receivers
Very few cars around the world offer digital radio capabilities. To address this issue, there are DAB adapters that can be connected to a car's stereo system to allow one to listen to digital radio through the car's speakers. There are also DAB-capable in-car receiver units for those who want to replace their car's receiver.
Digital Radio Features
There are an almost bewildering number of features available in digital radio technology. Many of these features are only useful in specific situations, while others are helpful in any radio. It is a good idea to know about and decide on the necessary features in a digital radio before starting to shop for one. This can prevent impulse decisions based on features that look attractive, but are really not as useful as they seem.
Power Options
Any portable radio should include a battery option, as well as the regular corded power option. This is useful in outdoors situations where there may be no power, for example, at a picnic. It is also a good back-up power source when the radio is used as an alarm clock.
LED Backlit Screen
The majority of digital radios have LED-backlit screens. Not all, however, have backlighting that can be turned off. This power-saving option is useful in any radio that is running on battery power. Of course, if battery power is rarely or never be used, the backlighting is not an issue either.
Preset Stations
The number of stations that can be preset, is a major selling point with many manufacturers and models. Since there is a growing number of digital radio stations in many areas, it is extremely useful to have station presets to save favourite channels. These allow a listener to find a station with a single button instead of having to scroll through the list of stations every time. A single listener rarely needs more than 10 presets, but some radios offer as many as 99. The only imaginable situation in which this many presets would be useful is when the radio is used in a large household where it is shared by many people, each of whom have completely different favourite radio stations. In most cases, a large number of presets is unnecessary.
Pause and Rewind
Pause and rewind are highly touted features in digital radios. They allow the listener to pause a live broadcast briefly and then continue playback from where it stopped. However, the length of time a programme can be paused or 'rewound' depends on the radio's internal memory. The amount of time a programme can be rewound is usually around 15 minutes, although some brands claim a rewind time of 30 minutes.
Timer Recording
Timer recording allows a user to programme the radio to record a certain programme or show automatically. Recording is a relatively rare feature in digital radios. Those who frequently want to record radio shows may find a PC radio useful since other radio types need expandable memory to be able to record.
AM/FM and Internet Radio Options
There are some instances in which the corresponding FM radio station has better sound quality than a DAB station. If this is frequently the case, it is useful to be able to choose between the FM station and the digital station. Radio aficionados who are sticklers for sound quality find this an important option. Some digital radios also offer internet radio, providing many more channels for those who want the greatest number of choices.
DAB+ Adaptable
Although the UK shows no signs of switching to the DAB+ standard, some people may be concerned about their DAB radio suddenly becoming outdated. Many new DAB radios have a multi-standard chip that is compatible with the DAB+ standard. Those concerned about future-proofing their purchase should make sure the radio has a multi-standard ship.
Electronic Programme Guide
Some stations broadcast a schedule of programme times that can be picked up by radios that have this feature. While it is still not a very common feature, it can be expected to become more common. The EPG is an advanced digital radio feature that is usually accompanied by timer recording capabilities.
Audio Line Out Sockets
This option allows one to connect a small digital radio to external speakers easily, getting a big sound from a small device. This is a feature to look for in small radios or handheld radios with low-end headphones or speakers.
Headphone Aerial
When the headphones double as the radio's aerial, make sure that the radio can be made to work with different headphones. Otherwise, changing the stock headphones results in a radio that does not receive any signal at all.
How to Buy a Digital Radio on eBay
Most shops have a limited selection as far as digital radios and it can be frustrating to find a model with all the features you want. One popular solution to this problem is to shop online. By using a trusted site like eBay, you can choose from hundreds of different models from the convenience of your home.
To find a digital radio on eBay,, enter a search term like 'personal digital radio&' in the search box on any eBay page. You can then refine the search by defining parameters like price, brand, and features you would like. If the search is too narrow and you would like more choices, click the box that says 'Include Description'. This means the search shows all the listings with the search term in the title or just in the description. This is a good way to search for radios with features like pause and rewind that may not appear in the listing title.
As with any online purchase, it is important to fully check out the seller before entering into any transaction. This is easy with eBay because every seller's feedback history is public and can be viewed simply by clicking on the seller's name. Every seller also has a feedback score which gives a clear indication of the seller's history on eBay. Also be sure to check the return policy, the warranty on electronics, and the shipping rates.
Conclusion
Digital radio is rapidly winning over more fans as digital broadcasts become more and more common. Converts to digital radio love the trouble-free tuning and the extra information received in a digital radio broadcast, such as the song title and artist name, which are displayed as the song is played. Gone are the days of having to wait for the DJ to mention the song name, or risk missing it altogether. Those shopping for a new digital radio might be surprised to know that there are no less than five types of radios available. Whether the convenience of a handheld radio is required or the sound quality of a DAB tuner that connects to a hi-fi system already in place, there are digital radio tuners for every need. Digital radios have a variety of features that make them easier to use. Timer recording and EPG functions are useful for die-hard radio fans who have favourite programmes that they refuse to miss. Regardless of the type of radio one wants and the features one needs, one can find a digital radio in one's price range on eBay, the world's leading online marketplace.