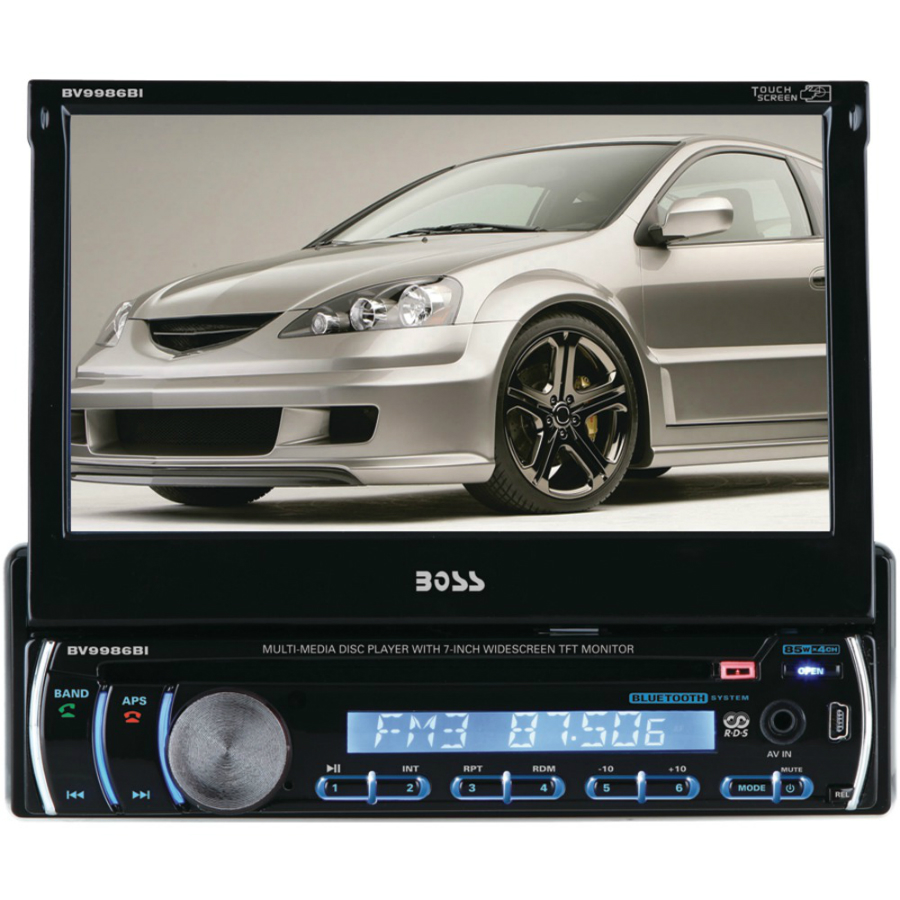 A portable in-car DVD player is useful to have for anyone who travels long distances with more than one person in the car. Options that are viewable in the back seat are especially good for keeping young children entertained while travelling. However, in-car DVD players can range in price and function, with a variety of features and extras that may or may not be necessary to the buyer. Deciding between them can be somewhat confusing, especially for someone who is not familiar with portable media.
Choosing features can help the buyers get a great deal on their in-car DVD player and can also ensure that they are happy with it when they do make the purchase. For example, some DVD players offer everything from portable gaming to viewing and streaming photos while others offer very basic DVD playing. The following features are good options to look for and decide between when purchasing an in-car DVD player.
In-Car DVD Player Design
In-car DVD players are made with a variety of features and designs. Some of these changes include whether the device is designed to be handheld or mounted, where it is intended to be mounted, as well as the type of CD slot or tray. Some portable DVD players feature a rack or mount that can be attached to the roof or dashboard of the car and then removed to be taken inside, watched in the back seat, or used as a handheld device.
In-Car DVD Player Basic Features
Every portable DVD player including in-car models come with the following basic features. Options can range in style, and can differ slightly from DVD player to DVD player, especially if the devices are made by a different company. The following chart lists the buttons or Touchscreen options found on most if not all in-car DVD players..
| Feature | Function |
| --- | --- |
| Play | Plays disk, commonly shaped in the form of an arrow |
| Stop | Stops the disk, commonly shaped as a square |
| Fast Forward | Forwards through the disk or the menu |
| Rewind | Rewinds through the disk during play |
| Pause or Hold | Pauses the disk without returning to the menu |
| Audio Sockets | Usually for standard headphone jacks |
The names or icons associated with these functions can vary per the maker but are usually as listed above. These are basic playing functions and may or may not be controllable via a remote control or via a touchscreen. Many are controllable via buttons on the side of the player, but more and more models are similar to tablets with only touchscreen designs.
Types of DVD Inserts
There are multiple types of DVD inserts including tray, slot, and a range of other styles, similar to those available on most CD players. For buyers, the choices include convenience based on where the DVD player is placed in the car, practicality, and durability. Considerations include that tray and slot loading DVD players can be more practical but can be broken easily, and that trapdoor styles take up more room and make it easier to scratch a disk.
In-Car DVD Player Mounts
Depending on the DVD player, it can come with a mount to install in the car or a mount that can be moved around the car. Many mounts are adjustable and can be moved but others require that they be attached to the top of the automobile using screws. These mounts are the most secure, but do devalue the vehicle should it be sold without the DVD player, and are the least versatile unless they also feature a removable screen. Other options include suction cup mounts for the dashboard and hook style mounts for the back of the seats.
In-Car DVD Player Remote Controls
Many in-car DVD players come with remote controls so that someone in the passenger or back seat can control the player while the car is being driven. Anyone who wants to allow people in the back seat to change the disk, pause, or fast forward the disk should definitely consider a remote control. In most cases buyers can choose any remote control and then replace it with a universal remove if they choose.
In-Car DVD Player Extras
Some in-car DVD players come with a variety of extras. These include photo streaming from a disk or memory card, the ability to stream directly from a camcorder or camera via USB or Bluetooth, and the option to load non DVD media via a USB or SD card. While not all in-car DVD players have these features, they are common enough that buyers can look for them if they prefer the options.
GPS
GPS is actually a very common feature on newer DVD players intended for use in cars. Most of the players equipped with GPS are dashboard mounted so that they can be easily viewed by the driver. The advantage is that drivers can use the GPS function when driving on their own or over unfamiliar territory and the DVD function when driving with children or passengers. The disadvantage is that the GPS and the DVD function are most usable when driving long distances but most often cannot be used in tandem.
In-Car DVD Player Connectivity Features
Many newer models of in-car DVD players offer a variety of connectivity options for connecting to Internet, Bluetooth, and more. These options are most common on tablet style DVD players, which usually support basic apps as well. However, Internet and Bluetooth connections including Wi-Fi do make the device more expensive, and 3G most likely requires a monthly or yearly payment agreement to support mobile Internet on the player. Bluetooth functions are useful for anyone who wants to store DVD files or stream from movie sites via their phone and sync them to the DVD player in the auto. 3G is also likely to allow apps including GPS and popular options such as Netflix to be used on the player, but can be expensive if the features are not used regularly.
In-Car DVD Player Screen Options
There is a variety of screen options for most in-car DVD players. Options range from very basic LCD and liquid crystal displays to very high resolution, with a variety of prices in between. Buyers also have to choose between screen sizes as players can range in size from a very small 6 inch to a much larger 12 inch and up. Most screens are sized in inches. Touchscreen DVD players are becoming increasingly popular because they are easy to use, and often the most convenient.
In-Car DVD Player Durability
For most buyers, the durability of the device is an important consideration. For example, anyone with young children should try looking for a very portable device, and likely one designed specifically for children to prevent the device from getting easily damaged. On the other hand, anyone who either plans to mount the DVD player in the car or who does not have children should be able to focus on quality and function rather than durability.
In-Car DVD Player Operating System
While not always applicable, many newer in-car DVD players feature an operating system. One of the most common is the popular phone system Android. An Android DVD player can normally operate many of the Android apps, which can be convenient for anyone who prefers to use a DVD player for multiple purposes, such as playing popular game apps. Most DVD players do not have a listed operating system and do not support apps, but this is a feature that buyers can check for when looking for their in-car DVD player.
Buying an In-Car DVD Player on eBay
eBay is a great place to buy any type of in-car DVD player.. Buyers can search for and choose a DVD player based on individual features or function, such as the player having GPS, or based on their budget. With hundreds of styles and models to choose from, nearly every function available, and the ability to search internationally for models that are not sold locally, you can literally choose anything you like.
Start your search from the home page of eBay and type in a model or option that you are looking for. 'Car DVD player', is a basic search option that allows you to browse through a variety of models until you find something you like at a budget you can afford. On the other hand, 'Pioneer car DVD player' is a more specific search that should turn up options from the Pioneer brand. You can search for any model or style you like and then purchase it using eBay's checkout options.
Conclusion
Portable DVD players intended for use in cars usually feature a screen with a built-in DVD player. Ranging in size from slightly larger than a large smartphone to the size of a small TV, in-car DVD players come with a variety of options and features including different screens, different playing formats, touchscreens, and USB or SD card support. Buyers should consider the options and special features when making a purchase in order to choose a model that suits them and their needs.
Popular features include GPS, Bluetooth, remote controls, 3G, and even app support if the operating system has apps. Most DVD players come with a variety of different screen sizes and mount options, which can also be used to help make a good purchase decision. Good considerations include budget, how much the extra features add to the cost of the DVD player, and how often those features can be used.