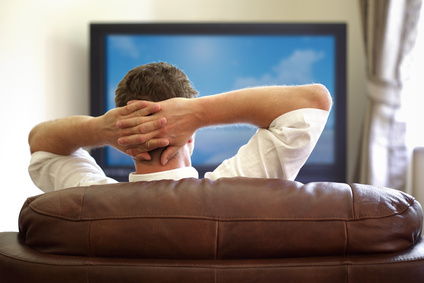 Some people hardly use their television set except to watch the nightly news, while others swear they would cease to exist if forced to live with TV. Because the public's viewing habits vary so widely from person to person, there are many options to choose from when it comes to selecting a TV plan. In the UK, buyers have the option of choosing between Freeview, cable, and satellite television subscriptions.
Each method has its own pros and cons, so selecting the right one largely depends on the needs of an entire household. A single occupant home, for example, will have different viewing needs than a large family with young children. Components for these television services are often sold in electronic stores, directly from the vendor, or through an online website like eBay. When choosing between the different services, buyers need to consider how often they watch TV, how many TVs they own, along with the overall cost of the intended service.
Television Provider Services
A television provider is a company that is responsible for transmitting broadcast signals into a TV. There are many different providers, and each one varies from the other in terms of the services that they offer. Before buyers begin wading through cable or satellite adverts in order to find the best company, it is important that they understand the components and costs of these services. A well-informed buyer can make the best decision when it comes to selecting between Freeview, cable, and satellite TV.
Overview of Freeview TV
Freeview is the trademarked name of a collection of freely-air television service available in the UK. It is run by television companies such as the BBC, Sky, and ITV, as well as the transmitter operator Arqiva. The good news is that almost any TV sold in the UK is already poised to receive Freeview. In its most basic form, all a viewer would need to watch Freeview are an aerial antenna and a Freeview box. The bad news however, is that the number of channels available are extremely limited when compared to cable or satellite services. However, many homeowners who seldom watch TV, or are simply on a tight budget, enjoy Freeview, and there are never any complaints about its cost.
Freeview+
Ever since 2007, TV companies have been actively making the switch from the old analogue service to digital broadcasts. On the one hand, this is very good news since digital services have many more possible applications than analogue. On the other hand, this is bad news for anyone still using the old analogue setup. Freeview+ is the digital iteration of Freeview and to use this service, customers need to purchase a digital tuner instead of an analogue antenna. A digital PVR box that can record programmes is also required for Freeview+.
Freeview HD
Customers who have an HDTV are missing out if they are only watching channels transmitted in standard definition. Freeview HD is a free service that is available to anyone who has a HDTV, offering several channels in high definition. The only downside to subscribing to Freeview HD, is the limited number of HD channels, since both cable and satellite come with more options.
Overview of Cable TV
Several companies in the UK offer different cable services. Cable works by transmitting a signal from a main hub into a TV, via a fibre broadband cable. Most cable companies today only sell digital cable, and this means that customers need to purchase a separate digital cable box for each TV in the home that is set to receive the cable.If a home has three or more TVs, buying all of these cable boxes can be quite costly.
Furthermore, customers must also pay a set monthly fee for a cable subscription. The upside is that through cable, viewers are able to watch more channels than they can through Freeview. They can also elect to receive other services through the cable company, such as broadband Internet, although this may cost more than simply purchasing a cable subscription.
On Demand Cable
One of the biggest draws for cable services, are the On Demand channels that are accessible through the cable box. At any time, customers can access a full library of movies and TV shows that are available. While the lustre of On Demand services has somewhat gone away in recent years due to streaming internet services like NetFlix, this secondary service is still a popular reason why many homeowners make the switch from Freeview to cable.
Overview of Satellite TV
Satellite TV became popular with the development of digital broadcasts, and therefore many satellite TV companies quickly worked their way into a market previously dominated by cable. To access satellite TV, customers need to have asatellite dish and a satellite receiver. While an entire household only needs one satellite receiver, each TV in the home needs its own satellite box. Again, as with cable, this can prove to be a costly initial investment. The payoff however, comes with the extraordinary channel selection. Satellite TV offers more channels than cable. Satellite providers also offer internet access along with their TV plans, but this will make the overall monthly fee more expensive.
HD Channels
Satellite has more HD channels than either cable or Freeview. This makes it the ideal choice for anyone who has a HDTV since there is no way to appreciate the power of high definition unless viewers are able to watch TV that is broadcast in HD. The influx of channels, including the multitude of HD ones, is the main draw of satellite TV for many buyers. However, customers should only consider this feature if they either own a HDTV or are considering buying one.
On Demand Satellite
Many satellite companies also offer their own form of On Demand services that are competitive with those provided by cable. As with cable, subscribers to the satellite network receive a virtual library of digital media that they can access any time. The programmes and movies available on the On Demand network vary by companies, so if the buyer is interested in this feature, it may be worthwhile to compare the lineup between different businesses.
Satellite Reception
One issue that frequently occurs when selecting satellite TV is the reception problem. Anyone who lives in a flat needs to first, check with their landlord to make sure they are allowed to instal a satellite receiver outside their building. Not all landlords allow for satellite installations. Furthermore, satellite reception tends to degrade rapidly due to bad weather, which is not an issue with cable. This is because the poor weather affects the receiver's ability to work with the main satellite, in turn disrupting the transmission into the TV.
Buying Parts for Freeview, Cable and Satellite TV on eBay
While customers will have to purchase subscription plans for cable and satellite TV directly from the vendor, many parts for Freeview, cable, and satellite TV are available on eBay. This includes everything from the old analogue antennas that are no longer sold in store, to the latest PVR receivers. Some of this equipment is brand new, but buyers can also get great deals on used TV equipment by searching online at eBay's website. Buying setup parts on eBay is one way to help keep cable and satellite plans much more affordable.
Buying Freeview Parts on eBay
Customers who want to watch Freeview TV need to purchase a Freeview box and either an aerial antenna or a digital tuner. Searching for Freeview equipment on eBay is simple since a search for 'Freeview box' or ' Freeview HD box ' quickly returns results. Those who want the ability to record their own programmes should also search for a 'Freeview PVR recorder' since this handy device works with Freeview+.
Buying Cable and Satellite Parts on eBay
Buying parts for either cable or satellite services on eBay means purchasing equipment that is specific to the digital company. For example, if you need a replacement satellite dish from Sky after the old one had an unfortunate accident, search for ' satellite dish' to ensure that you purchase equipment that works with the Sky service. The good news is that many vendors on eBay sell the complete satellite package, including all the wiring needed for installation. The subscription company also controls which PVR devices are compatible with the service. The Sky service only uses the Sky+ or Sky+HD, while Virgin has the V+.
Conclusion
TV viewers have more options to choose from than ever before, when it comes to selecting a TV subscription plan in the UK. Freeview is a free broadcasting service that works with any TV capable of receiving the broadcast, and it is popular in many households around the country. However, due to its limited lineup, many viewers choose to use either a cable or satellite plan. Cable services add extra channels to the TV, and also come with an optional On Demand service. Satellite TV also comes with a huge selection of channels and its own optional On Demand services. Ultimately, buyers have to compare the overall cost of installing these services as well as the monthly fee, before ever choosing a plan. eBay has many parts for all three services available online, helping buyers save a little bit of money in the quest for finding the perfect TV plan.