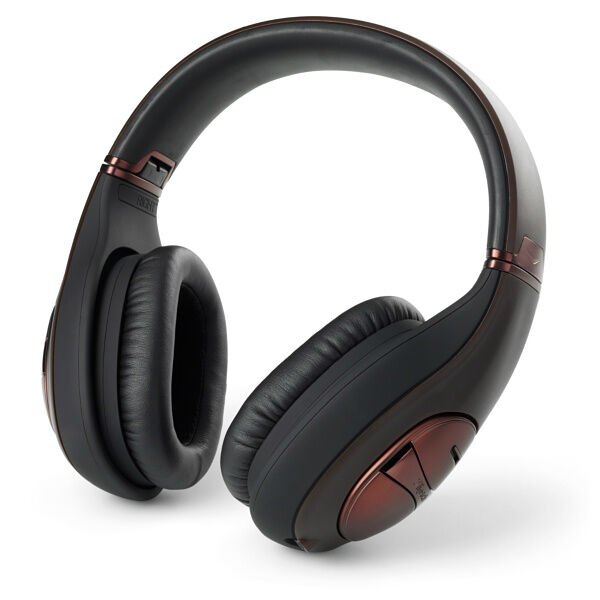 High-end headphones, though magnitudes more expensive than cheaper varieties, generally last longer and deliver superior sound. People looking to buy high-end headphones may easily be able to save a substantial amount of money by searching for their ideal pair online. Websites such as eBay not only give shoppers the opportunity to save, but also allow headphone buyers to view wider selections than most traditional retailers carry in stock.
To first make the specifications of headphones meaningful, shoppers should consider the ultimate use of their new pair. Those looking for a quality set of headphones to take running and jogging may want super light but sturdy pair of earbuds, while those wanting maximum noise cancelling may want circumaural headphones. The specifications or 'specs' for high-end headphones include details like the form factor, frequency range, cord length and material, and other ancillary features, all of which come in many varieties and may impact buyers' final purchasing decisions.
Form Factors of Headphones
The form factor of a set of headphone describes their shape and how they are meant to be worn. The most common different headphone form factors include earbuds, on-ear headphones, and over-ear headphones.
In-Ear Headphones
In-ear headphones, sometimes also called earbuds, are the smallest and lightest varieties of headphones, and they feature two small speakers which are meant to be set directly into the ears. Earbuds are available in different shapes and sizes to provide stability and comfort for users. Because earbuds are generally included in manufacturer packages with other audio equipment, many consider earbuds the cheapest of available options; however, high-end earbuds perform just as well as other headphone forms. They are a great option for those who do not want on-ear or over-ear headphones to interfere with glasses, hairstyles, or earrings, but can cause some users discomfort when used for too long.
On-Ear Headphones
On-ear headphones are heavier than earbuds, and they feature a solid piece which connects the ear pads and is meant to be worn over the top of the head. On-ear headphones represent a far more comfortable option than earbuds for some users who still want a pair of headphones which is portable and lightweight. Unfortunately, they offer the least amount of noise isolation than either in-ear or over-ear options, allowing environmental noises to be easily audible and projecting music so that others might hear.
Over-Ear Headphones
Over-ear headphones feature a solid structural element which connects the ear pieces and is worn atop the head, but ear pieces on over-ear headphones are very large, meant to completely surround the ears. Over-ear headphones are sometimes also referred to as circumaural headphones. These headphones are comparatively massive, making them hard to pack, and they are generally far more expensive. However, the distinctive over-ear fit allows users to experience better environmental noise cancellation and to experience the music at louder levels. Headphones manufactured in this style generally also feature broader frequency ranges.
Headphone Frequency Ranges
The frequency range found in headphones is the total range of bass, middles, and trebles which headphones are capable of creating. This frequency range in no way implies quality of the audio, which is instead determined by quality parts and manufacturing. The lowest number in a frequency range is the lowest bass frequency, while the highest number is the treble frequency.
20 to 20,000 Hz
The vast majority of headphones are constructed to feature a standard frequency range of 20 to 20,000 Hz. In general, this is perfectly fine for those who listen to most types of music, as most higher frequencies are unable to be heard by human ears.
5 to 33,000 Hz
Though headphones manufactured in this frequency range feature much higher treble limits, many of those higher frequencies are inaudible to listeners. Instead, the significant difference is the lower bass frequency, which is a must-have for those who listen to bass-heavy music. Headphones manufactured in this frequency range allow users not just to listen, but feel the effects of rich and low bass.
Headphone Cord and Plug Options
Depending on the use of headphones, some may desire headphones with a longer or stronger cord than those which are generally featured. Luckily, most manufacturers of high-end headphones offer both options.
Plug Type
Headphone plugs come in a few different sizes, so it is important for shoppers to ensure that the headphones they purchase feature plugs sized to their audio devices. Plugs also come in different shapes such as straight and L-plug varieties. The L-plug shape features a hard end to cap the cord to the plug, which projects far less than straight plugs and serves to protect the sensitive attachment. L-shaped plugs also require slightly more force to insert and detach. Straight plug shapes, alternatively, fit better in applications where the insert is placed on the top of bottom of audio devices.
Single-Cord Headphones
Most stereo headphones which are not in-ear varieties feature a single cord which plugs into one ear of the headphones, rather than the older Y-connector fashion where the cord splits to connect with each ear. This option protects the cord from snagging, and offers no audio differences.
Reinforced Cords
Many high-end headphones have reinforced cords through jacketing them in other fibres. This protects the sensitive wires from friction, snagging, and breakage, which tends to expand the useful life of the headphones.
Cords with Audio Controls
Some headphone cords feature a small tab along the cord which allows users to adjust their audio up or down. This allows the convenience of not needing to dig in pockets or purses for the source of their music, especially if they need to quickly adjust the audio.
Cords with an Attached Mic
Some headphone cords feature a small plastic microphone unit located near where the cord falls close to the chin. This is especially useful for those who wish to attach headphones to their phones as well as to their music devices, or who may also wish to use a recording function on computers or music devices.
Other Headphone Features
Some headphones also have various other features to increase their usefulness and attractiveness to buyers. Some of these features include secondary headphone jacks, speakers, folding designs, and replaceable insets.
Secondary Headphone Jacks
Some headphones feature a secondary headphone jack near the plug. This allows friends to plug their own set of headphones into the users' without any need for a special audio splitter. This is an especially good option for those who work with music professionally or enjoy sharing their music.
Number of Speakers
Though it is traditional for most headphones to feature one speaker per ear, some manufacturers of on-ear and over-ear headphones have begun to add multiple speakers in their products. This allows for richer sound which nearly reaches surround sound feel.
Folding Headphones
Some on-ear and over-ear headphones feature hinges on the headpiece which allow the headphones to be folded. Folding headphones are far less bulky once folded, and therefore easier to store and transport. Many high-end headphones now sport this feature.
Replaceable Insets
Some headphone manufacturers, with the understanding that many of their customers enjoy matching their headphones to their outfits, have begun manufacturing headphones with insets and body pieces which can be replaced with those of other colours and design options. This allows buyers to have a pair of headphones which match almost any outfit. Headphones with this option are also a good idea for those who tend to be rough on their headphones and who may crack or break pieces from their headphones.
Buying High-End Headphones on eBay
To buy a pair of high-end headphones on eBay, first find the search bar which is located on any of eBay's internal pages. After clicking the search bar, type in the words or phrases which describe the specs of the headphones you wish to purchase, and then press enter. Some examples include, "over-ear headphones", "noise-cancelling earbuds", and "wireless headphones with mic". Making your search relatively simple and basic rewards you with the largest number of matching items, which you can then organise based on your preferences. You can choose to organise the available items based on price, manufacturer, and colour.
If you have any questions about a particular item, eBay makes communicating with sellers very easy. Simply look for the "Ask a question" link, which is located on an item's listing page. The seller may then opt to have your questions and his or her answers appear on the listing to help any other potential buyers.
Conclusion
The specs of high-end headphones determine how ideal they are to suit users' different needs. Earbud headphone forms are generally recommended for those on the go, as they are small and portable, and also allow users to still tune into the environment around them. Other headphone form types include on-ear and over-ear varieties. The frequency range of a pair of headphones determines how well it plays different musical sounds, those who listen to orchestral pieces should focus on headphones in a different range than those who prefer bass-heavy techno or hip hop. Headphone wearers who put more stress on their headphone cords want to ensure that they purchase headphones with reinforced fibre cords, which guarantees they get better sound from their headphones for a longer period of time.
Whatever the specs are for buyers' ideal pair of headphones, a high-end set is oftentimes prohibitively expensive. Shopping for them online at websites such as eBay helps shoppers save substantially on retail costs.