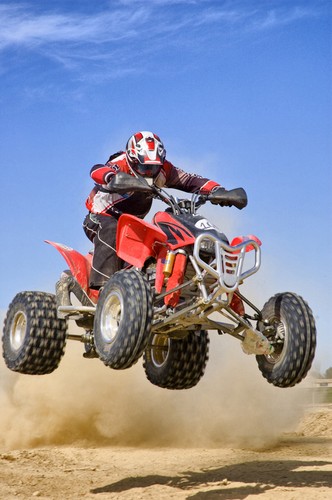 A trike is a three-wheeled motor vehicle and a quad is a four-wheeled vehicle, both often qualify as ATVs or all-terrain vehicles. Both types are excellent alternatives to motorcycles, scooters, and motorbikes. Like motorbike owners, many trike and quad owners choose to repair their vehicles by themselves or to purchase the parts that need replacement and have a mechanic install them. Unfortunately, buying trike and quad parts is not always a simple process as it requires knowing the style, model, appropriate colour, and size of the bike that the part is to be installed on.
Buyers can also have difficulty deciding where to purchase the replacement parts. Quad and trike dealerships often sell new replacement parts, but cheaper used parts are much harder to find. In this case, some bike shops as well as multi-specialty online stores are great places to find the parts. Basic considerations for purchasing quad and trike parts include considering the bike, its size and model, and of course, the price and condition of the parts.
Finding a Size and Model Number for Trike and Quad Parts
A size and model number or the model and date of the particular trike or quad are absolutely necessary for finding compatible parts. Many online dealerships have the actual model number of the part listed but most used parts sellers simply list the make and model of the motorcycle that the part is from. On the other hand, many trike and quad parts are interchangeable so that they can be modified and customised, meaning that many options online are custom made and do not have numbers. Purchasing the original parts requires identifying the parts, but purchasing modified options only require checking to see if the part is compatible with the motorcycle and legal to install.
Most motorcycles including quads, trikes, and standard two wheel motorbikes, come with a manual, which should outline and identify each part that goes into the vehicle. Anyone who purchased a used bike that does not include the manual can check online for the manual, or can consider ordering one from the manufacturer. This excludes very old models that are no longer in production, but owners can still look online for used manuals.
Choosing New or Used Trike and Quad Parts
Deciding between new or used parts can be a big decision when purchasing parts for trikes and quads. Engine and body parts can both differ dramatically in look and style from new and used options. For example, the paint on exterior parts might be very different from that on the motorcycle being fixed, or the engine part could be very bright compared to the older parts, which can stand out on an old motorcycle. Many new exterior parts, especially those sold with the intent of being used across multiple types of motorcycles or ATVs are unpainted, meaning that the buyer might have to paint the part or take it to a professional body shop to have it painted the same colour as the trike or quad.
Another thing to consider when deciding between new and used parts is that some factory parts can be quite expensive. Buyers who have a relatively low budget might not be able to afford new parts. On the other hand, older parts can take money to repaint or fix if they are damaged, so it is important to check the condition that the parts are in before making a budget purchase.
Purchasing Tools and Accessories
Buyers who plan on installing the parts they have purchased should consider purchasing or renting the necessary tools and accessories to make the installation work. For example, most motorcycles require basic tool kits including a wrench, screwdrivers of various sizes, a hammer, and potentially specialty tools made specifically for the motorcycle. Basic maintenance should include cleaning up parts that are already in place, which requires kitchen towels or rags that can be thrown away, and basic cleaning supplies. Another consideration is fixing the cosmetic appearance of the trike or quad parts. Replacing damaged fenders and panels can be easy enough, but painting them and fixing them to look professional can be a great deal more difficult.
Common Trike and Quad Parts
There are hundreds of types and styles of trike and quad parts but the most common to break or require replacement include chains, lights, handlebars, filters, exhaust pipes, and lights. Each of these items can be found in a variety of custom designs as well as factory designs. Some parts require specific standards to be met such as the voltage on lights, while others can literally be anything that fits the motorcycle.
Trike and Quad Chains
Like a standard bike, quads and trikes often require the chain to be fixed or replaced. The chain can vary in length and thickness and should be chosen based on these specifications. Most chains are sold as drive chains and the exact length and model number is likely found in the owner's manual of the vehicle. Most drive chains found online are sold with the make and model of the bike listed.
Trike and Quad Exhaust Pipes
Exhaust pipes and tips are frequently replaced after being lost or damaged, but are also frequently upgraded to include better silencing or cooler tips. Tips can generally be replaced on a whim and are normally universal or 'one size fits all'. Exhaust pipes must go under the motorcycle and are normally unique to the make and model of the vehicle. Buyers should ensure that they search for a model of exhaust pipes that matches the trike or quad that they own.
Trike and Quad Filters
Filters for motorcycles, including trikes and quads, usually indicate air, oil, and fuel filters. Most motorcycle owners should change or replace the filters of their vehicle every 16,000 to 20,000 kilometres, or every 18 to 24 months as necessary. Filters should be purchased according to model and size, and most come with a specific code that can be found either on the filter or in the owner's manual of the vehicle. It is important to check that the filter is for the function required. Many air and oil filters look similar so buyers should always read the description or the box of the product before buying.
Trike and Quad Lights and Indicators
Lights and indicators can easily be purchased in bike shops or on stores such as eBay. Usually the only requirements are that they have the proper sizing and voltage. Most are 12 volt but range in size and connections. It is important to check the lights being taken out of the motorbike before purchasing new ones. There are literally hundreds of styles of lights, but most are interchangeable from one trike or quad to the next. The light covers and actual headlines are usually made specifically for the bike that they fit.
Trike and Quad Handlebars
Most handlebars for trikes, quads, and other ATVs are actually interchangeable, which means that most options work on most motorcycles. Some do require special fittings for the individual motorcycle but most are universal. Some quads and trikes also require special fittings for the brake handles if those are being replaced as well. Many people choose to replace the grips on the handlebars as well to either personalise the motorcycle or to improve the comfort of the handlebars.
Trike and Quad Brakes
Brakes can be purchased online and offline but should be purchased according to trike or quad manufacturer as well as the part model number or size. Like brakes for automobiles, there are various sizes and types of brakes for trikes and quads, and purchasing the correct one is crucial for the driver's safety. Most brakes have the model number stamped onto them but the correct size required should also be listed in the owner's manual of the vehicle.
Buying Trike and Quad Parts on eBay
eBay is a great place to purchase trike and quad parts because it is easy to find what you are looking for, you can locate rare and hard to find parts, and you are likely to find affordable parts because you can choose either new or used parts. While it can take time to ship specific parts, especially if they are not ordered locally, eBay is convenient and easy to use.
If you are buying trike or quad parts on eBay, you can search for what you are looking for via the home page. Try typing in exactly what you are looking for, such as 'air filter' or 'Suzuki brake pads', or other specific search in order to avoid browsing through a great deal of unrelated bike parts. Finally, remember to thoroughly read the description of the item, check where the parts are located, and contact the seller if you have any questions.
Conclusion
Buying trike and quad parts can be confusing for buyers who do not know the model or size number of the parts. Most quads and trikes come with a fully detailed owner's manual that lists all of the parts in the vehicle. Many parts also have a specific model number printed on them, which can be found after removing the part from the bike. Some bike parts are also universal, which means that they can be used across any motorcycle.
Buyers should decide which part, model, and size they need when making a purchase. Most parts can be found in motorcycle specialty shops as well as online stores such as eBay. Important considerations include the condition of the part, the compatibility with the motorcycle model, and the price, which should fall into one's budget. When setting their budget, buyers should consider the retail cost of the part, the cost of installation, and the any shipping cost that might be required.