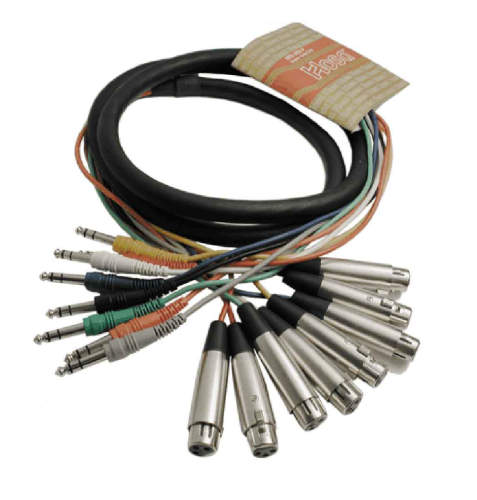 Though wireless connectivity is a convenient and attractive option, a great many devices are still dependent upon cable connections. Wires running all over the place may lack aesthetic appeal, but the good old cable connection is reliable, secure, and compatible with a host of older devices.
One component in audio and video automation is the cable termination, also called plugs, jacks, or cable connectors. Audio terminations are fittings at the end of cables, capable of propagating audio signals. They terminate the cable providing a means of connectivity to devices, so the device receives audio and video signals. Various cable connectors are categorised as dedicated audio and video cable connectors, with some cables capable of carrying both audio and video signals.
Home audio equipment, professional audio applications, phones, and a whole array of other gadgets that provide audio use cables with audio terminations. These components are sold as individual units capable of fitting into audio cables, many available for different audio applications. Knowing about the different types available helps shoppers select the right audio termination that matches the cable. Armed with this knowledge, shoppers can confidently look for the required units in online shops such as eBay, which sells almost every conceivable type of audio termination.
Ready Audio Cables with Terminations
Several gadgets and devices are the components in a home entertainment system. The right cable with the perfect cable terminations is essential for interconnection of components and also for peak performance of the equipment. The two basic categories of audio cables are interconnect audio cables and speaker cables.
Interconnect cables transmit signals from audio sources such as receiver box or the CD player to the A/V receiver or to the TV set. The A/V receiver further transmits the audio signals to the different speakers in the audio system. Though the cables types look similar, the difference lies in the terminations of these cables. Speaker cables may be terminated using spade or fork connectors or banana plugs and threaded speaker pins that are inserted into binding posts. These are usually bare wires for connecting speakers and amplifiers. Interconnect cables have specially designed connectors such as phono RCA plugs, XLR plugs, BNC, and DIN plugs. Ready cables with all of these terminations are easily available.
Audio Cable Termination Types
Different cables require varied connectors or plugs and terminating audio cables with suitable connectors or plugs makes these cables suitable for various uses. Some connectors allow combined audio-video signals, while others are used with cables only for audio, video, or the computer. Additionally, audio cable terminations are available that are standard connectors for headphones, microphones, and musical instrument cords.
Phono RCA Plug
A widely used standard connector for audio-video signals, the phono RCA plug was introduced by Radio Corporation of America. These are terminations for colour-coded cables that are extensively used in home audio equipment and television sets: yellow for video, white for left audio, and red for right audio.
Right-Angled Phono Plug
The right-angled phono plug is a standard RCA plug for use in situations in which a regular phono plug is inconvenient or unsuitable. An example of an unsuitable situation for a regalar phono plug is a cramped space.
Phono Plug Piggyback
This is an angled, piggyback phono plug with a phono jack as well as a phono plug, placed end to end. The specialized design, which allows one to connect two phono plugs to the same jack, is available for both audio and video cables.
TRS Analogue Connectors or Phone Plugs or Audio Jacks
Analogue connectors go by several names such as audio jack, phone jack, or phone plug. Commonest and longest-serving styles of audio connectors, TRS analogue connectors are mainly used for analogue audio signals in microphones, headphones, music players, karaoke microphones, guitar cables, and others. The audio jack pin is cylindrical in shape typically with two, three and four electrical contact points, and available in three sizes of 6.35 mm (1/4 inch), 3.5 mm (1/8 inch), and 2.5 mm (3/32 inch). TRS stands for tip, ring, and sleeve, and plugs with two, three, and four contact points are available as follows.
| Type of Phone Plug | Feature | Sizes Available |
| --- | --- | --- |
| Two Contact Points | TS ( Tip, Sleeve) | 6.35 mm, 3.5 mm, 2.5 mm |
| Three Contact Points | TRS (Tip, Ring, Sleeve) | 6.35 mm, 3.5 mm, 2.5 mm |
| Four Contact Points | TRRS (Tip, Ring, Ring, Sleeve) | 6.35 mm, 3.5 mm, 2.5 mm |
These phone plugs may be mono or stereo. The TS mono phone plug has two electrical connections: the tip T is the positive connection, and the sleeve S is the negative connection. In the stereo TRS plugs, the tip is the positive connection for one channel of a stereo signal, the ring is the positive connection for the second channel of a stereo signal, and the sleeve is the common negative for both.
Right-Angled Audio Jacks
The TRS analogue connector of all three sizes and with different number of electrical contact points are available as right-angled audio jacks. Also, right-angled audio jacks are to be used in places where there is insufficient space to use straight jacks.
XLR Jacks and XLR Plugs
XLR jacks are three-pin connectors used in high-end professional audio applications to connect microphones to PA amplifiers and mixers, studio condenser microphones, and such other equipment. The XLR jacks are voltage-balanced to give noise-free audio. These jacks are used with the XLR cables where two signal-carrying wires are connected to the first two pins, while the third pin carries the signal from the cable's shield. This allows one to adjust for variations in voltage before the final audio signals are sent out.
DIN Plugs
DIN plugs and mini DIN plugs are widely used in computer systems and even on some audio decks, recorders, and other audio components. A circular connector with pins ranging between three to nine and set in common patterns, the DIN connectors have a cylindrical metal shield that encloses the pins.
Toslink Connector Plugs
Toslink, from 'Toshiba link', connectors are used with optical fibre cables to establish optical audio connections on DVD or CD players. Other examples include computers and gaming consoles.
Banana Plug
Banana plugs terminate bare wires from amplifiers and receivers and connect them to audio devices such as audio speakers in the home entertainment systems. These are generally about one inch in length with a 4-mm diameter and fit snugly into a 4-mm socket.
Spade Fork Connectors and Ring Connectors
Spade fork and ring cable connectors are terminations on bare wires that connect screw terminals and connections in small gadgets. Small gadgets may include car audio systems and loudspeakers.
F-Connector
The F-connector is generally used in radio frequency coaxial cables. Coaxial cable are used for cable television, antenna, and satellite connections for both digital audio and video.
BNC Connector
A BNC connector is cable termination for miniature-to-subminiature coaxial communications and video cables used for professional video connections, electronic test equipments, and surveillance equipment. It features a snap-lock architecture that locks the plug firmly within the socket. The plug, when inserted and turned, causes the pins in the socket to fall into a groove on the plug to lock it.
How to Buy Audio Cable Terminations on eBay
Shoppers looking to buy various types of audio cable terminations have a wide choice of products to choose from when shopping on eBay. The relevant keyword to use is "audio cable terminations", which will take the shopper through several pages of listings. Shoppers can narrow down their choices after going through the initial details and then go on to find detailed descriptions and images of the products on the dedicated listing page. Here one has access to product details, as well as prices, shipping and postage, items that qualify for free shipping, and information about the seller, such as the seller's feedback from other buyers and their contact details.
Shopping online allows one to make an informed choice at leisure. After the shopper is fully satisfied, he or she can place the order and then complete the transaction by paying for the selected items. With numerous safe payment options on eBay, one can shop and buy with confidence, and even track the order online.
Conclusion
Even in this wireless age, most households require cables and cable terminations for their home entertainment systems. Various types of cables and connectors are available, so shoppers must be aware of the types that need for their equipment. Audio cables are of two types: interconnect and speaker cables. These use various types of connectors depending on the gadgets with which they are used.
Interconnect cables use connectors such as the straight and right-angled phono RCA plugs, TRS analogue connectors, XLR jacks and plugs, DIN and mini DIN plugs, Toslink plugs, and RCA connectors for A/V equipment. A separate set of connectors is used on the speaker cables. These include banana plugs, spade fork and ring connectors, and other braided pin connectors that can be inserted into binding posts. Another difference between interconnects and speaker cables is that, while speaker cables are bare pairs of wires with just the insulation, the interconnects are generally thicker coaxial, XLR, or dual RCA cables and shorter in length. Choosing between stereo and mono connectors also makes a difference in the sound quality, as does the choice between balanced and unbalanced cables. The right cable for the appropriate device delivers clear audio and does away with the distracting hums, buzzes, and hisses.