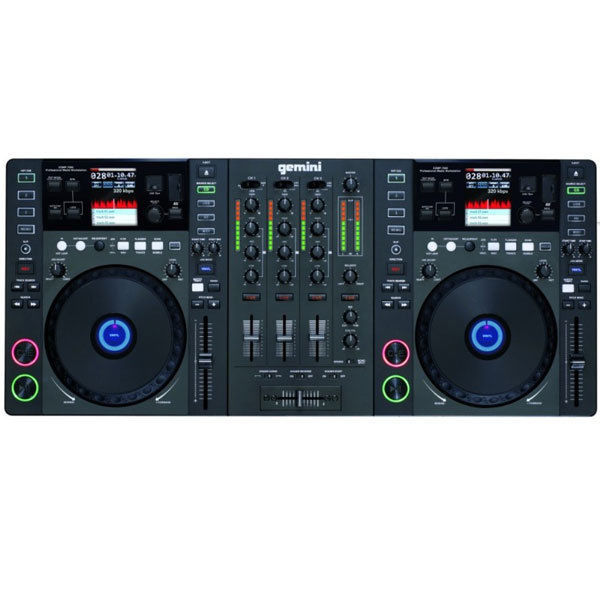 The development of digital technology has meant in many cases that older equipment has been replaced by some owners. While some DJs still work with turntables and vinyl records, many more have embraced MP3 players and digital systems. This modern technology is hugely popular due to the benefits that it offers, namely superior sound quality and the convenience of being able to store a massive amount of music on a relatively small device. The demand for DJ MP3 players has meant that there are models available from many different manufacturers, and as a result it is important for buyers to know how to choose the best equipment possible.
The Versatility of DJ MP3 Players
There are several ways in which DJ MP3 players can operate, meaning that buying one requires careful consideration. Some DJ MP3 players work by playing MP3 files from CDs or digital storage devices, and some have an internal hard drive for storing songs. Buying decisions will always depend on the needs of each individual, and there are very impressive examples of each type of DJ MP3 player to choose from.
DJ MP3 Player Storage Capacities
When buying a DJ MP3 player with an internal hard drive, it is vitally important to determine the storage required. As with personal MP3 players, the larger the storage capacity in gigabytes, the greater the number of songs that can be stored. Larger storage capacities, therefore, allow DJs to amass a huge collection of tracks of various genres, meaning that they can cater to different types of audiences. Larger hard drives can be seen to be more convenient, but they are also more expensive.
DJ MP3 Players with CD Functionality
An alternative to using an internal hard drive is to buy a DJ MP3 player with CD functionality. These devices can typically play audio CDs as well as recordable CDs with MP3 content. It is always important when buying a DJ MP3 player to check if it is compatible with any other file types, such as WAV, as this will enhance its versatility. Some DJ MP3 players have a single CD drive, while others offer a dual CD feature. The latter allows two MP3 CDs to be cued at once, offering the possibility of mixing and fading. The best, most technologically advanced DJ MP3 players often have a built-in mixer, but for many basic models this is an optional extra. Whichever model of DJ MP3 player is purchased, if it has CD functionality, it is essential that it also has anti-shock technology. In environments where a lot of people are dancing, the shockwaves can cause MP3 CDs to skip. Anti-shock technology prevents this by creating a buffer of a stored portion of the song being played. If anything causes the CD to skip, the cached data is used, meaning that the audio can continue to play interrupted. For this reason, anti-shock technology is an extremely important feature to have, and the greater the size of memory allocated to it, the better.
DJ MP3 Player Connectivity
The connectivity features of a DJ MP3 player can offer a great deal of versatility. For example, some include either a single, or multiple, USB ports. These ports are not only useful for transferring music to the player from a laptop, but their inclusion also means that songs can be read directly from a USB flash drive. The small physical size of flash drives means that DJs can carry several with them as they perform, which equates to thousands of songs being available to them. Similarly, some DJ MP3 players have slots for SD memory cards, offering yet another option for storing and transferring MP3 files. A further option found in some of the most advanced DJ MP3 players is wi-fi capability.
Devices which offer this option can transfer data quickly, easily, and wirelessly. The convenience of this will undoubtedly be attractive to many DJs. It is also important to check how a DJ MP3 player can connect to other devices. Most have RCA jacks, or S/PDIF digital outputs. For some buyers, a headphone jack will be essential, and it can also be useful to have a socket for a microphone. These types of connectivity options are not always fitted as standard, so it is always advisable to find out what a DJ MP3 player has available before buying one.
DJ Features in DJ MP3 Players
The most important factor to consider when buying a DJ MP3 player is the DJ features on offer. Such features determine how practical it is to perform DJ techniques such as mixing, scratching, and fading. In short, the range of features available will make it easy for buyers to decide if an MP3 player represents good value for money.
Pitch Control
Pitch control is one of the most widely used of all DJ MP3 player features, as it allows the beats per minute (BPM) of musical tracks to be made faster or slower as required. Many devices give a visual representation of the BPM of a track, often on an LCD screen. Not all MP3 players include pitch control, however, and those that do often differ in terms of the pitch range available. It is most useful when a pitch range extends to 100 per cent , as this offers the greatest amount of manipulation, but changes of 6 per cent, 8 per cent, 10 per cent, and 12 per cent are all common. In addition, some DJ MP3 players have dedicated buttons for bending the pitch, and a Master Tempo feature to allow the tempo of a track to be manipulated without compromising the pitch.
Jog Wheel
Another important feature is a jog wheel. Some DJ MP3 players have integrated jog wheels for accurate control of musical tracks. A jog wheel can be used to search for a particular song, and also to find a specific point within that song. It can also be used to perform scratch effects in some cases. As with some other information, the results of searches using the jog wheel are often displayed on an LCD screen for ease of use. Due to the importance of the information that is usually displayed on an LCD screen, it is most beneficial when these features are as large and bright as possible, making them easy to read in dark venues.
Looping and Fading
Many DJs will want any MP3 player that they are buying to offer seamless looping and hot cues. The former allows specifically chosen sections of tracks to be continuously looped without any audible break, and the latter allows up to three points within a piece of music to be stored and cued. This means that the music can be instantly started from any one of these three positions whenever a DJ wishes. Fading is another technique often utilised by DJs, and as a result it can be advantageous for MP3 players to incorporate this feature. A fader start/stop function allows easy crossfading between two digital channels, and will automatically stop a track that a DJ has faded out of.
Additional Effects
One final consideration in terms of beneficial features for DJs is that some DJ MP3 players have a range of sound effects that can be added to tracks. These are often important for many buyers, as they allow DJs to individually customise their performances. Scratch sound effects are very common, for example, and most DJ MP3 players will also offer various echo and filter effects. It can often be useful to determine exactly what effects a DJ MP3 player offers before making a purchase.
Tabletop and Rack Mounted DJ MP3 Players
Anybody who buys a new DJ MP3 player will obviously want it to be as robust as possible. The built quality of a device will be an important consideration, as will the weight. Some buyers will prefer tabletop MP3 players, which tend to be relatively large and heavy. As an alternative, there are rack mountable DJ MP3 players , which include connectors to allow them to be mounted to a rack. This is often a good space saving measure, and can look very professional. In addition, it allows other pieces of DJ equipment to be added to the set-up as required.
Buying DJ MP3 Players on eBay
A range of DJ MP3 players can be viewed and purchased on eBay. From the homepage, clicking on the Electronics & Technology category will bring up an option for Sound & Vision, which should also be selected. Within this category there is a sub-category labelled Performance & DJ Equipment, and a further option for DJ CD/MP3 Players. Selecting this option will display all of the DJ MP3 players for sale, with the opportunity for further selections based on features such as pitch control and playable file formats.
Conclusion
DJ MP3 players represent a technological advancement that has benefited many DJs considerably. Examples vary in terms of price and functionality, but in general they all offer a means of playing a large number of musical recordings. Any additional features which are required will depend on the individual buyer, and the range found on eBay means that many different types of DJ MP3 players are readily available to buy.