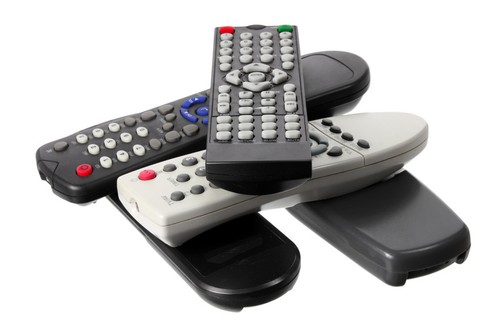 For some consumers, it can be an extremely frustrating time when they realise they have lost or broken their remote control. In any case, a replacement DVD remote control may be necessary. To find one, a consumer only has three options. Buy a replacement from the manufacturer or the manufacturer's supplier, purchase an alternative remote control, or purchase a universal remote control. All three are great options, and ultimately, it comes down to the consumer's personal preference.
If a consumer is looking to purchase a replacement DVD remote control from the manufacturer, it is always helpful if a part number can be supplied. If the remote control has been lost, having the DVD model number or serial number should be sufficient. Consumers also need to consider their warranty period as well as considering the purchase of an alternative replacement DVD remote control. Before a consumer makes a purchase they need to consider all the options available to them. With three main types of DVD remote controls available, it is best for the consumer to research each one and make an informed decision.
Types of DVD Remote Controls Available
There are only three types of DVD remote controls available for sale: they are branded DVD remotes, i.e., the ones purchased from the manufacturer, alternative replacements, and unbranded types that are available in most supermarkets and are also known to consumers as universal remote controls. Buying a branded DVD remote control is a safer option than purchasing a universal DVD remote control. By purchasing an unbranded remote control, a consumer is essentially purchasing the exact same remote that they had for half of the price.
Buying from the Manufacturer
Some manufacturers are unable to sell their products directly to the public, but the manufacturer should be able to direct its consumers to the nearest dealer. It can be quite expensive to purchase a new DVD remote control from the manufacturer as manufacturers make a lot of profit from selling spare parts.
Warranty
Most branded DVD players come with some sort of warranty. Usually, this warranty is 12 months. If the remote control has stopped working within the warranty period, then the consumer needs to contact the manufacturer for a replacement. A manufacturer will not replace an item if it broken due to misuse or accidents like being dropped. Manufacturers only guarantee for faults under normal conditions.
Alternative Replacement DVD Remote Controls
Alternative replacement DVD remote controls are brand specific remote controls and work as soon as the batteries are inserted. Consumers should not confuse them with universal remote controls. No set-up or programming is required with an alternative replacement remote control. An alternative replacement remote control performs all the same functions as the original remote. The only difference, if there is one, is the appearance. Manufacturers try to keep the layout the same as the original remote; however, there may be some differences in the positioning on the buttons. The main advantages to this type of DVD remote control is its lower cost, availability, durability, and not to mention that no programming is required; just plug the batteries in and start using it.
The quality of an alternative remote control is just the same as the original if not better. They have button and label printing that has been designed to last, which means consumers do not have to worry about the button names rubbing off. Out of the three DVD remote control choices available, the alternative remote control is quickly becoming the most popular option.
Universal Remote Controls
Most consumers have a coffee table full of remote controls. A universal remote control frees up that space. It can control everything from the DVD player to the TV and the Blu-Ray player. Just like a normal remote control, a universal one works in pretty much the same way. The only difference is that instead of being confined to controlling one specific device, it is capable of being programmed to control multiple devices.
Some universal remote controls are so advanced that they can control more than one device with one button. A universal DVD remote control can be complex as they require programming. This can be a problem for consumers who are not tech savvy. The cheaper universal remote controls have been known to have performance issues, but the more expensive ones tend to work fine.
Functions and Features
Universal remote controls vary in capability and price. The less expensive models perform all the basic functions of a typical remote control. The cheaper universal remote control options can control up to a maximum of five devices. They are best for smaller home entertainment systems that have minimal components. A more expensive universal remote can control up to 20 devices while also being able to perform more advanced commands. They also allow the consumer to program their own sequence of commands. This means several functions can be performed with the push of one button.
Making Sure Devices Are Compatible
The majority of universal remote controls cover a wide variety of devices and brands. This means that most universal remote controls will be compatible with whatever devices they are matched to. The only time there will be a problem is if they are being matched to very old devices or if they are being matched to multiple generic brand electronics. If purchasing a universal remote control to be used on multiple generic brand electronics get a receipt and make sure the seller has a return policy, just in case the new remote doesn't work.
Second-Hand DVD Remote Controls
Try to avoid purchasing a second-hand DVD remote control. Indeed, second-hand DVD remote controls can be purchased cheap, usually from car boot sales or lawn sales. However, consumers need to remember that a DVD remote control is often used a lot. Remotes get dropped, chewed on by kids and pets, and pressed many, many times. Also, just about every member of a family uses it on nearly a daily basis, so it may not last very long after it has been sold as many people handle the device. A second-hand DVD remote control can have buttons that do not work or poor connections. Save the hassle and avoid second-hand DVD remote controls altogether.
Dealing with Old Remote Controls
If the remote that is being used no longer works or if an upgrade to a universal remote control has taken place, the best way to dispose of the unwanted remote is by recycling. Most recycling depots accept remote controls as they are largely made up of recyclable metals and plastics. These materials can be quite harmful if disposed of into landfills.
Buying a DVD Remote Control on eBay
There are many brands of DVD remote controls for sale on eBay. Due to the high number of brands available, a keyword search is very helpful. A keyword search displays all the items that match the keywords. In this instance, if you just search "DVD remote controls&", you will see a list of results to search through. Try making the search more refined by adding in some extra details like "Panasonic DVD remote control&". This will then only display Panasonic DVD remotes.
From here, it really is very simple to make a purchase. Find the remote you require and read the sellers advert completely so you are fully informed on the product you are buying. Research the seller to make sure they have a good selling history. If the seller has a good reputation and the product is what you are looking for at a price you are willing to pay, then all that is left to do is to make a purchase.
Conclusion
Finding a replacement DVD remote control can be a real headache. eBay is a great place to look as the sellers there offer DVD remote controls for just about every brand of DVD player as well as a multitude of universal remotes and alternative remote controls. Buying a replacement remote from the manufacturer can be an expensive task; however, the manufacturer may be able to provide information on a store that sells their brand. It may be cheaper to purchase a remote from one of these stores as manufacturers make a substantial profit from selling spare parts.
Alternative remote controls are a great option for the consumer who cannot get hold of an original remote and who does not want to use a universal remote control. Moreover, second-hand DVD remote controls can be more trouble than they are worth. A remote control gets a lot of use and it wears out easily, so try to avoid the second-hand ones. If upgrading to a universal remote control, consider how many devices the remote has to operate and purchase one with those capabilities. The cheaper ones are able to run fewer items than the more expensive remotes. Think of the environment and recycle any old remote controls. A buyer who considers their needs before making a purchase is better equipped to find the right DVD remote control.