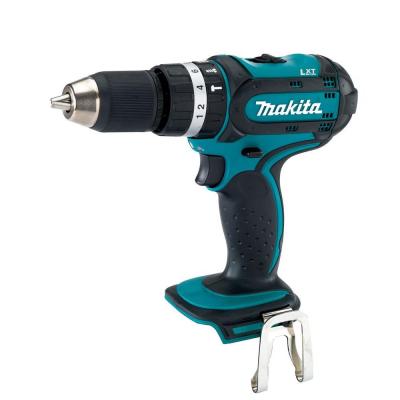 The decision to buy a hammer drill should not be taken lightly. In addition to the price, there are several criteria that need to be taken into account, including the brand and the nature of the work one intends to complete with the help of the tool. Hammer drills are a common presence at construction sites, but they actually have numerous uses, which makes them a must-have tool for anyone interested in DIY projects. In most cases, they are used to drill holes into concrete foundations or brick walls. A hammer drill combines the benefits of a drill with those of a hammer.
When shopping for hammer drills, either in specialised stores or online, buyers should make some proper research in order to be able to find a product that suits their needs and budget. By learning more about different types of hammer drills and their characteristics, one can make sure they invest in a quality tool that brings them value for the money.
What to Look For in a Hammer Drill
Hammer drills are also known as rotary hammer drills or roto hammers and they can be defined as drills with a rotating hammering action. Hammer drills provide the user with a hammering action that can pulverise hard brittle materials, producing quicker drilling with less effort. These tools come in a wide range of models and buyers should take a few things into account prior to making a purchase.
Hammer Drill Uses
The reason for which one is buying a hammer drill is perhaps one of the most important to consider in order to make sure the tool gets the job done correctly. Whether one is looking to drill into the ground or into a wall, there is a hammer drill suitable for any kind of drilling job. Many hammer drills offer owners the possibility to use different sizes of drill bits in order to drill holes in the adequate size. Hammer drills are often powerful tools, but buyers can choose the right one for them according to the type of job they intend to do. Hammer drills can be purchased in electric and battery-powered form. The battery-powered hammer drills are a good choice for DIY jobs, but those who are looking to use these tools on a construction site would do better with an electric drill.
Hammer Drill Accessories
In addition to purchasing a hammer drill, buyers should also have a look at various accessories when shopping for tools. Some of these accessories can improve the performance and manoeuvrability of a hammer drill. For example, the standard drill bits can be replaced with chisels, which is a good idea for those who want to use the tool as a kind of miniature jackhammer. Handles are other useful accessories, as they can be added to the side of the tool in order to allow the user to stabilise the drill and apply more pressure on it. As hammer drills are available from many different manufacturers, buyers who are thinking about purchasing one should do some thorough research on the way a certain tool can be used for various purposes. Watching online videos and reading tutorial books can be of help.
When Are Hammer Drills Useful?
Most hammer drills come with a selection switch that allows users to activate the rotary or rotary-plus-hammer modes. In rotary mode, a hammer drill can perform exactly the same functions as a regular drill. However, when used in rotary-plus-hammer mode, the drill can be successfully employed for masonry projects. Besides masonry, hammer drills are also useful when it comes to installing electrical boxes or any other type of fixture to walls. Other uses may include the installation of shelves and cabinets, as well as other DIY projects.
Corded vs. Cordless Hammer Drills
The two main types of drills are corded hammer drills and cordless hammer drills. Their functions are similar, but cordless drills seem to be more popular among home users. When choosing between a corded and cordless hammer drill, buyers should consider the amount of power they expect from their tool. Corded hammer drills have more power supply and they do not stop right in the middle of a project because the battery ran out of power. In addition to that, corded drills can be used successfully for tougher jobs when compared to their cordless counterparts.
Those who are looking for a cordless hammer drill, however, should keep in mind that this type of tool can provide them with more portability. Cordless hammer drills are often smaller than the corded ones and they are thus a better choice for those who do not have enough storage space for their tools. The downside of using a cordless hammer drill is the fact that it often operates at lower speeds than the corded ones. A cordless drill has an average speed of 850 rotations per minute, whereas a corded one has a higher speed of up to 3,000 rotation per minute. Extra speed is useful for those who want to use their hammer drills for unconventional applications, such as sanding or polishing. Cordless drills are suitable for materials including steel, wood, and plastic, while corded ones are a better choice for masonry.
Hammer Drills vs. Impact Drills
Even though it may seem that hammer drills and impact drills are the same type of tool, the reality is they are quite different. A hammer drill is very similar to a regular drill and is an excellent choice for doing masonry work, but not too useful for a woodworker. On the other hand, an impact drill looks rather different, featuring a smaller broad profile. Unlike a hammer drill, an impact one employs higher torque in order to screw in bolts in various materials. An impact drill is mainly used to install and remove bolts and is not suitable for drilling through walls.
Hammer Drills vs. Rotary Drills
Users who want to drill holes in thick walls may sometimes need something more powerful than a hammer drill. A rotary hammer drill may be a good idea for this type of masonry work, as it can output more power and is easier to handle. The downside of opting for a rotary hammer instead of a regular hammer drill is that rotary hammer drills are much bulkier and larger. In addition to that, they can only be used on masonry, so buyers who are looking for a versatile tool would be better off with a standard hammer drill. Those who are interested in purchasing a tool that works well for general DIY and home applications should opt for a hammer drill and rent a rotary hammer for a home improvement centre if they need one for a one-time project.
Hammer Drills Brands and Quality
Whether buyers are looking for a hammer drill for a big or small job, there are numerous options to choose from. Those who are looking for high quality tools should choose a tool manufactured by some of the big names in the field, which include Bosch, DeWalt, Hitachi, and Makita. As with other types of tools, a low price often means inferior quality, so one should try to go for one of the top models if the budget allows it.
Shopping for hammer drills online allows buyers to choose from brand new tools and used ones. A used hammer drill is a good option for those who are looking for a high-quality product but are not willing to pay the full price for it. Buyers should check the condition of the item carefully when buying used hammer drills in order to make sure they get a perfectly functional tool at a bargain price.
How to Find Hammer Drills on eBay
If you have decided what type of hammer drill would be right for your job, you need to look at a few models and compare them to make an informed decision. eBay is an excellent place to start your search, as it gives you access to a wide selection of models in all price ranges. By choosing to shop for hammer drills on eBay, you can choose from numerous models and get great deals as well.
It is quite easy to start the search for a hammer drill on eBay. Simply type the words 'hammer drill' into the search bar and you can start browsing through the selection right away. You can choose from new and used products and, if you find the selection to be too large, it is not difficult to narrow it down according to your preferences. However, if you know exactly what type of hammer drill you are looking to buy, you can type the exact name into the search bar in order to speed up your search. If you need a specific brand just search for that too, for example 'Black & Decker'.
Shopping for hammer drills on eBay means that you can choose to purchase an item from a variety of sellers. Make sure you read the product description carefully in order to make the right choice. If you are on a budget, you can save some money by choosing to purchase a hammer drill from a local eBay seller and avoid hefty delivery fees.
Conclusion
Hammer drills are useful tools to have at hand whether one is a professional contractor or a DIY enthusiast. Tool lovers can choose from various models manufactured by different brands. There is something available for any budget, especially when shopping on eBay. Things to consider when looking for hammer drills include the type of job that users need to complete, the pros and cons of cordless vs. corded hammer drills, and the hammer drills quality vs. price.
The Internet is a great place to shop for hammer drills because it offers buyers access to plenty of information regarding the product they are looking to purchase. Comparing as many models as possible before choosing one is a wise approach to the buying process, and eBay is a good place to do so. Regardless of the type of hammer drill one is interested in, chances are it is just a click away on eBay.