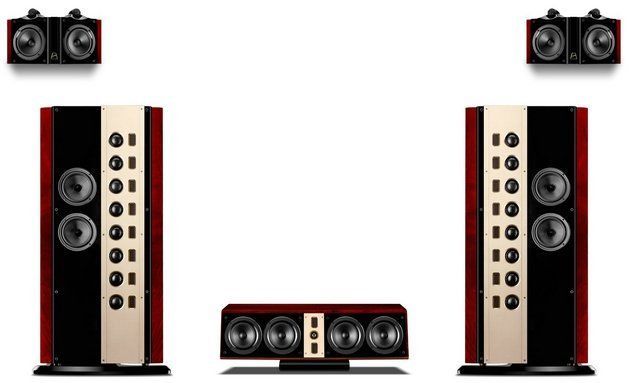 Home cinema systems bring the big screen experience to the living room. They are complete systems that aim to reproduce the kind of experience attained in a movie theatre, albeit on a smaller scale. A typical home cinema system contains a television set along with a DVD player, Blu-ray player and/or gaming console on which to play movies, and a surround sound audio system. The surround system is one of the most important elements and makes a large difference to the viewing experience. Home cinema systems might also contain various other components, such as projectors, iPod docks or multiple speakers. Home cinema systems are typically located in living rooms, though some people may have them in the bedroom or other rooms of the house. Sometimes they are even housed in dedicated rooms for movie viewing, but this type of home cinema system tends to be more complex and expensive.
Ordinary home cinema systems have increased in popularity over the last few years, with rapid advances in technology and price drops meaning that they are now more accessible and better quality. Home cinema systems as sold rarely include the television set, and it is more common to buy the separate components. It is quite common, however, to find home cinema systems containing DVD or Blu-ray players and surround sound components, including remotes and other accessories
Choosing a Home Cinema System
Buying a home cinema system is generally an expensive purchase, even if it just the DVD player or Blu-ray player and surround sound system. It is worth taking the time to do some research, check out product reviews, and visit websites and forums before deciding on a system.
Televisions
Many people will already own a television that is suitable for use with a cinema system, and there is not usually any need to replace it. Of course, features such as high definition (HD) and 3D can make a world of difference to the viewing experience, especially for certain films. HD televisions are capable of showing images in far sharper resolution than standard televisions, making them a necessary component for the most realistic home cinema experience. 1080p is superior to 720p in terms of resolution. 3D capability only applies for 3D DVDs, Blu-rays, and other sources. Viewing in 3D adds depth and puts the viewer in the middle of the experience, with images appearing to reach out from the screen. Used in conjunction with surround sound, it can add a very convincing dimension to home cinema viewing. However, viewing in 3D does generally require the use of 3D glasses, and not all viewers prefer 3D all the time. If there is an option to buy a 3D capable television, by all means do so, but it is not always essential.
DVD and Blu-ray Players
DVD players are gradually being superseded by Blu-ray players,, and Blu-ray players are often the more obvious choice for inclusion in a home cinema system. They can play standard DVDs as well as Blu-ray discs, and even upscale DVDs into higher resolution. Blu-ray discs can be played in high definition and 3D Blu-ray discs can also be enjoyed. However, Blu-ray players will not play HD DVDs. These are less common than Blu-rays anyway, so this is not generally an issue. For those that find DVDs acceptable, there is no need to switch immediately to a Blu-ray player to enjoy great films. When choosing a DVD or Blu-ray player, there are some standard criteria to check out. Buying from a reputable brand is always a good choice, as lower quality DVD and Blu-ray players may not perform well and can be prone to various problems which can interrupt viewing. Neither standard DVD players nor Blu-ray players can record. Useful features include bookmarking options, resume function, auto power-off, USB ports, memory card slots, and HDMI connectivity. HDMI is a high definition connection essential for HD viewing. When purchasing a DVD or Blu-ray player, also make sure that it is compatible with the surround sound system. The two components are often purchased together, in which case they will be compatible. Otherwise check the outputs, which will be either coaxial or optical.
Surround Sound Systems
Surround sound systems are the component at the heart of home cinema systems, and they are often simply marketed as home cinema systems in themselves. There are various types, including all-in-one systems, speaker packages, and soundbars. Alternatively, separates can be bought and assembled into a bespoke system.
All-In-One Systems
All-in-one systems are one of the simplest options. They contain all the essential components, including amplifiers, speakers, and cables. DVD or Blu-ray players are sometimes, though not typically, included. They are relatively simple to set up and contain all the instructions and connections required. All-in-one systems are single units and are ideal where space is limited. They can simply sit under the television or be placed next to it. Speaker drivers project audio at different angles to give the impression of surround sound.
Speaker Packages
An alternative to all-in-one systems is a system made up of various speakers. These are usually sold as a complete package. Typically the more speakers the package contains, the truer the surround sound. Standard available systems include 2.1, 3.1, 5.1 and 7.1. 2.1 channel systems, with two speakers and a subwoofer, are suitable for smaller rooms. Subwoofers project sound in lower bass frequencies. It is possible to convert 5.1 surround sound into the 2.1 format for optimal sound. 3.1 systems have an extra speaker. However, for larger rooms 5.1 channel systems, with five speakers plus a subwoofer, will give the best surround sound possible. 5.1 is the standard type of sound format, used for example by Dolby Digital, so buying a 5.1 system gives ideal sound projection. 7.1 systems have two extra speakers, but only a few Blu-ray discs support the 7.1 format, so they do not generally add anything. Remember that wires will usually need to be run to all the speakers, so consider where the speakers can be placed in the room. They should be placed around the viewer. Supplied cables are generally slim and inconspicuous, and most people choose to run them along the skirting boards. There are some wireless surround sound systems available.
Bespoke Systems
Audio and home cinema enthusiast's intent on obtaining the best surround sound possible may want to purchase separate components, including separate amplifiers and speakers. This can be a more expensive option, but it does give flexibility and means the system can be upgraded as required.
Soundbars
Soundbars are long, narrow boxes designed to sit below or next to the television. They contain several speakers. Sound transmitted to each speaker is processed in a way designed to reproduce the effect of surround sound. They are typically cheaper than other options and can be a good choice where space is limited, but they do not produce the same realistic surround sound that other systems provide.
Find a Home Cinema System on eBay
Home cinema systems can be found simply and easily on eBay. To find a system, go to the homepage and open the Electronics & Technology tab, clicking on the link for the Sound & Vision page. Then click on the tab forDVD, Blu-ray & Home Cinema followed by that for Home Cinema Systems.. A number of further options can be selected if required. For example, the brand, condition and price can be specified. Required components can be selected under the headings Receiver Combo Features or Features. Alternatively, home cinema systems can be searched for using the search facility at the top of the page. Type in terms such as "home cinema system", "home cinema system 5.1" or "home cinema system Blu-ray player" and press Search to bring up appropriate listings.
Conclusion
With superb high definition (HD) television and surround sound audio, home cinema systems are the ultimate entertainment system for the modern home. They are a great way to enjoy films, sporting events, and other programmes. There are various components to a home cinema system, and the complete system will include a television set, DVD or Blu-ray player or similar device, and surround sound system. As sold, home cinema systems include the surround sound system and sometimes other components such as Blu-ray players. There are two basic options - all-in-one units or speaker packages. If the DVD or Blu-ray player is bought separately, make sure that it has compatible connections for use with the surround sound system.