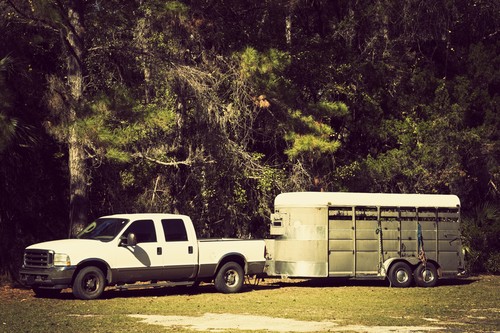 Livestock trailers offer ranchers, farmers, and animal lovers an efficient way to move their animals from point A to point B and over long distances. Ranchers and farmers utilise livestock trailers to move animals from the ranch or farm to the marketplace. Animal lovers, especially those who take care of horses, move their animals to showcase events. Regardless of the reasons for buying a livestock trailer, anyone who searches for a trailer needs to consider the same buying factors, including animal safety, animal comfort level, and trailer durability.
While many consumers believe the only way to shop for livestock trailers is in person, eBay has emerged as a viable venue for expediting livestock trailer sales that appease both buyers and sellers. Some of the best livestock trailer deals for some of the highest quality trailers can be found on the leading online auction portal. Before shopping for a livestock trailer, consumers should first learn about the types of livestock trailers, the common trailer models, and what to look for during the buying process.
Types of Livestock Trailers
The type of livestock trailer chosen depends on the type and number of livestock normally transported. eBay buyers want to gauge trailer efficiency, as well as the comfort level for the animals. Different livestock require varied comfort features, such as special on-loading ramps and larger carrying capacity. Trailer weight also dictates whether a trailer can be towed by a light vehicle or requires the use of a heavyweight truck.
Here are the three most common types of livestock trailers found on eBay, along with descriptions and characteristics of each.
Trailer Type

Description

Horse

Designed to haul large and heavy livestock, such as cattle and horses

Length options run between 2.5 m and 5 m

Available with combination or standard ramp

Gross weight of 3,800 kg

Aluminium

Curbside escape door for emergency use

Wrap-around LED lights and watertight wiring enhances livestock safety

Full opening centre gate for easy loading and unloading

Skid-free aluminium treadplate floor

Stock

Designed to haul livestock over rugged terrain

All-aluminium body and double deck

Both decks include street-side escape doors

Thick, durable rubber mat floor
Ranchers can purchase one type of trailer, and then alter the interior features whenever they expand the types of livestock in their inventory or purchase more livestock of the same breed, which requires more interior space. In addition, local and national law changes may require ranchers to alter their trailers. Some manufacturers have introduced hybrids that combine the best features of two different types of livestock trailers.
Models
Livestock trailer manufacturers typically produce three different trailer models, often referred to in the ranching business as top tier, middle class, and entry level. When shopping for a livestock trailer on eBay, consumers should compare trailers within the same model category. For instance, if the budget allows for a top tier model, then compare top tier models from different manufacturers.
Top Tier
Constructed with corrosion-resistant, hard anodised aluminium that provides unparalleled durability. Heavy-duty, custom-built hinges and doors secure livestock over the roughest terrain. Top-tier trailers possess extensions where the framework, floor, and walls seamlessly come together. This model has protected wiring with conduit and junction boxes that hold brake wires located at the axle.
Middle Class
This model represents the most common trailer brand used in the UK, and the most common trailer model found on eBay. The majority of parts are off the shelf that include recreational vehicle doors and pre-made, drop-down feed windows. Mostly constructed with steel, consumers should ensure the steel has been galvanised to prevent rust.
Entry Level
Ranchers who are just starting out or encounter financial difficulties prefer this budget-friendly model. The features offered with entry-level livestock trailer models vary by manufacturers. eBay shoppers may find sellers who offer entry-level trailer models that possess some middle class model features.
How to Shop for a Livestock Trailer
Shopping for a livestock trailer first involves performing some information collection. Network with friends and other ranchers at livestock events to gather opinions on livestock trailer brands and models. Review online trailer forums to learn about new models and assimilate user feedback. After performing preliminary research, create a shopping criteria list that includes the following criteria. Remember to rank each of the criteria in terms of importance.
Width and Length
Many ranchers look at height before they determine length and width, but trailer width size also influences how many animals can be transported. First-time eBay livestock trailer buyers should consider 3 or 4 m trailers that provide enough space to provide drivers with unobstructed views of the back of the trailer. Wide livestock trailers may require the installation of additional mirrors to ensure optimal visibility. Smaller livestock trailers may work for ranchers who only need to move one or two sheep.
Construction
Most manufacturers construct livestock trailers with a combination of materials that include fibreglass, aluminium, and steel. Trailers constructed with aluminium only typically possess steel twin axle sub-frames and gooseneck frames. Ranchers can find trailers on eBay made with steel frames that have aluminium skins to accentuate appearance. Aluminium livestock trailers are lighter than any other type of trailer, and thus, place less stress on the hauling vehicle.
Roof Material
One of the keys to keeping animals comfortable inside of a livestock trailer is to maintain cool interior temperatures. Fibreglass roofs can reduce trailer interior temperatures by as much as 20 degrees. Aluminium roofs extend roof warranties by providing more protection against excess moisture.
Floors
Consider livestock trailers sold on eBay that have ribbed, rubber mat floors that prevent slipping. Rubber mat floors typically link together as plank and stringer extrusions. Composite and steel-constructed trailers can have aluminium, wood, rubber, or rumber floors. Rumber is rebuilt rubber that forms tongue and groove planks. Only consider wood floors constructed with yellow pine, oak, or fir to ensure longevity.
Dividers
Dividers prevent livestock from making contact with each other during sudden stops or wicked curves in the road. Therefore, the material utilised in divider construction plays an important role in ensuring livestock safety. Stall dividers vary in size, and in some slant loads, the front and rear stalls may differ in width. Open, barred, and slatted dividers provide ample ventilation, which, in conjunction with roof material, determines interior temperature levels. One of the first questions to ask an eBay seller is how well the dividers absorb high impacts.
Walls
Consider adding insulation to double or triple walls. Insulation does a great job of regulating extreme temperatures, humidity, as well as reduce loud noise levels. Using a spray-on insulation liner protects walls from urine, dirt, and flying debris. However, spray-on insulation liners do not adequately absorb the impact of an animal kick.
Inspection
Buying a livestock trailer on eBay precludes consumers from performing on-site inspections. However, prospective buyers can still inspect a livestock trailer offered on eBay by asking the buyer to upload the inspection history. Any livestock trailer under consideration should have received a thorough inspection from an authorised government agency, preferably within the last six months. A livestock trailer that has not passed a recent government inspection most likely translates into the new owner spending money to bring the livestock trailer up to code. Make sure the eBay seller's inspection includes information that pertains to the trailer's tyres, lighting equipment, hitch, and safety latches.
How to Buy a Livestock Trailer on eBay
The question asked by most livestock trailer shoppers on eBay is: "Where do I start"? You can start shopping for a livestock trailer on eBay by using the powerful search engine located on every eBay page. Type specific keywords into the search engine to reduce the number of search results, and hence, the amount of time you spend on a search. You can find great deals on used livestock trailers, so type "used livestock trailer" into the search engine. Another effective eBay search engine strategy is to search by brand. For livestock trailers, type John Deere or Ford into the search bar.
Assume that you have a search results page of John Deere sellers in front of you. Now is the time to further vet each seller until you find the seller who matches your livestock trailer shopping criteria. Review the trailer photograph that is prominently displayed on each seller page. Look for obvious flaws and defects that eliminate potential sellers. Only consider livestock trailer dealers who upload recent inspections. Seller product pages also display accepted payment methods and delivery terms. You should also review the customer feedback that eBay compiles on seller product pages. Consider sellers who have amassed positive feedback for over the past year for selling agriculture equipment.
Conclusion
Purchasing a livestock trailer involves a substantial investment that requires extensive research and methodical vetting of potential sellers. Ranchers, farmers, and just plain animal lovers must decide if they want to invest in a high-end, top-tier model or an entry-level model that only requires a modest financial investment. Much of the decision process hinges on three important factors: animal comfort, animal safety, and trailer durability. Livestock trailer buyers also must decide if they want to shop for a horse, aluminium, or stock livestock trailer.
Once the general criteria has been established, buyers should then consider a long list of buying factors. The buying factors include stall width, trailer construction, roof material, floor material, divider length and composition, and wall construction. To answer all of the factor questions, livestock trailer buyers should consult with friends and professional peers who possess experience shopping for trailers. They should also perform research online, especially at forums that discuss livestock trailer brands and features. After all of the hard work, livestock trailer buyers are ready to go on eBay to find the seller who meets their shopping criteria.