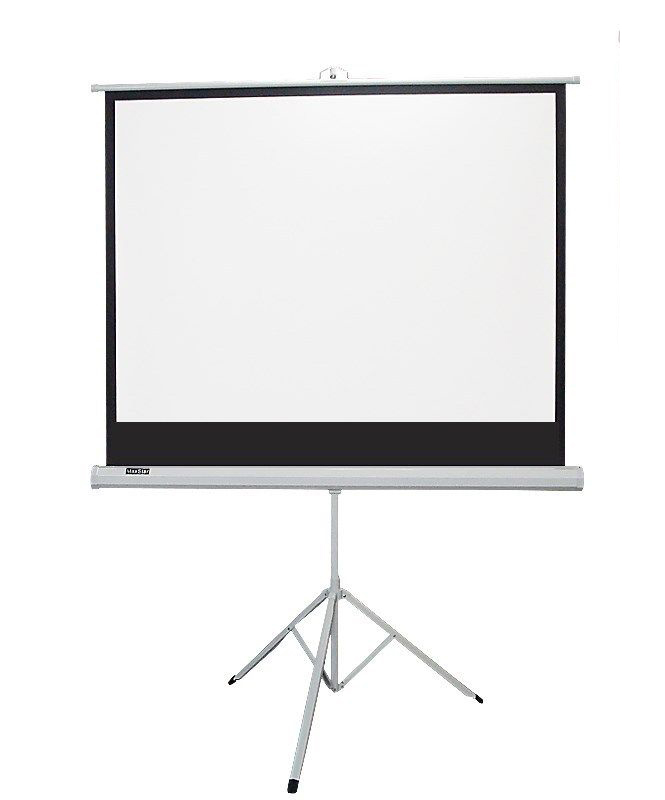 Projectors are popularly used as home cinema components as well as for presentations or lectures. Various accessories are used with projectors for more effective operation, while some components may need replacing from time to time.
Choosing Projection Accessories
There are several components to consider when buying a projector and setting up a projection system. These include mounts and stands, screens, lamps, cables, lenses, remote controls, and other parts and accessories.
Projector Mounts and Stands
One of the first considerations is what to place the projector on. Projectors may be placed on a stand or be wall or ceiling mounted. The latter has the advantage of freeing up valuable space, especially as projectors work best when positioned centrally, which also happens to be where the viewer is best seated. When purchasing any mount or stand, look for good quality, robust designs that can support the weight of the projector. The product specification for the stand should state the maximum load. Check that the mount or stand is compatible with the projector - many mounts and stands are universal and can work with various projectors, maximum weight permitting.
Ceiling Mounts
Ceiling mounts should specify the drop or maximum drop from the ceiling - mounts may have a fixed or adjustable drop. Adjustable drops are handy if the projector is to be used in different locations or rooms or for use with high ceilings, but for the average living room, fixed drop projectors are often fine. These are also typically more discreet as they sit almost flush to the ceiling. Some ceiling mounts may also be used in combination with extension poles for longer drops, giving them further flexibility to use in non-typical installations. Some poles can be tilted for use with slanting ceilings. Other specifications to look out for include the tilt adjustment, roll, and swivel. The tilt adjustment is the degree to which the mount can be tilted vertically, the roll is sideways tilting, and the swivel is the degree to which it can be swivelled sideways. Vertical tilting capability does vary quite significantly, with some mounts offering 90 degree adjustments or more. Some mounts offer 360 degree swivel. Projector mounts may or may not allow adjustment once the projector is fixed in place. Useful features include cover plates and cable tidies for a neat appearance, quick release mechanisms for easy access to the projector, security fasteners if the mount is to be used in a public place, and hand levers for adjustable drop mounts.
Wall Mounts
Many ceiling mounts can also be used for wall mounting, and similar specifications and considerations apply. Wall mounts often refer to the throw distance, which corresponds to the distance from the screen and the resulting picture size. The arm of wall mounts is often adjustable to control picture size. Other useful features and accessories include levels - to make sure that the picture is completely level - and extension arms.
Stands
Projector stands are typically simple lectern or trolley type stands. Lectern type stands can be tilted vertically to angle the projector upwards or downwards. They often have tripod style legs for support. Trolley type stands with wheels have the advantage of being easily manoeuvrable, though they may also take up more space. They also often have storage space for other items. Projector stands are a cheaper option than wall or ceiling mounts and do not require any installation involving drilling into walls or permanent fixture. They are a good solution if the projector is only used infrequently or sporadically, but are not ideal for regular use.
Projector Screens
There are several features to look out for when it comes to purchasing a projector screen. Screens are available in various types, including pull down screens, motorised screens, fixed screens, and portable screens. Fixed screens can be positioned, then left, and are a great option for those with dedicated home cinema space. They arguably stay more tightly stretched and therefore continue to provide better pictures. However, pull down screens are more versatile and can be simply pulled down to use and tidied away afterwards. They are a good option when the projector is used in a room with other functions such as a living room. Motorised screens can be dropped down using a remote controller but otherwise have the same benefits as pull down screens. Portable screens are floor mounted and can be either folded out or pulled down. The advantage is they can be completely tidied away, but quality varies and they are not usually as completely flat or rigid as other types of screen. Whichever type of screen is preferred; other considerations include size and shape. Size is usually expressed the same way as television screens, which is the diagonal measurement across the screen given in inches. Shape corresponds with aspect ratio, and most screens are 4:3, 16:9 or 21:9. 4:3 is the shape of a computer monitor and is ideal for use with 4:3 projectors for presentations and lectures. However, for home cinema high definition (HD) viewing, 16:9 is the better option. Many blu-rays are produced in 21:9, but viewing in 21:9 requires use of a projector with a specialist lens attachment. A projector screen is not strictly necessary, though it does improve the quality of the projected image. White or off white walls may be sufficient for many purposes however.
Projector Cases
Several projector cases are available to safely store and transport projectors. These vary from soft padded cases to hard cases. Soft cases often have shoulder straps and are designed for transporting compact projectors. They typically have various pockets to keep cables neatly stored. Hard cases provide more protection. Extremely robust waterproof and crushproof designs are available. They usually have foam inserts to provide excellent protection for the projector.
Projector Cables
Various cables are available for use with projectors. Component video cables are used to connect to DVD players. Signals sent via this type of cable are known as RGB-HV, with the RGB standing for red, green, and blue, which corresponds to the colour of the connection. HDMI cables, or High Definition Multi-media Interface cables, are high quality cables designed for viewing in high definition (HD). They are becoming standard cables for home cinema use and are available in two types - type A is the more basic type with 19 pins, while type B has 29 pins and is recommended for resolutions higher than 1080p. Other cables and connections include s-video, composite video, SCART, VGA, DVI, and RS232.
Replacement Lamps
It is worth looking into the cost of replacement lamps when buying a projector as the cost can vary, and having a spare lamp is always a good idea.
Find Projection Accessories on eBay
All of the above projection parts and accessories can be located for sale on eBay. From the eBay homepage, they can be found via the Sound & Vision page, opened via the Electronics & Technology tab. Simply scroll down and click on the DVD, Blu-ray & Home Cinema to bring up various options. Projector parts and accessories can also be searched for in a more direct way by using the search facility. This can be found at the top of any eBay page. To bring up listings, try searching for terms such as ''projector ceiling mount'' or ''projector screen''.
Conclusion
The various types of accessories available for use with projectors include mounts, stands, screens, cases, cables, and lamps. Projectors may be ceiling or wall mounted, or simply placed on stands; ceiling or wall mounts are preferable for permanent use, while stands such as tripod stands or trolleys are handy for temporary use. Screens are not always necessary, but their use generally results in a better picture. The various types include fixed, pull down, motorised, and portable, and they come in different sizes and aspect ratios. When purchasing any accessory, remember to check it is compatible with the particular projector and any connecting device.