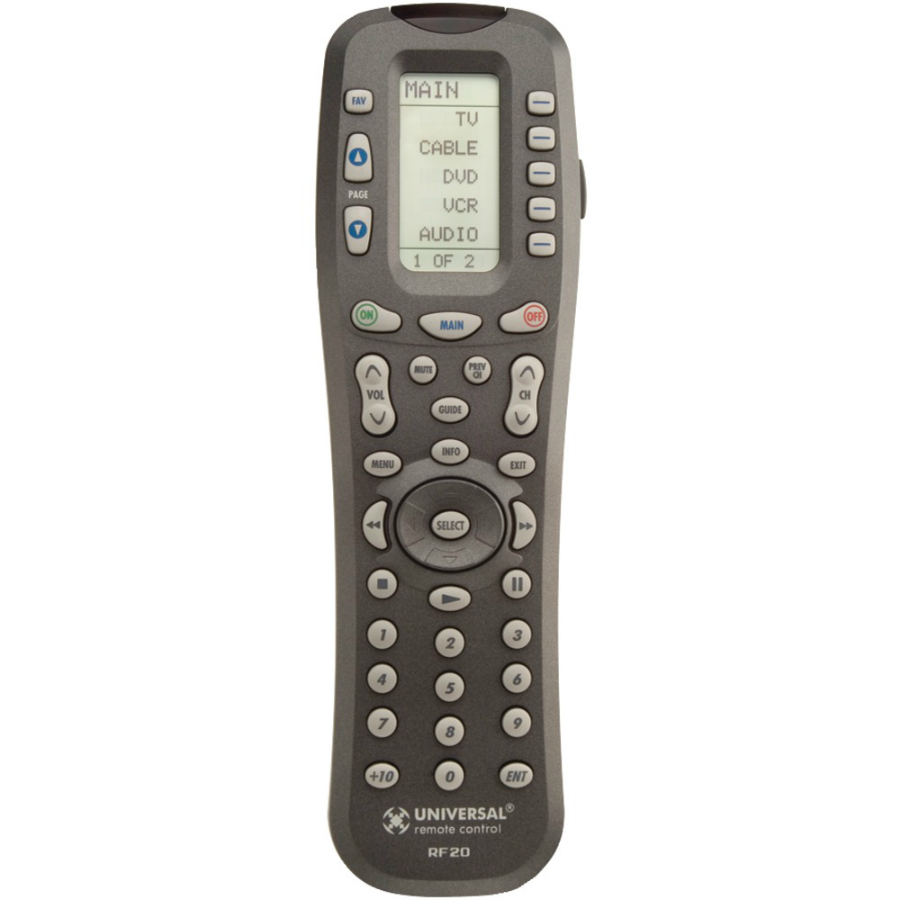 Many people do not pay attention to the remote controls that come with their electronic devices, but many of these devices would be difficult or impossible to operate without a remote control. Sometimes, remote controls break, are misplaced, or just become technologically outdated, all good reasons for purchasing new remote controls. The good news is that on eBay it is quite easy to buy a new remote control for a particular device, or to just get a universal remote control for all of the media appliances at home.
Many homes now have a few media devices in their living rooms including a TV, DVD, or Blu-Ray player, home theatre system, and so on. For some, it may seem cumbersome to switch between so many remotes just to change the TV channel or to play a DVD. If this is the case, one may decide to get a universal remote control to simplify things. No matter what kind of remote control one wants to buy, it is possible to get it on eBay since it has a large selection of remote controls for almost every device. Knowing how to choose the right remote control for one's needs, as well as how to search for it on eBay can simplify the shopping process.
Choosing a Remote Control
Buying a remote control for any use is actually quite easy if buyers know what they need. The first thing to do when buying a remote control on eBay is to decide whether one needs a remote control for a particular device, such as a TV, or a universal remote control for all devices in a room.
Type of Remote Control

Devices Supported

TV sets

TV receivers

Set top box

DVD players

Blu-Ray players

Home theatre system

Home theatre projector

Multiple devices at once
Besides a TV and universal remote control, users can also look for remote controls for their DVD/Blu-Ray player, TV receiver, and even projector. Although a universal remote control can control numerous devices at home, they can also cost quite a bit, especially the more advanced ones. Therefore, those on a budget should consider whether or not they really need a universal remote control.
Buying a TV Remote Control
For users who just need to buy a remote control for the TV, or the TV receiver/set top box, it is first necessary to find out the model number of the remote control that works with that device. Users can do this by checking the model number on the old remote control, finding it in the user's manual of the device, or by contacting the manufacturer. It is also important to determine if the remote control for one's TV is still produced by the manufacturer, as many TV models of a few years old often have their remote controls discontinued from production. The next step for users to take is to just search for their remote control on eBay. Users should remember to search for a remote with the correct model number to ensure that it works with their TV.
Buying a Universal Remote Control
A universal remote control is great for those who have a few electronic devices and find it impractical to have a few remote controls in the living room. With a universal remote control, users can control all of their devices including the TV, DVD player, home theatre system, and more. The remote control can be programmed to emit signals to match each device and control them.
Compatibility with Devices
When purchasing a universal remote control on eBay, users should check that it is compatible with the devices that they have at home. Most universal remote controls can work with any modern electronic device. However, all devices that they can support should be listed in the owner's manual so users just need to refer to the list and make sure that the model number of their device is included. On the list, there are also codes for specific devices, which users can type into their universal remotes to control a particular device. Some more advanced remotes can connect to the computer via USB to enable users to search the Internet for the specific codes needed to control electronic devices.
Extra Features
Besides checking the compatibility of the universal remote control with the home devices, one can also consider the extra features that some remotes have. For example, some remotes have an LCD screen that can display useful information, while others are sold with rechargeable batteries and a charging dock. Although most universal remote controls can be programmed to control up to three or four devices, some can control 10 devices, or even more.
How to Buy a Remote Control on eBay
To ensure that users have a smooth shopping experience and that they are able to buy the perfect remote control for their needs, there are a few things that they should know about when shopping on eBay. These include how to search for an item, how to use category filters, and how to check a seller's feedback score.
Searching for a Remote Control on eBay
The simplest way to search for a remote control on eBay is by using the search function. Users can just type what they want into the search bar that can be found on every eBay page in order to get relevant results. When searching for a remote control, buyers can use the provided filters to select the type of remote control that they want. For instance, they can select the set top box category to look at set top box remote controls.
Visiting eBay Shops
When users purchase a remote control from a particular seller and decide that they want to purchase other items from the seller in the future, they can save the seller on their account so they can easily visit the seller's shop whenever they want. Users can also look at other eBay shops if they just want to browse through the many items that eBay has to offer.
Checking Seller's Feedback Score
A seller's feedback score is a rating system where users can rate a seller based on their products and services. When sellers have a high feedback score, it means that a majority of their customers are satisfied with them. Some customers may even post comments about their experiences purchasing from a seller. Therefore, it is always a good idea to look at the feedback score on the product page as it can prove to be of great help when one is deciding on a purchase. Anybody can give a rating to the seller as long as they have made a purchase from him or her.
The eBay Buying Process
Buying a remote control on eBay is a simple process as one can find almost any remote control just by typing in the relevant keywords into the search bar. To start, you can head to the eBay home page and look up 'LG TV remote controls' or 'Logitech universal remote controls' for specific brands, or simply 'remote controls'. A list of all related remotes appears, and you can look at each product to find one that it suitable for your needs. When buying a remote control for your TV, projector, or other devices, remember to read the full item description to be sure that it is compatible with the exact model of your device.
After selecting a remote control, you are directed to the product page where you can read all the available information about it. Besides reading the details about the remote control's specification and features, you should also take note of the condition, price, estimated delivery time, and also return policy. Keep in mind that, compared to purchasing from local eBay sellers, purchasing from international sellers may imply higher shipping fees and even customs in some cases, depending on the country where the seller is located.
Conclusion
Since people use their remote controls almost every time they are watching movies or listening to music, their remote controls may get damaged or lost. If any of these happen, then one has no choice but to purchase a new remote for that device. On the other hand, users can choose to purchase a universal remote control so they can use it for all their media devices, and save themselves the hassle of having to switch between remotes to control different devices.
No matter what remote control one may want to buy on eBay, they can easily find a good quality one by searching eBay. Users can also use various filters to select the category of the remote control that they want, and obtain more specific results for their search. Lastly, users should take a look at the seller's feedback score to make a better decision on their purchase, and, once they have received the item, rate the seller to help future eBay buyers on their purchase decisions.