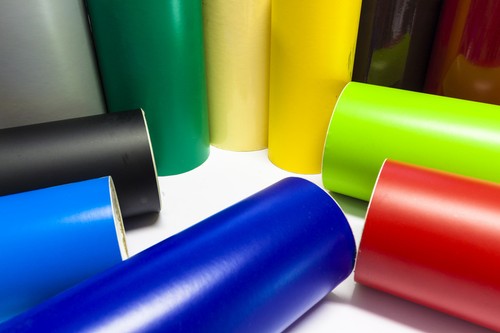 Self-adhesive vinyl, a material widely used in the specialty graphics industry, is commonly used to make signs. There are various types of self-adhesive vinyl, and each type has a unique quality that makes it better to use in some situations than others. This type of vinyl is ideal for sign-making because of its durability; it can last for approximately five years when used outdoors and also as long as 15 years when used indoors. Self-adhesive vinyl for sign-making purposes can be located at graphic stores and online on eBay.
It is important to also know how to choose this type of vinyl correctly. Some adhesive vinyl may be more suitable for outdoor use than other types, so it is important to know more about the various types of vinyl before making a final purchasing decision. It is a very versatile material that can be useful when chosen and applied properly.
Types of Self-Adhesive Vinyl
Since there are a variety of adhesive vinyls to choose from, it is helpful to know the different types as well as practical uses for each. Using the right type of vinyl ensures that the signs made with them look good for years to come. Vinyls come in lifespans that are referred to as intermediate and high performance. Intermediate vinyls usually last between three to five years, while high performance vinyls have a lifespan of approximately seven to nine years if used properly. Although there are many different types of adhesive vinyl that is used for sign-making purposes, some of the more popular ones are listed below.
Translucent Vinyl
Translucent vinyls conduct light in a way that allows the light to pass through, which makes it an ideal type to use on signs that are primarily for outdoor use. This type of vinyl is commonly used on signs that have an acrylic or lexan face in order to benefit most from the light transmitting properties that this vinyl is capable of, which is particularly useful for being able to read the sign in conditions that involve low lighting.
Another benefit of using translucent vinyl in sign-making is its typically long lifespan when used outdoors because of the way that this material is manufactured. Because of this, it is often more expensive than other types of vinyl used in sign-making, such as opaque vinyl.
Opaque Vinyl
Unlike translucent vinyls, opaque vinyls do not transmit light. When used on acrylic or lexan surfaced sign faces, this vinyl actually has the opposite effect. This type of vinyl is most commonly used on lettering for signs placed in yards; however, it is also popularly used for vehicle and window lettering as well. Opaque vinyls are generally considered to be high performance vinyls and should last for many years, but it is also important to note that the lifespan of vinyl also depends on the quality of the vinyl purchased. The higher the quality is of the vinyl, the longer the lifespan typically is.
Reflective Vinyl
Reflective vinyl, made from reflective sheeting and often cut into stripscan, can be very difficult to work with because of the unique elements used in composing this type of material. It does not have light transmitting properties; however, it is best used specifically in conditions involving low lighting. When light strikes the surface of this type of vinyl, the lettering can be read very easily by anyone passing by it, such as motorists or pedestrians. This is one of the reasons this type of vinyl is a very common one used in making road signs or stickers for warning and safety signs. This type of vinyl is beneficial because it does not require additional lighting, which also makes it more cost-effective to use.
There are two types of reflective vinyl that are more commonly used for sign-making over others. They are called prismatic and retroreflective. Each of these vinyls has various features incorporated into them to be designed for specific purposes.
Prismatic Vinyl
Prismatic vinyl uses prisms in the film to produce a reflective surface. This films has a layered composition, which makes this the most difficult to work with between the two types of reflective vinyl materials.
Although the material is extremely difficult to cut, this film does offer some major advantages over other types of self-adhesive vinyl because it is able to reflect light at wider angles than other reflective vinyl materials. Because of this quality, this type of vinyl is often used in making road signs.
Retroreflective Vinyl
Also known as beaded reflective, retroreflective vinyl is also difficult to work with, yet it is still easier than working with prismatic vinyl. Although its properties make it very beneficial for viewing at night, those same properties also make the material very difficult to shape and cut. The best tool for cutting this vinyl is a very sharp blade and a lot of muscle power; however, do not expect to be able to reuse the blade again.
Physical Composition Matters
Often, the type of sign dictates the type of vinyl material that needs to be used for it, such as the vinyl tape used to mark hazards, but in other cases there is more room to have the freedom of choosing what type of vinyl is used. It is easier to pick out ones that are best for both the user and the sign being created.
Choosing the right material can be difficult as some types of vinyl appear outwardly to be the same; however, the physical properties differ, and some types are much more difficult to work with than others. That is why it is helpful to be able to tell the differences between the various types. The information in the table below lists popular types of self-adhesive vinyl along with the notable characteristics of each.
| Type | Notable Characteristics |
| --- | --- |
| Translucent | Often acrylic based, top coated with polish or other coating |
| Opaque | Smooth, flat profile; wax or other surface coating added |
| Prismatic | Uses tiny pyramid-shaped reflective prisms on multiple film layers |
| Retroreflective | Embedded glass beads used in pigment construction |
The physical properties listed for each type of self-adhesive vinyl are common in the vinyl industry. Some of the physical properties or top-coatings, if any, may vary depending on what company manufactures them. Many forms of vinyl include pressure sensitive adhesive backing and are resistant to UV rays.
How to Apply Self-Adhesive Vinyl
Self-adhesive vinyl rolls is widely used in the sign-making business; however, it has other decorative uses as well. The technique listed below gives basic information for applying this type of material and what tools are commonly used during this process. Although some vinyls can be easily removed if an error in judgment of its placement is made, other vinyls are not so forgiving so it is important to attempt to place it correctly the first time.
Cleaning
It is important to make sure the surface of the sign or other object is clean from any dirt and debris before applying the vinyl. Rubbing alcohol works best for removing contaminants from these types of surfaces without leaving a film behind. Clean the surface with an alcohol based cleaner and allow it to air dry. A towel may be used for the drying process as long as the surface of the sign stays clean and lint free after using it.
Measurements
Once the surface of the sign has been thoroughly cleaned, the next step is to measure the sign to ensure proper placement of the vinyl. Take a tape measure and mark the centre of the area where the vinyl is to be placed, making sure to leave an adequate border around all of the sign edges. Use those measurements to mark the vinyl sheet by folding and making a crease in it. With the front of the vinyl facing outward, place a mark with masking tape in the centre where the vinyl is to be placed according to the measurements taken in order to keep the alignment even when transferred to the sign.
Vinyl Application
It is important to make sure that there are no air pockets between the vinyl and the backing that covers it. It is easy to remove any air by turning the vinyl upside down and running a scraper along the paper backing in a smooth upward motion. Once sure that no air pockets remain, separate the vinyl from the outer backing by removing the paper at one edge of the sheet, using a vinyl cutter to cut it off only to the centre crease and make sure that no paper remains. Centre the vinyl according to the marks placed on the sheet on top of the sign's surface and gently allow it to make contact.
Working from the centre, use a scraper to apply the vinyl one side at a time making sure that no air pockets get trapped underneath. Short, smooth strokes should eliminate this possibility. When this has been accomplished, repeat the same procedure for the other side.
How to Buy Self-Adhesive Vinyl on eBay
So many people enjoy using eBay to find items that they need because of the convenience and affordability that this online marketplace has to offer. There is a wide variety of sellers who use eBay consistently which means that there is a variety of materials and prices to choose from. Finding the right self-adhesive vinyl is easy to accomplish by performing a simple keyword search. This can be done at the top of the eBay homepage or any subsequent page on this site.
Begin your search by entering relevant keywords into the search query box. For example, if you want to purchase a roll of self-adhesive vinyl but do not yet know which type you want, type in "self-adhesive vinyl roll". In no time at all, a wealth of choices for self-adhesive vinyl that come in rolls is displayed before you to choose from. When you find an item that interests you, carefully read the item description for more detailed information about that item.
Conclusion
Self-adhesive vinyl is used for making a wide variety of signs, and the type of vinyl that is best suited for the job should be researched if someone is new to this type of job. Reflective vinyl has the ability to transmit light and is great for outdoor use; however, it can be costly. Opaque vinyl does not have the ability to transmit light and therefore should not be used for signs that need to be read in conditions involving low light. Prismatic and retroreflective vinyl both have reflective properties and are often used for this reason in making highway signs. Both are difficult to work with because of the way the vinyl material is made.
Applying vinyl is a relatively easy process, and if the surface of the sign is cleaned properly and the vinyl is properly applied, the user should have a wonderful sign that lasts for years to come. It is useful to know more about each type of vinyl before committing to a final purchase. With the proper knowledge, buyers can find the perfect self-adhesive vinyl for their sign-making projects on eBay.