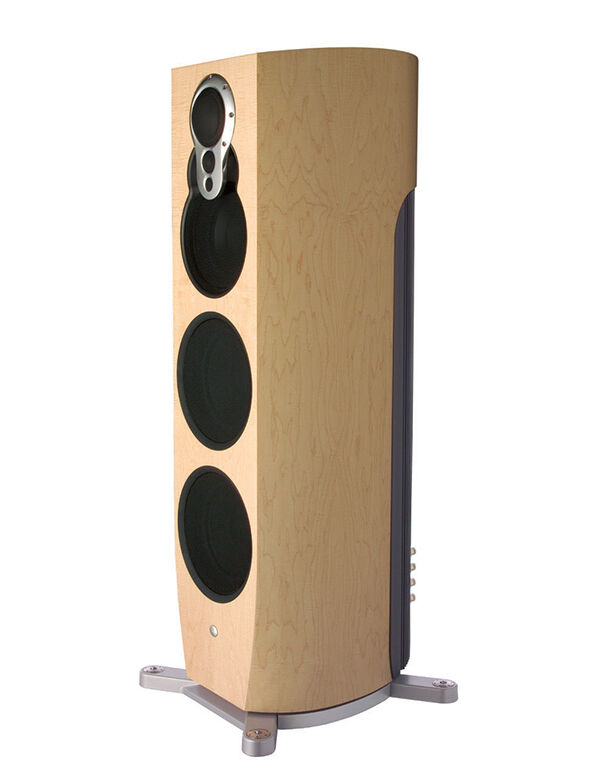 Speaker choices range as vastly as the personalities of those who buy them. At the bottom end of the scale, there are tiny, noise-crammed stereo options that attach to simple desktop computers or CD players. At the upper tier of the market, there are booming high-definition surround-sound satellites that put listeners into a virtual world that is unrivalled by all but the most potent imaginations.
Choosing Quality Categories
Speaker features are diverse enough to split the industry into highly disparate categories which aim to satisfy cinemaphiles, music fans, gamers, and white collar computer workers through features tailored towards every whim. Ohm's Law states that the human ear is capable of hearing frequencies individually, which the brain puts together to form clear harmonies. It is this ability to split sound into crisp, distinct tones that speakers exploit by separating satellites into those that manage bass tones, upper notes, and middle ranges. Ohm's law is exploited even more successfully by surround sound set ups that channel audio waves through five or more speakers to recreate the sense that objects are moving towards, around or away from listeners.
Despite the lofty technological heights digital audio products have reached, there remains plenty of room for simpler tastes and more palatable budgets. Those who need to hear little more than their computer's canned sound effects needn't max their credit cards in search of a powerful set of tweeters and subwoofers.
| | | |
| --- | --- | --- |
| | Suitable For | Specifications |
| | Desktop office workers and general home computer owners for whom sound is merely used to communicate task-driven information. | A pair of speakers powered by a single driver. Bass response is poor. |
| 2.1 Speakers | Discerning gamers. Film and music fans buying on a budget. | Two satellite speakers and a subwoofer to handle bass tones and analogue synthesisers. A tweeter may be used to augment high frequencies. Powerful satellite speakers capable of below 100Hz can handle bass tones without the need for a subwoofer. |
| Virtual Surround Sound Tailored for Film. | Fanatical cinemaphiles. | Satellite speakers use front and rear, left and right channels. One or more centre speakers control dialogue and music scores. Subwoofers channel deep rumbles and explosions. Fewer drivers deliver reduced accuracy as compared to true surround sound. This pushes their price tags down relative to systems targeted at gamers. |
| True Surround Sound Tailored for Gaming. | Passionate computer gamers. | Subwoofers, tweeters, satellites, and centre channels produce PC based 'true' surround sound, often through headsets. Dedicated multiple drivers handle individual channels accurately. |
Speaker Styles and Placement
Room acoustics can make or break the audio quality reproduced by a system, adding oomph to the simplest stereo system or detracting from a premier 7.1 layout. The shape of the room, its furnishings and the way all speaker components are positioned are core determinants of sound fidelity.
| | | |
| --- | --- | --- |
| | Specifications | Preferred By |
| | Wireless technology used to produce poor audio but today's high-tech options are capable of accuracy when stereo Bluetooth and AirPlay connections are used. | Appropriate for stereo listeners who need a portable system and those who require speakers that adapt to their iPods, laptops and other devices. Décor purists who lack the technical know-how to feed complex wiring through architecture prefer to do away with wires. |
| Floorstanding Speakers | These enclosures are designed to exploit all frequencies fully for better sound quality. They are highly adaptive towards a range of placement strategies and are usually large enough to produce a muscular sound. | Ideal for discriminating audiophiles creating a home theatre and music system and those who demand the flexibility to choose their own placement strategy. Investment buyers who wish to take their sound systems with them when moving home choose this option. |
| Bookshelf Speakers | Compact speakers that can be secreted away on a shelf or mounted on a wall. They are capable of high quality audio, particularly when a subwoofer is added. New technology allows these smaller speakers to produce impressive audio quality which can almost rival floor standing options. Their sound quality, power and frequency ranges are highly versatile and directly proportionate to price. Enclosures are usually sealed to maximise bass frequencies. | Preferred by music, film, and gaming fans who are satisfied with consumer-grade sound quality. Home Owners who want an unfussy sound system that melds into their décor choose these enclosures because cabinet placement is the simplest way to hide wiring. Office workers who need sound clarity without overwhelming bass for audio streaming, video conferencing and video viewing can also gain from this kind of placement. |
| In-Wall, On-Wall, and In-Ceiling Speakers | Professionally installed satellites don't steal floor space. Positioning them at ear height or overhead allows for basic surround sound placement at the recommended angles. Choosing back box and other optimum enclosures improve sound quality. | Film aficionados who want their décor to look organic and cosy hide compact speakers in the architecture of the home. This limits them to long term tenants and home owners, since they lack portability and require time-intensive installation. |
| Subwoofer and Satellite Systems | Two or more satellite speakers are combined with subwoofers and tweeters. Bass frequencies are maximised when the satellites, subwoofers, and an amplifier are correctly matched according to wattage and power capacity. | Gamers and cinemaphiles building their own surround sound entertainment system out of individually selected components choose satellites and wubwoofers individually. Apartment dwellers and those needing compact solutions to save space can also benefit. |
Accessories
The boom overwhelming the gadgetry industry places plenty of demand on the bells and whistles that come with speakers. Today's sound systems are not merely responsible for generating sound for a single device. Tablets, desktops, mobile phones, and televisions can all be connected to the same speakers if the additional features allow it.
| | |
| --- | --- |
| Subwoofer and Tweater controls | A booming bass is usually necessary for home entertainment systems. For office use, low frequencies are likely to annoy the owner of the next door office. The ability to control treble and bass levels allows listeners to adapt their audio quality to the varying requirements of film, music, and game based audio. |
| Auxiliary Input | This makes it possible to connect speakers to a range of devices such as iPods, MP3 players, and radios. |
| Remote Control | Comprehensive universal remotes make it possible to control every component of a home theatre system. Programmable remotes make it simple to change preferences according to recorded settings for work, gaming, film, and music listening. |
| PC Connections | Some USB powered speakers can play music directly from memory cards using SD slots. Multiple inputs enable Bluetooth streaming and potent subwoofer frequencies via low frequency outputs. |
Directing Sound Waves
The way sound waves are directed to the primary seating positions has a dramatic impact on how audio is heard. Traditional surround sound speakers used two driver sets controlling bipoles and dipoles. It has now become possible to configure speakers precisely so that enclosures radiate sound in specific directions.
| | |
| --- | --- |
| Monopole | Radiates ambient sound directly towards the listener using drivers focused on the enclosure's face, creating an overwhelming audio experience. An entry level option preferred my those who enjoy multichannel sound. |
| Dipole | The illusion of sound direction is more potent in this configuration, replicating professional theatres more precisely. The sound field envelops listeners through drivers that direct sound from the side and rear speakers. |
| Bipole | Drivers are concentrated on the back and side speakers, firing sound simultaneously. |
| Omnipole | Audio is channelled outwards, 360 degrees in all directions. This generates volume that is resounding enough to fill large outdoor areas. |
Find Speakers on eBay
To create a refined eBay search according to predetermined factors such as preferred brand, navigation from the home page is ideal. The Electronics & Technology tab leads to the Sound & Vision section, which offers a search for TV & Home Audio Accessories. Here, speaker stands, brackets, remote controls, and cables can be selected. The Home Audio & Hifi Separates page offers a listing of the speaker components available.
Alternatively, a basic search for eBay speakers offers all the stereo, surround sound and computer audio components needed to build a sound system from scratch. It is possible to shop according to brand, enclosures, placements and the complexity of the system required. Loyal brand followers can also choose to shop according to their preferred manufacturer. When in doubt, the Community pages bring audiophiles together to discuss their decisions with other eBay users.
Conclusion
Whilemost speaker choices will be based on music quality, today's revolutionary new technology has cleared room for a host of new features to add to sound systems. Stereo has become endangered as home theatre enthusiasts focus on achieving a truly virtual audio experience through surround sound. In the modern world, digital components need to adapt to a variety of devices ranging from mobile phones to wide screen televisions. Fortunately for today's music fans, there has been a steep ascent in the quality of speakers, leaving even the most cash-poor audiophile with the ability to build a powerful speaker set up at a budget-friendly price.