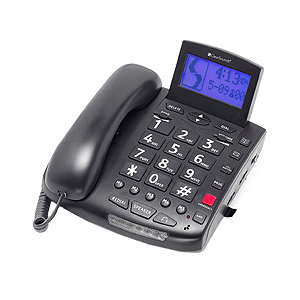 A telephone and answering system is usually one of the first things a company needs, and it can be one of the pricier parts of the setup costs. With the number of choices along with the huge list of features available, this can be a confusing choice to make for a business owner to make. The key to choosing a telephone and answering system is knowing which features are really necessary for a given company, and being able to estimate the growth of the company over time. When these two things are done, business owners can easily evaluate their options and choose the right system for their companies.
There are three basic kinds of telephone systems for businesses, and Internet options (VoIP telephone) for any of them. There are also several different handset types with special features, and a handful of important features that business owners should consider opting for. By knowing about system types, phone types, and important telephone system features, the owner of a company of any size can make the right choice and open the lines of communication to the target market.
Business Telephone and Answering Systems
Businesses today have three types of telephone systems to choose from. In addition, there are Internet options for each system type. The system should be chosen based on the size of the company and the planned expansion of the business. Choosing a more complicated system than is needed results in unnecessary overhead costs for a small business. On the other hand, underestimating the size of the system needed results in customers getting a busy signal. The four types to understand and consider are the KSU system, the KSU-Less system, the PBX system, and VoIP systems.
Keyless Systems
Keyless systems are ideal for the smallest business, with fewer than 10 employees. The handsets in such a system contain all the necessary features and there is no separate central unit. The installation of a keyless system is fairly simple, but has to be done on one's own, as telephone service providers do not usually install these systems.
KSU or Key Systems
KSU systems have more features and are best suited for companies with between 10 to 50 employees. They involve a central unit and and can be easily upgraded as the business grows. However, they do not have all the features of a PBX system. The first key systems had lighted buttons for each line, but modern key systems are much more advanced. Almost all are completely digital and overlap significantly with PBX systems in functionality. This has given rise to the term 'Hybrid system', referring to a KSU system with many PBX capabilities.
PBX Systems
A Private Branch Exchange system is the most advanced business telephone system. PBX systems are easily upgraded, like KSU systems, and can grow with the company of up to any size. For this reason, they are generally chosen by medium to large businesses. The upfront cost of a PBX system is considerably higher than the cost of other systems, though, so a small business should avoid jumping the gun unless it is clear that the advanced features offered by this system type are necessary. One variation of the basic PBX system is the PABX, which stands for Private Automated Branch Exchange. This system is often used by call centres, and other businesses which need a single number, to offer multiple lines to external callers.
VoIP Systems
VoIP telephony is the technology by which the Internet is used to place phone calls. However, VoIP systems still need telephone system to manage and route calls. Many PBX systems support VoIP, and these are generally called IP PBX systems. Some key systems can also be used with VoIP. The use of the Internet has put many advanced telephone system features within the reach of small business owners.
The following table summarises the company size ideal for each system and the basic characteristics.
| Telephone System | Company Size | Description | Price |
| --- | --- | --- | --- |
| | Fewer than 10 | No separate central unit; most basic | $ |
| KSU or Key | 5 to 50 | Wide range of features; central unit routes calls | $$ |
| PBX | Greater than 50 | Greatest range of advanced features; requires professional installation | $$$ |
The company size given in the chart should be calculated with the company's projected future growth in mind. For example, a business with three employees expecting to triple in size in a short period of time may opt for a basic KSU system with options to upgrade later. Special advanced features that are crucial to the business may also be a good reason to disregard company size when choosing a phone system.
Telephone Types
The handsets that must be bought for a business telephone and answering system depend on the service chosen (KSU, PBX, VoIP, etc) and the features included in the service. That said, there are a few different basic types of telephone handsets that are used for business telephone systems. A shopper should be aware of the special characteristics of conference phones, IP phones, analogue corded phones, and cordless phones. Of course, a large company needs a mixture of these, depending on where and how they are to be used.
Conference Phones
When video or audio conferencing is a necessary feature, the ideal handset is a conference phone. These phones have special speakers that project the sound so that everyone at a conference table can hear the speaker on the other end of the line. Video conferencing requires special camera, speaker, and phone setups as well.
VoIP Phones
There are IP handsets designed to work with KSU and PBX systems that look much like traditional telephone handsets. However, other systems use a virtual phone on the computer and require only headsets to make phone calls.
Analogue Phones
Analogue phones have all but disappeared from business systems, but they still have a use for those who need basic reliable communication. Analogue phones can be used even when the power goes out or when there is no network connectivity, unlike IP phones. However, the compatibility of an analogue phone depends on the system chosen. There are both analogue and digital KSU systems as well as PBX systems. Analogue phones have the added advantage of easy plug-and-play setup.
Cordless Phones
Cordless phones are usually digital but can be analogue as well. Analogue cordless phones offer less security since the signal can be intercepted, but when this is not an issue, they offer mobility in an analogue telephone system. Cordless phones require mains power, unlike corded analogue phones.
Telephone and Answering System Features
There are literally dozens of telephone system features for businesses. Evaluating which ones are really useful and which ones are not worth the extra cost is an important part of choosing a telephone and answering system. The features often come in packages and vary depending on telephone service providers in different areas. Remember that salespeople may not accurately gauge the business' needs and instead try to sell the biggest package possible. By knowing in advance about different features, one can often negotiate a package with more useful features.
Auto Attendant
The auto attendant is the automated voice that gives callers various options and allows them to dial in to an extension directly. This is a basic feature that takes the place of a receptionist in some businesses. When this is the case, it can mean a significant savings every month.
Call Logging
Call logging is a security feature that can be useful in medium to large companies to keep track of employee calls. It is probably not necessary in a small office for security purposes. Check with the service provider about what information is recorded with call logging.
Call Barring
Both incoming and outgoing calls can be controlled with call barring. For example, it can be used to bar any outgoing international calls, or bar calls to certain numbers.
Call Recording
Call recording is often used for judging the quality of customer service in a company. Be aware that features like call recording are often much more affordable with VoIP systems.
Computer Integration
Computer integration is an advanced feature that allows the computer to work together with the phone. One-click dialing is possible, and the computer may even be able to automatically open the customer's account based on the number the call is from. This is another feature that is becoming more popular with VoIP systems.
Conferencing
Call conferencing allows more than two people to participate in a phone call. With the increasing popularity of online applications that do the same thing, this may or may not be a feature worth paying extra for.
Automated Directory
An automated directory makes it easy to find a certain person's extension using just their name. Obviously this feature is most useful in large companies, especially when employees need to communicate with dozens of different people on a frequent basis. Otherwise, it may be simpler for employees to learn just a few extensions for the people they interact with most.
Call Forwarding
Call forwarding allows an employee to send the call to another department, or someone who can better address the caller's issue. For customer service purposes, call forwarding is essential since it is less than professional to tell the caller to 'call back and mark the extension XYZ'.
Intercom/Paging Capabilities
An intercom is very useful whenever general announcements to a particular department are frequently made. Certain business types use this feature more than others.
Music on Hold
Music on hold is thought to make the wait more bearable for callers. The music can be punctuated with advertisements or announcements but frequent repetitions can do more harm than good.
Backup Power
A backup power supply is good in areas where there are frequent power outages. Backup power is usually provided for a given period of time, usually a few hours. Check with the service provider for details.
How to Buy Telephone and Answering Systems on eBay
Finding telephone equipment is easy on eBay, where a wide selection of models and handsets are always available. eBay's advanced search options let you search by price or even brand, making it simple to find handsets or other equipment that is compatible with a given system.
To find business telephone equipment, enter a term like 'PBX phone system' in the search box on any eBay page. You can refine the search with any of the search criteria provided, and browse through the appropriate subcategory to see even more search criteria. Choosing refurbished equipment by clicking on the options under the search criteria 'condition' is a great way to get high-quality equipment for less, and eBay's seller feedback system makes it easy to find reputable sellers who sell refurbished equipment.
As with any transaction, ask the seller any questions you might have before making a purchase and be sure to check the return policy and warranty when applicable.
Conclusion
Telephone and answering systems are the lifeblood of most companies, allowing immediate and efficient communication between employees and clients. The right system allows a business to provide excellent customer service and increase sales, while an inadequate system is a hindrance at every level of the company organisation. Telephone and answering systems have to fit the size of the business they are for to avoid unnecessary costs. They also need to be upgraded as the business grows. The most common kinds of telephone systems are key-less systems, key systems, and PBX systems.
As technologies change, there is an increasing amount of overlap between these system types, especially when Voice over Internet Protocol options are thrown into the mix. There are various kinds of handsets that can work with each of these telephone systems, and a range of features that business owners have to choose from when deciding on the right package from a telephone service provider. By knowing one's options beforehand, one can simplify the decision-making process when choosing a system, and find telephone and answering equipment online through eBay with just a few clicks of the mouse.