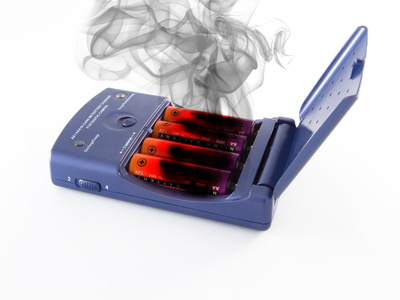 A Battery charger is often one of the most overlooked devices in the field of electronics. Battery chargers are only as good as the charge they can supply. Within consistent periods of use, used battery chargers may begin to lose power in their charge or may have stopped functioning all together. Battery chargers are available for nearly all electronic devices and differ solely based on the equipment they are charging. Various rechargeable devices come standard with a charger; however, in times where the original charger begins to malfunction, a used replacement is an ideal purchase. Research various brands, specifications, condition, and the seller of a used battery charger to make sure that the purchase provides years of extended use.
About Battery Chargers
Battery chargers are used to put an electric current into a rechargeable battery or secondary cell, essentially recharging the power and energy capabilities of the battery or cell. Most battery chargers contain a power chord, which can be plugged into an outlet to power the device. Battery chargers also have an input line to insert into the rechargeable device and the actual charger, which can be found between the input line and the power cord or directly on the end of the power cord. Battery chargers can be used for numerous electronic devices including mobile phones, laptops, gaming consoles, and more. All battery chargers should specify their charging capabilities and specifications including C (or C-rate) and voltage. It is important to use the right battery charger with the correct device. Using the correct settings and not misusing the battery charger, by allowing it to constantly over charge, will preserve the battery's life.
Origins of the Battery Charger
Battery chargers date back to the 1800s, although their use has garnered a second life in the modern day. The lead acid cell battery was invented in 1985 by French physicist, Gaston Plante. It was the Swedish Scientist, Waldemar Jungner, who developed a product that was more closely related to our modern conception of a battery charger in 1899. The first battery charger was on the market by 1906 from Jungner, which stemmed from his invention of the Nickel Cadium battery and the works of Gaston Plante. As time progressed, chargers developed incresingly to become smaller and convenient to fit the further advancements in electronics. Battery chargers for the common lithium-ion battery can be found for nearly all devices. Used battery chargers are usually a great deal because they are offered at low prices at similar or identical output levels as new chargers.
Choosing a Used Battery Charger
Used battery chargers are never purchased based on their visual appeal; they should be purchased based on their quality, compatibility and condition. Buyers who plan to purchase a used charger should investigate the condition of the charger. Damage to the input and power cord or charger itself should be thoroughly investigated. Compatibility is clearly the most important factor when purchasing any battery charger. Chargers that are not compatible with the device and its battery can cause all sorts of issues and damage. Narrow the search by considering chargers compatible through brands, licensed replacements, specifications and price.
Types Of Battery Chargers
Rechargeable Battery Chargers are very useful for those who wish to save on expensive batteries. Rechargeable battery chargers supply a charge to specific types of batteries based on the user's needs. AAA, AA and all sorts of rechargeable battery chargers are available.
Laptop Chargers
Laptop Battery Chargers are usually easily interchangeable and do not vary too much from one model laptop to another. PC laptops may differ between certain models but some laptop chargers could be easily exchanged. Macbook laptop chargers are nearly all universal and will differ more based on the battery rather than the charger. Standard Macbook chargers can be used on Macbook Pro chargers, and vice versa. Many licenced replacement power adapters are available for both PC and Mac. Replacement chargers should be researched based on the brand.
Mobile Chargers
Mobile Phone Battery Chargers come in a large variety of brands and voltages. Most mobile phones are only compatible with the correlating manufacturers charger. There are no set designs for mobile phone chargers; they are infamously distinct. The DC-connector varies greatly from one phone charger to the next. More recently, some of the world's largest mobile phone manufacturers have agreed to develop support for microUSB-equipped chargers. This will make data phone chargers more interchangeable.
MP3 Chargers
MP3 Player Battery Chargers will vary based on the MP3 player. Most iPods have a universal charger that can be used on various apple products as well. Other MP3 players' chargers may be limited to their specific manufacturer.
Smart and Universal Chargers
Smart Chargers are specific as they contain a chip which give it the ability to communicate between the battery and itself, determining the batteries characteristics. Both smart chargers and smart batteries go hand in hand as communication between both units are needed in order to be compatible. A smart charger is interpreted as a device that interprets a battery's state and executes its actions accordingly. Smart Batteries are also prevalent in the market and utilise the Smart Chargers to keep them at full capacity. Depending on the batteries condition or current life, the Smart Charger will determine the voltage needed to keep the battery charged and healthy. There is a moniker often called delta peak, which often refers to the Smart Charger's ability to keep track of the voltage. The majority of Smart Chargers charge a battery up to 85 per cent of its capacity quickly, then slowly dissipate to a slow charge, or trickle to top off the rest. Universal Chargers are what one would expect. They are the most complex chargers utilised. The military and similar branches popularly use them. Universal Chargers are complex devices that can charge all battery types. The majority of these chargers are programmed by the company to function in a unique fashion.
Compatibility
Depending on the item, each charger is compatible with a unique product. A buyer should be aware of what to purchase. Most chargers being sold online will state the products and/or models that they are compatible with. Finding the device's model number will be a great help when ensuring the charger is compatible. Many online chargers are a licensed replacement charger, which means they are not made by the device's brand; instead they are made by other licensed brands and are usually less costly than the original charger. Research the licensed replacement chargers to know which ones are considered higher quality. Some chargers are built cheaply by second rate vendors and don't last long and can be damaging for your product (I.e. Laptop, cell phone). When a buyer is specifically considering the purchase of a mobile phone Battery Charger, then it is important to note that each charger is diverse as they consist of a wide array of DC connectors.
Brands
There are a variety of brands to choose from when looking for a Battery Charger. The buyer should confirm the brand they are purchasing is compatible with the brand item they wish to charge. Depending on the smart battery, some are only capable of functioning with the same brand. Certain mobile carriers that provide chargers with cell phones will only function with its own devices. This is the same case for laptops and other devices.
What Is Included in the Purchase
It is the buyers responsibility to confirm what is included with the purchase. Check to make sure all the components are included and functional. Make sure the item is not simply being sold for parts if the expectation is that it is fully functional. When a buyer is purchasing a Smart battery, it is important to preferably purchase the product as a whole. Regardless, the majority of Smart batteries do come with their allotted chargers, sometimes even a car charger as well.
Buying a Battery Charger on eBay
Finding the correct Battery Charger through eBay is simple as it provides a wide array of options and brands. Once on the home page, click on the All Categories bar, which is located on the right side of the search bar. Click on it and select Sound & Vision, from there select Multipurpose Batteries & Power and then finally Battery Chargers.. These selections can all be found on the left hand column. Once on the final page, the buyer has the option of selecting which charger they need, in accordance with their battery, phone, laptop, or any other device.
Conclusion
Overall, eBay provides a great diverse selection of Battery Chargers for every unit. The buyer can specify his or her needs with selectable columns on the left hand side of the page. Whether they are looking for a certain brand of charger or for a AAA Battery Charger, eBay provides multiple selections. It is the buyer's responsibility to make sure that the correct charger is being bought. If one is buying a charger for a battery, it is wise to make sure the charger rating matches that of the batteries. All in all, online shopping can be easily enjoyable with its great prices and vast selections.