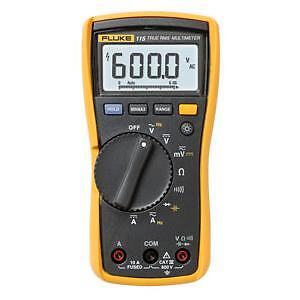 When working with electricity and wiring systems, it is important to have the necessary tools to get the job done. This ensures that the technician and the equipment are not harmed during the process. Fluke is one of the largest manufacturers of such tools and devices. Their products are tough and reliable, which ensures that they can get the job done with few errors. Depending on the type of Fluke that is required, the prices can vary greatly. For this reason, many people search for used Flukes. Devices that have been used previously may be still in good condition and so provide tremendous value over their new counterparts. eBay is an online marketplace that offers a large selection of new and used Flukes from across the UK. In order to find the right Fluke for the job, shoppers need to be able to identify the differences between devices and know how to search the eBay site effectively.
Purpose of a Fluke
Fluke is the name of a company that manufactures tools and equipment for scientific, industrial, and service applications. Many types of devices and tools are available, but when a person refers to Flukes, they are likely referring to Fluke meters. These multimeters are used for a variety of electrical purposes. In particular, these devices are used for electrical engineering, surveying, maintenance, and production. The devices are reliable and durable, which makes them ideal for heavy-duty use in industrial settings.
Searching for Flukes on eBay
When searching for used Flukes, eBay offers the largest selection. eBay has listings for Flukes from all over the UK. Knowing how to use the search features on eBay ensures that shoppers can find what they are looking for quickly and efficiently. Performing a basic search is the quickest way to find results. Shoppers need to enter keywords into the search bar that describe the type of Fluke device that they need. Then the results can be sorted by choosing various features, which are described in more detail below. The Advanced Search feature also allows shoppers to perform a more specific search when shoppers are looking for something in particular.
Types of Fluke Devices
When shopping for used Flukes, it is important for shoppers to specify which device they are looking for. While meters are the most common types of Fluke devices that people look for, it is important to differentiate between the various types of Flukes. The three most common types of Flukes that people commonly search for on eBay, both new and used, are clamp meters, distance meters, and multimeters.
Clamp Meter
Clamp meters are simple to use and function to measure electrical currents. The clamp meter, as the name suggest, uses clamps to connect to the electrical devices. These resemble hand clamps, which are squeezed to open and released to close. They connect tightly to electrical conductors to read the electrical current that is passing through.
Distance Meter
Distance meters are commonly used in industrial and construction settings. These meters use lasers to measure distance. The device is placed atop one object and a laser is directed toward another object in the distance to quickly and easily determine the distance between the two. This type of meter is more accurate than traditional forms of measurement, and is also much faster.
Multimeter
Multimeters are commonly used by electricians, auto mechanics, and other technicians who commonly work with electrical devices and wiring systems. The multimeter can be used to record a variety of electrical measurements, including the current, voltage, and resistance. There is a variety of Fluke multimeters. The choice of multimeter depends on the task at hand. Basic models perform generalised multimeter functions, but some multimeters do come with several extra features.
Choosing Used Flukes
eBay makes it easy for shoppers to find the Flukes that they need on eBay by allowing shoppers to narrow down the listings by features, price, and condition. It is important to consider all of these options so that the type of Fluke chosen is the best one for the job. In addition to finding Flukes, shoppers may wish to consider buying replacement parts and manuals for Flukes that they already have.
Features
The features of Flukes vary depending on the type of meter that is being purchased. Each meter has basic functions that are found on all types of meters, but others have specialised functions that help with specific jobs or projects. Some of the extra features that shoppers may encounter are listed in the table below.
| Feature | Description |
| --- | --- |
| | Includes software for measuring frequency, period, time intervals, and other statistics |
| | Handheld thermometer that uses lasers to measure surface temperature |
| | Measures the voltage and frequency of an electrical signal and displays the results on a cathode-ray tube screen |
| | Verification instrument used to test other devices |
| | Measures the current of an electrical system |
| | Generates repeating and non-repeating electronic signals; both analogue and digital |
eBay allows shoppers to sort the listings for Flukes based on the types and features listed above. This ensures that shoppers can find what they need without having to sort through thousands of listings for Flukes. Additionally, shoppers can choose the devices that only have the features that they need. That way they do not have to spend extra money on features that are unnecessary.
Price
When shopping for used Flukes on eBay, it is important to consider the price. eBay allows shoppers to set a minimum and maximum price range for the devices they want. This feature makes it easy to find a Fluke that fits within the budget. Shoppers can also sort the prices from lowest to highest so that they can start looking at the listings that are the cheapest.
Condition
eBay shoppers also have the ability to filter the listings based on the condition of the Fluke. Several new, used, and refurbished devices are available on eBay. Buying used and refurbished Flukes allow shoppers to get devices that function well at a fraction of the price of new devices. It is important to evaluate the condition carefully. While used Flukes show some signs of wear and tear, they should not have any broken parts. Shoppers should take the time to read item descriptions and view pictures to ensure that the device is up to par.
Replacement Parts and Manuals
In addition to the various types of Flukes, shoppers can also find replacement parts and manuals for all types of Flukes on eBay. Rather than replacing the unit altogether, shoppers can find parts to repair the Fluke for a much lower price. Additionally, when shopping for used Flukes, it is not uncommon for them to come without instruction manuals. These can be purchased separately so that users reduce the risk of damaging or injuring themselves by attempting to use the Fluke without proper instruction.
Postage and Packaging Options
One of the advantages of shopping on eBay is that shoppers have a choice in how much they wish to spend on delivery. Many sellers offer free postage and packaging, which further reduces the cost of the Fluke. Shoppers can choose to display only the items that offer free postage and packaging. Additionally, when sorting the items by price, the total cost includes the postage and packaging fees set by the seller. Shoppers also have the option of entering their postcode to find sellers who are located close by. If the seller agrees, the shopper can pick the Fluke up in person and avoid delivery costs altogether.
Choosing a Seller
Another advantage of shopping on eBay for Flukes is that shoppers get to choose who they do business with. eBay users use the feedback rating system on eBay to rate each other at the end of each transaction. When reading through the item description, a shopper can see the seller's rating, total number of transactions, and even read some of the comments left by previous buyers. Additionally, shoppers can send questions to the seller directly.
Conclusion
Flukes are reliable pieces of equipment that are used when performing electrical work. Being able to measure current and voltage is critical when working with wiring and electrical systems. Not being able to monitor these values could result in harm to the technician and damage to the system.
Several types of Flukes are available to complete a number of electrical jobs safely and accurately. When shopping for Flukes, buying used devices saves the shopper a significant amount of money over new devices. Shoppers can find used devices that are still in good, working condition. Finding them is made easier by shopping on eBay. This site allows people to list their Flukes for sale to reach buyers from all over the UK. This means that shoppers can find a larger selection of used Flukes on eBay than anywhere else. When shopping for used Flukes on eBay, it is important for shoppers to know which devices they need as well as the features they require. No matter what kind of Fluke device a person is looking at what price, the shopper is sure to find what he or she needs on eBay.