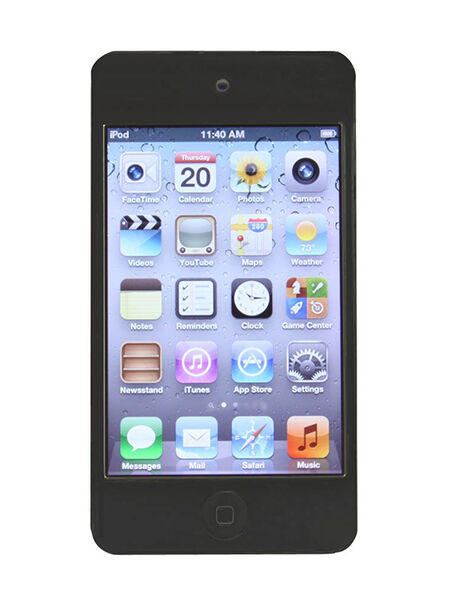 Apple's iPod media player is one of the most successful electronic devices ever made. Since it was first launched into the market, the iPod has become synonymous with technological advance and multi-functionality. Today, and thanks to their enhanced capabilities, iPods are considered a must-have gadget by students and professionals alike, as their compact design, lightweight properties, and portability make the iPod the ideal device to stay tuned and entertained anytime, anywhere. However, iPods have come a long way since they were first invented, and the first-time buyer can easily become overwhelmed by the large number of models available and by what each of their specifications mean. This guide has been put together with the objective of helping shoppers make the right decision when buying an iPod.
About iPods
Towards the end of the 1990s, portable music devices were the gadgets that everyone wanted to have. However, most portable media devices were bulky and/or had limited storage capacity, so Apple saw a niche in the market and launched the first iPod in October 2001. The first iPod was marketed as a stylish and lightweight device that could store up to 1,000 songs, a figure which at the time was considered remarkable. Throughout the years, the iPod has evolved to meet the demands of customers and to remain at the forefront of the market, therefore becoming more than just a portable media player. Today, an iPod can be used to store and play music and videos, take pictures, surf the Internet, play games, record sounds, download podcasts, and play slideshows, among many other features. The success of these devices can be easily measured by the latest figures released by Apple: as of September 2012, more than 350 million iPods had been sold worldwide.
Understanding the Differences Between the Various Types of iPods Available on the Market
Although all iPods play music files, some models have additional capabilities that buyers may want to be familiar with before making the decision of purchasing a specific model. Currently, there are five main versions (or models) of iPods available in the market. These are the iPod Classic, the iPod Shuffle, the iPod Touch, the iPod Nano, and the iPod Mini. The iPod Classic was the first to be launched, although there are already six versions or generations of this gadget. The first three generations of iPod Classic offer medium storage capacity, while the models that belong to the fourth generation and upwards have larger memories as they can also be used to view photos in addition to playing music files.
The iPod Shuffle was created with the aim of taking portability to the maximum. This model is the smallest of all iPods, and the latest version weighs just over 12 grams. The iPod Shuffle is ideal for exercising or for taking it on the drive to work, as it can be clipped to the user's clothes, leaving their hands free to drive or work out.
The iPod Touch is one of the most popular iPods in the market, as it offers users a host of features that go well beyond music playback. The iPod Touch can play videos, connect to wireless Internet networks, read e-books, display maps, and be used as a portable game console or as a mobile personal assistant, as it allows users to open and work on spreadsheets and word processing applications. The Touch was launched in 2007, and since then there have been five generations of this model launched into the market.
Although the iPod Mini has been discontinued, this device can still be found at online shops like eBay. The iPod Mini was the favourite of many consumers thanks to its user-friendly click wheel and its intuitive interface. There were only two generations of iPod Mini designed, which have 4 and 6GB of storage capacity. Both generations are compatible with Windows and are available in five colours. This model was replaced by the iPod Nano in 2005. The iPod Nano's main selling points are its small size, considerable battery life, and the possibility to look for a specific file through a search box. The Nano is today in its seventh generation, and the newer models feature a video camera, a radio, and a pedometer that makes the device very popular with sports enthusiasts.
Important Points to Consider When Buying an iPod
It is important to be aware of the fact that there can be big differences between the different iPod versions. Some of the key points that need to be considered before committing to buy include the following:
Storage Capacity
The most basic devices (such as the iPod Shuffle) start at 2GB of storage space, while some iPod Classic devices can have up to 160GB of storage capacity. This is the case of sixth generation Classic models that were built after 2009.
Screen Size
Except for the Shuffle model, all iPods feature a high-definition display, whose size ranges between 1.5 and 4 inches. Those who only plan on watching videos on their iPod occasionally do not usually require anything larger than a 2.5-inch screen, while users who want an iPod to watch movies on the go or to record videos are advised to look for an iPod Touch.
Battery Life
Since iPods are designed to be portable, battery life is an important consideration when buying one of these devices. Battery life varies depending on which type of file is being played, but on average the latest generation iPods will have a battery life of 15 to 30 hours for music files and 4 to 6 hours for videos. The sixth generation iPod Classic and Touch have the longest battery life of all models, with up to 40 hours of music playback and 7 hours of video reproduction.
User Interface
Although the iPod's signature click wheel is one of its most celebrated features, be aware of the fact that neither the iPod Touch nor the iPod Shuffle have a click wheel. Those who are not used to touch screens or who prefer the traditional iPod interface should look for the Nano or Classic models instead.
Sound Quality
As iPods are primarily music players, sound quality is usually good regardless of the version. However, those who are planning on buying a second-hand iPod must keep in mind that there is some degree of sound distortion in devices that were built before 2006.
Connectivity Options
This point is particularly important for those who are looking to buy a very basic first generation iPod, as these models are only compatible with Apple computers. All other iPods can be used with both Apple and Windows-based computers, although it is important to be aware that typically, iPods do not support some traditional Windows media formats, such as Midi or WMA. Also, it must be noted that not all iPods offer Wi-Fi connectivity (only the Touch), and that only a few selected models offer Bluetooth connectivity options (second and fifth generation iPod Touch).
A Guide to Buying an iPod on eBay
Although when iPods first appeared in the market some people were reluctant to buy this type of electronic device off the Internet, nowadays shopping online for an iPod is one of the most common, convenient, and reliable ways of purchasing one of these gadgets. Online auction sites like eBay offer a wide array of options when it comes to buying an iPod, whether shoppers are after a new or a second-hand device. eBay is also a great site when it comes to finding iPod models that have been discontinued and are impossible to find elsewhere.
It is possible to find an iPod on eBay with just a few clicks of the mouse. First, go to the eBay homepage and click on the All Categories link, which can be found on the menu located on the left hand side of the homepage. On the new page that will open, scroll down and click on the Sound & Vision category. To find all the iPods for sale available on the site, click on the iPods & MP3 Players link that will appear on menu on the upper left hand side of the page. Once on this page, it is possible to refine the search results by selecting the desired price range, condition, model, colour, storage capacity, and other additional features, such as the possibility of upgrading the device's firmware or the iPod's synchronisation options. Alternatively, it is also possible to search for specific iPods on eBay by typing in keywords (such as fifth generation iPod or iPod 30GB) on eBay's main search box.
Conclusion
iPod devices are extraordinarily useful gadgets that offer a complete range of possibilities when it comes to keeping in touch with others and staying entertained. These gadgets are user-friendly, allow customisation through several dedicated accessories, and more importantly, are cost-effective. Thanks to online sites like eBay, iPods can be bought with total confidence and without even having to leave the house.