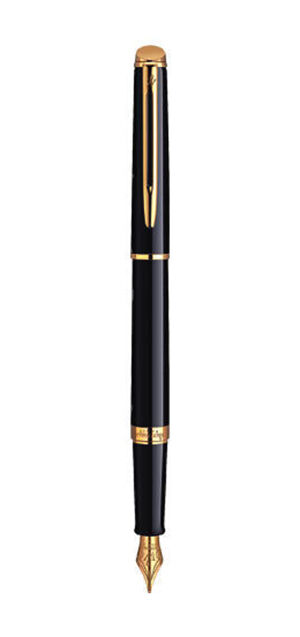 Fountain pens were designed as a step up in writing equipment from the likes of quills and dip pens that were used before their invention. They are used regularly in schools as a means of writing in a manner that cannot be achieved by the use of biros or ballpoint pens. It is generally thought that by using a fountain pen, a nicer, more aesthetically pleasing effect can be obtained, similar to the style of calligraphy .
Due to the fact that fountain pens are appreciated for their specific writing style, they have become collectable and come in a variety of different styles, colours and materials. Therefore, this guide is written with the premise of taking impending fountain pen buyers and collectors through the variety of options available for purchase from eBay.
Components of a Fountain Pen
To gain a true comprehension of the collectability of fountain pens, one must understand the mechanisms and components that they are made of. There are a number of components that can contribute to the value and collectability of fountain pens. For example, a specially designed nib or the material of its outer shell can determine a fountain pen's worth. These components are listed below.
Nib
* The nib of a fountain pen plays an integral role in both its functionality and the pen's overall worth. This component of a fountain pen is the part that is pressed on the paper to enable to ink to flow onto the writing surface.
* The majority of fountain pen nibs are of a downward arrow shape, reaching the thin point at which the pen contacts the paper. This slit, and the tiny hole at the top of it, is designed to enable a smooth flow of ink, as well as to prevent any damage to the nib of the pen if it is bent or used vigorously.
* The tiny hole is known commonly as a breathing point and also allows air to flow back into the cartridge to allow for a sufficient amount of pressure, which in turn keeps the flow of ink steady. Commonly, fountain pen nibs are either made from stainless steel or gold. Stainless steel nibs are favoured for their robust nature, whereas gold alloy nibs are thought to be best suited for a smooth and even writing pattern.
* Fountain pens with gold alloy nibs tend to have a gold matter of 14 carats . However, there are fountain pens with gold alloy nibs that feature gold content above this, most popularly 18 carats . Buying a fountain pen with a used nib may be of less collectability depending on the user. This is due to the fact that fountain pen nibs take their form through the individual writing style of the user.
Cartridge
* The cartridge that a fountain pen uses can very much play a role in determining a fountain pens worth. There are two commonly used cartridges throughout the fountain pen world. One is simply known as a 'short' cartridge and is used for smaller sized pens. The cartridges are 38 millimetres in length and hold approximately 0.75 millilitres of ink. The other is used in pens of a bigger size and is known as a 'long' cartridge . These cartridges are 72 millimetres in length and tend to hold approximately 1.45 millilitres of ink.
* Another thing to look out for when purchasing a fountain pen is the type of cartridge that it takes. For example, a product description may describe a fountain pen as taking an 'international cartridge' . These are the cartridges that are standardly used across Europe and use the measurements mentioned above.
* There are also, however, cartridges that are specific to certain manufacturers. When buying a fountain pen from a recognised manufacturer, be sure to take note of what sort of cartridge is recommended to get the best use out of the pen.
* Finally, there are also refillable cartridges that despite their economic value and the fact that they waste less plastic, are used less commonly.
Filling Mechanisms
* There are a number of different filling mechanisms used in fountain pens. Again, these can be a deciding factor as to whether the pen should be considered collectable or not. The first of these, are 'crescent fillers' .
* These were introduced in 1901 and are extremely collectable due to the fact that this type of filling mechanism is rarely used anymore. The second type of filling mechanism, which is also of an extreme collectability, is the 'capillary' filling system that was introduced by Parker Pens as an alternative to the filling mechanisms that were in existence at the time.
* Pens with this means of ink filling were eventually phased out due to problems that occurred with the overflowing of ink and the mess that was caused. The most popular style of filling mechanism, which is used in the majority of mainstream fountain pens, is named 'piston style' . This filling system is common amongst fountain pen manufacturers and whilst not as collectable as crescent or capillary filling mechanisms, still features in fountain pens that can be found on eBay.
Outer Shell
* The outer shell of a fountain pen also plays an integral part in determining a fountain pens value or collectability. The variety of materials used for the outer shell of fountain pens is extensive. There are fountain pens that are of an extremely high price made of gold, whereas the most commonly used fountain pens use plastic.
* The inscriptions and lid clip on outer shell can also be modified to add individuality and worth to a fountain pen. Fountain pens with intricate engravings or lid clips made out of expensive metals are of a high collectability and can be sourced on eBay.
Vintage Fountain Pens
* There are a number of vintage fountain pens available on eBay that are both collectable and of elevated value. These fountain pens tend to come from a selection of well-known fountain pen manufacturers, such as Parker, Lamy and Waterman.
* It is important when buying a vintage fountain pen that the price paid for it is reflective of its condition. For example, a vintage fountain pen with a bent nib should be worth considerably less than one without. Be thorough in reading the product description of a vintage fountain pen to see if the seller has provided enough detail concerning the condition of the pen. Look out for notes about the filling mechanism and if plausible, ask for clear images of the inside of the pen.
* Most vintage fountain pens should come in a case that should also be in good condition. If a case is not included, then a lower price should be agreed.
* Also, make a decision as to which vintage fountain pen to buy by deciding whether it is going to be used for writing or merely as part of a collection. If it is to be used for writing, then it may be a wise idea to ask for an example of written work using the pen. Do not forget to check which type of cartridge that the fountain pen takes so as to avoid any added costs if it comes to buying a new set of cartridges.
Buying Fountain Pens Online
Due to the wide use of the fountain pen, as well as their high collectability, there are a number of websites dedicated to the sale of all the different types available. There are some sites that sell solely vintage fountain pens, whereas others sell in bulk, plastic fountain pens . Use both these kinds of site to gain an understanding of the prices that should be paid for certain fountain pens.
There are also a number of online networks and communities that are dedicated to the discussion of fountain pens. If looking for a collector's item or a vintage fountain pen, it may be a wise idea to browse these sites in order to gain insider tips and trade secrets. These sites also offer advice on the best ways to use and to preserve fountain pens.
Buying Fountain Pens on eBay
eBay plays host to thousands of fountain pens, most of which are available for extremely realistic prices.
One way of ensuring that a fountain pen is purchased at a sensible price is by using the checklist below:
* Read the product description thoroughly to make sure that it is personable, as well as knowledgeable.
* Study the images provided to see if they match up to the product description.
* Contact the seller directly if there are any problems regarding this.
* Check the seller's previous selling history and feedback section to check that preceding customers were satisfied with their purchase and the transaction.
* Beware of eBay and PayPal's Terms and Conditions.
To make the search for a fountain pen as specific and as hassle free as possible, make use of the Collectables link, which will then take you a list of subcategories. Once at this page, follow the Pens & Writing Equipment link and then make use of the keyword search bar to find listings that are designed to exclusively show 'fountain pens'.
From then on it is up to the buyer how they wish to purchase their item. Most commonly, items on eBay are bought through an online auction. If this is the best option available then place a Bid that is sensible. It might also be an idea to set a budget limit so as not to overspend.
Another way an item can be purchased from eBay is by using the Buy It Now option, but only if this is made available by the seller. Check the buyer tips page to find the most cost-effective and efficient means of purchase.
Conclusion
Whatever the use of the fountain pen, there is a vast selection to choose from. From differing components, modified designs and even different colour inks, there are fountain pens to suit all tastes.
Remember that if buying a used or vintage fountain pen be sure to be fully aware of its condition so as to ensure that its purchase is faithful to its true value. There is no harm in reading up about certain types of vintage fountain pen in order to find an inexpensive deal.
Finally, take note that some expensively decorated fountain pens are considered to be pieces of art. If this is the case, they may be worth adding to a collection to improve its value.