This guide has been written to offer even more help and suggestions for collecting Lladro porcelain, adding to the advice given in my other guides on the subject.
The intent of this guide is to offer collectors and potential collectors some best practice and advice.
As a collector these are my views – you may not agree with all of them!
Searching Lladro not Nao
Unfortunately eBay has Lladro and Nao categorised together. This means a lot of sorting through pages and pages of items to find pieces of Lladro you may be interested in. A good way to rid your list of all those "wannabes" is to use the eBay Advanced Search, here you can define words to avoid.
As a current example, there are over 5,000 items in the Lladro/Nao category, by using the search filters the list reduced to less than 1,000 – much easier to review.
Top Tip for sorting the category list:-
1. In the advanced search include Lladro and exclude Nao (and other brands or words you don't want to see).
Forgeries
You are probably now well aware of the minefield of different porcelain items from other brands trying to gain kudos from associating themselves with Lladro. Well, there are forgeries to watch out for as well. These forgeries use trademarks which badly copy the genuine bellflower mark. Sellers may also show you indistinct (blurry) photos of the base to confuse you. Beware sellers who try to add credibility by saying the item was bought in Spain (it probably was, but from a forger). They may even quote a high price (even in pesetas to give a feeling of age) that was paid…this is all a ploy to sucker the gullible.
Some of the most popular Lladro figurines have been targeted by forgers. There include the clown items and those with flowers. A forgery is in circulation for piece #1283 "Wheelbarrow with flowers".
The following photo is from what I consider to be a forgery (not absolutely sure as the photo is blurred to confuse a potential buyer):-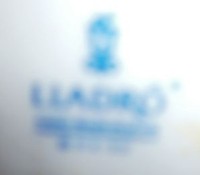 Top Tips to avoid forgeries:-
1. Check the bellflower trademark; always obtain a clear and distinct photo of the base.
2. Never be swayed by the dramatics of a seller's description.
Seconds
The subject of seconds has been documented in one of my other guides.
Here I will give you a photo example of the defaced bellflower to look out for:-

Boxed or Unboxed
The original boxes for Lladro items are usually a work of art in their own right. If you buy an item from a Lladro distributor it will come in a box – keep it.
As a collector since 1985, I have kept every single box, stored in my loft. They are there should I need to transport or even sell an item. As far as I am concerned they add value to each and every piece, they can be regarded as part of the authenticity. Obviously, I have bought items on the secondary market without a box, however I will always chose an item with a box if I can. I have boxes for 95% of my collection.
As for value of the boxes – strictly speaking they have no real intrinsic investment value. But, as a serious collector who prefers to have and keep boxes where possible; I will pay a premium of up to 25% for a piece with a box on the secondary market compared to a piece without the box.
It has been said in other publications that the Lladro brothers who founded the company never kept the boxes to their own pieces. However, I wonder if in hindsight they now regret that decision and wish they had had the foresight to store those valued boxes.
Top tips with regard to the original Lladro boxes:-
1. Never throw them away, they add value to serious collectors and are useful for later transportation.
2. As a buyer of pieces on the secondary market always seek out items with the box in preference to those without.
3. Sellers on eBay should always state if they have the original box or not in their listing and should expect more if they have that important original box. Similar they should reduce their expectation if the box is lost.
4. Take care - as a buyer ensure that boxed means with the original Lladro box. I have come upon some sellers who assume boxed means any old box!
Don't trust the Lladro box alone for transit
I have written a separate guide on the subject of good and bad packing of Lladro pieces for posting.
However, I feel it important to stress here (having covered the subject of boxes above) that it should not be assumed that all you need is the original Lladro box and that this will protect the item in transit.
Top Tip on packing and transit:-
1. Please read my guide on this subject.
Record your collection
If you are building a collection of Lladro items it is always worth keeping a detailed record of everything you have acquired.
These records can be useful for tracking your collection, making sure you don't duplicate purchases, valuing your collection for insurance purposes and generally remembering where and when you added the item to your collection. For sentimental reasons you may wish to recall gifts or when an item was bought for a special occasion.
The Lladro web site has a great facility for keeping an online photographic gallery of your collection. I suggest that you keep your online collection private though for obvious reasons. I have also printed out every entry in my online gallery so that I have hard-copy albums to refer to, each piece being in numerical order.
The online Lladro gallery does not allow the input of your own data against your item, so I keep a spreadsheet with all the recorded information that I want. I include:-
1. Name of piece
2. Piece no.
3. Note if a Lladro Collectors Society or Privilege piece
4. Unboxed or box in storage
5. Purchase price
6. Estimated current value
7. Issue date
8. Retirement date
9. Comments – such as where bought, if given as birthday/anniversary present etc.
Keeping this information will be extremely valuable as your collection grows.
Keep all the paperwork that is relevant to the piece, including receipts.
Your collection will become an heirloom and with an inventory you can state who will inherit which…..our grandchildren are already showing an interest in certain ones!
Top Tip
1. Keep records of your collection.