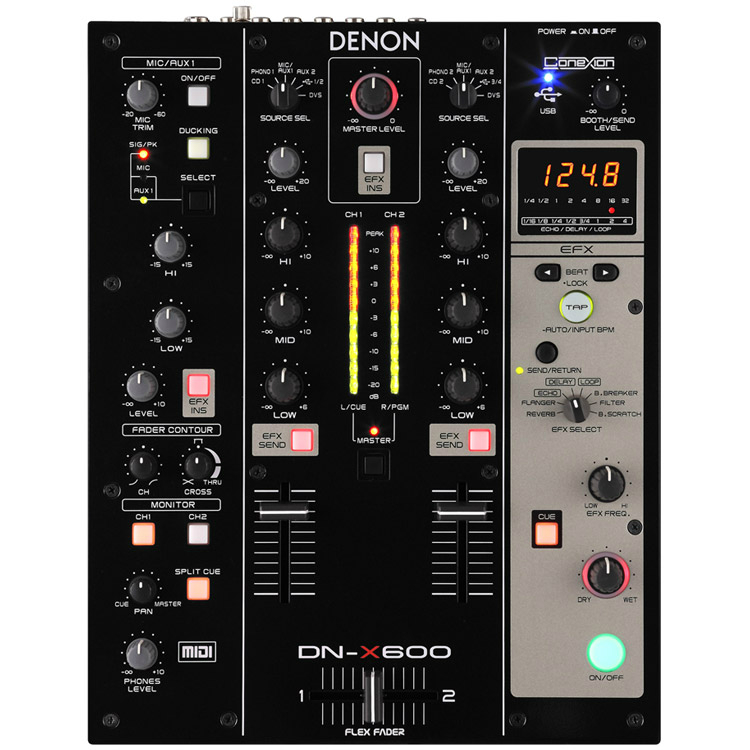 It just isn't a party until the DJ arrives. Whether customers are buying DJ equipment for their job, or simply because they enjoy playing music as a hobby, their needs are virtually the same. Every good DJ needs excellent DJ equipment. Otherwise, even the best mixed tracks sound pitchy and forced, instead of the heart-thumping natural beats that get the entire club up on its feet.
While purchasing DJ equipment is a costly initial investment, these pieces are necessary for a DJ to do his or her job. Electronic stores and music shops often sell at least some of the many components needed for a complete DJ system. Alternatively, buyers can skip buying piecemeal parts from different stores, and instead get everything they need from eBay. When purchasing DJ equipment customers need to consider which pieces best help them mix music, as well as the overall quality and cost involved.
DJ Equipment Setup
For beginners, buying an initial setup can seem a little intimidating since there are so many different options. However, a DJ setup in itself is not overly complicated. For starters, every DJ needs an audio player to play the music. Then they need a DJ mixer to actually mix the music together. An amplifier keeps things loud and in charge so that everyone can hear the beats. A pair of DJ headphones blocks out all other sounds, allowing the DJ to concentrate on just playing the music. Explore all of the different options carefully when purchasing parts of a DJ setup.
Audio Players
Audio players are the keystone of any DJ setup. Without them, there would be no music, and with no music there would be no DJ. Of course, what type of audio player is selected varies among different DJs. The traditional option is the vinyl turntable. While the vinyl recording format ran out of style back in the 1970s, DJs still use vinyl records because they claim the sound they produce is superior to any other format. Furthermore, the grooves of the record help many DJs when it comes to mixing and spinning tracks together.
Digital Players
Not all DJs, however, use vinyl turntables. CD players are also extremely popular because they reproduce songs in excellent quality. The real benefit of digital players is their ability to play MP3 songs. Never again will DJs have to lug around their entire collection of vinyl records or CDs if their player supports MP3. Simply download the tracks onto an MP3 player and then plug it into the digital player to instantly play the songs.
Laptops
Buyers who are in the market for a good laptop computer should know that they also make excellent music players. The prime benefit of using a laptop, is direct access to all of the MP3 files stored on the hard drive. In fact, there are even some high end DJ programmes that allow users to mix tracks directly on their laptop. This means the DJ doesn't have to purchase a mixer, but don't think this saves money. Instead of purchasing a cheap audio player and mixer, customers have to buy a relatively expensive laptop.
DJ Mixer
While every DJ needs an audio player, without a mixer the DJ is nothing more than someone who just presses play on the audio equipment. A mixer allows the DJ to mix different tracks together, creating their own unique sound and beats. Therefore, every mixer needs at least two input channels for mixing music. The best mixers have three or more channels, allowing users to blend music from many different sources.
Special Mixer Functions
All mixers allow DJs to control the audio level, but the best mixers have extremely precise controls that can regulate the pitch of the music. This feature allows the different beats to blend together seamlessly, making the music sound amazing. Gain controls are used to measure the overall volume, allowing one track to play over the other. Graphical display features help the DJ ensure that the sound quality isn't distorted when mixing tracks. For vinyl enthusiasts, the hamster switch, and crossfader features, are perfect for scratching records.
Amplifiers
The amplifier is responsible for playing the music through a set of speakers. The power of the amp truly depends on the setup that the DJ needs. Those who play at clubs or other large venues, need a powerful amp capable of really turning up the music. DJs who only play music as a hobby at home, are better suited to settle for a less powerful amp that is still loud enough to echo off of the walls. When purchasing an amp, always pay attention to its impedance, which is measured in ohms, and its RMS output, which is measured in watts.
Speakers
Most DJs also need to purchase their own set of speakers that can work with their amp. There are many different types of speakers, and it is beyond the scope of this guide to go into great detail about them. Suffice to say that no matter the size, a three-way speaker that uses three drivers sounds better than a two-way speaker that only has two drivers. When selecting speakers, the most important thing is that they match up with the amp in both ohms and watts. If the ohms are too low, this can result in a speaker blowout, which would undoubtedly kill the DJ's performance.
Subwoofers
Typically, DJs settle for the bookshelf sized speakers that are easy to carry around while still providing excellent sound quality. However, bookshelf speakers have trouble replicating very low frequencies since their woofer cones are somewhat small. Therefore, a subwoofer, which is a speaker that is dedicated to only playing low bass tracks, is needed for the speaker system. Without a subwoofer, DJs won't be able to play bass beats.
DJ Headphones
Finally, every good DJ needs a decent pair of headphones, especially if they are playing somewhere loud like a club. The headphones allow the DJ to monitor the music, and many comes with a feature that allows the wearer to switch between audio channels. This means that the DJ can line up future tracks without having to interrupt the music.
Noise Cancelling Headphones
Noise cancelling headphones are ideal for DJs to use during events. These are the large headphones with thick pads that seal the ears from outside noise. It helps keep a DJ focused on his or her job, without being distracted by what is going on away from the DJ booth.
Buying DJ Equipment on eBay
eBay is a gigantic electronic website that sells products from all over the world. The good news for audio enthusiasts is that they can get all of the DJ gear in one place when they shop on eBay. It is the only place to find everything from a vintage vinyl turntable, to the latest and greatest mixer. Because of eBay's vast size, it is easy for first time buyers to get slightly confused on how to find products, until they master the search engine that is.
Searching for DJ equipment on eBay
On eBay's home page, the search engine box is prominently displayed. This is the ideal place to begin your search of any kind. Start by typing in the piece of equipment that you need. For example, if you want to pick up a pair of headphones, then type in 'DJ headphones'. If you want a digital CD player, then type in 'DJ CD player'. No matter what terms you type into the search engine, eBay will scour all of the current auctions in order to find matches for your query. Play around with the search engine until you get comfortable using it to find products.
Finding Bargains on eBay
Almost all of the DJ equipment available on eBay sells below its retail value, which is perfect for bargain hunters. Customers who always dreamed of buying a high-end mixer, or set of HiFi speakers, but were never quite able to afford their high prices, can find these products on eBay. Used DJ equipment makes for a great deal, provided the electronic devices are still in good condition. Keep in mind that most equipment takes a pounding during playback, so it is never a good idea to purchase items that seem to be in poor condition. Always carefully examine the listing and just to be sure you understand the seller's return policy before placing a bid on used equipment.
Conclusion
DJs love their job because they get to work and get paid, all while having fun. Many people even choose to DJ in their spare time in their basement, simply because they enjoy making music by mixing tracks together. Whether the customer is a professional or an amateur, eBay has the products to meet all of their audio needs. All parts of a DJ setup are sold on eBay, many at prices well below their retail value. When selecting DJ equipment, buyers need to evaluate how they plan on playing music as well as how much money they are willing to spend on setting up their system. This impacts their choice of the audio player, mixer, and amplifier. Speakers and headphones are also beneficial purchases for a DJ setup. By understanding the type of music they want to play, DJs can buy the right equipment to help them reach their goals.