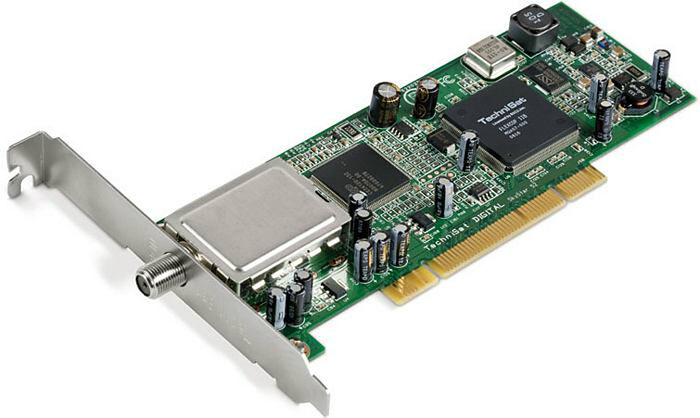 Satellite TV is no longer limited to television. People can watch it from a desktop computer or laptop. A PC satellite reception card fits into a desktop computer the same way as a graphics card does, and with the combination of a satellite dish on the roof, it unleashes a seemingly unlimited world of television options. The future of TV may be in satellite form, and with televisions and computers now doubling as single units, it makes sense to have the same technology transferrable between both media.
For many years, cable TV companies have been providing alternative programing not available on free-to-air TV, but satellite TV now offers all this and more with less ongoing expense. Watching satellite TV on a desktop computer provides further viewing flexibility with thousands of channels and can run off the same satellite dish as the television. There are several companies that sell satellite reception cards for PC, but the customer must determine which card delivers the services they are looking for. That is why it is important that a customer knows what is on offer from each manufacturer's product before they purchase their PC satellite reception card.
Satellite Television Services
Although pricing rates are competitive, satellite television services sometimes offers more economical deals than the conventional monthly fees associated with cable subscriptions. The newer technology of satellite TV is an attractive benefit, and the cost of installing a satellite dish does not deter those with a serious interest in satellite broadcasting.
The PC satellite receptions card is designed to provide a desktop computer or laptop, with the same TV viewing options that are available on TV. However, although many other capture cards also facilitate satellite TV, the satellite receptions card is dedicated to this purpose. Satellite TV services are not generically the same. They are privatised with multiple companies offering different services. With the reception card installed, the consumer can watch satellite television according to the service provided by their subscription or simply watch the available free channels on offer.
PC Satellite Card Availability
All sorts of computer cards are available from regular electronics shops, including video capture cards which include a facility for satellite TV. Satellite-specific cards, however, may be more difficult to find. Satellite reception cards for PC are not necessarily available in all electronics stores, but computer shops that supply hardware accessories generally keep them. If they are not kept in stock, they may be ordered.
Shopping online can make finding the right card a lot simpler, and there appears to be a lot more shopping options with a wider range to choose from in virtual stores. Prices vary between retailers, and eBay stocks both new and used satellite cards.
PC Satellite Card Differences
The satellite TV market is growing and so are the competitors who hold stakes in the industry. There are many cards that provide digital television via satellite and are known by different names. The various satellite reception cards all offer satellite television, but each company focuses on their own unique services to differentiate between from competitors.
PC Satellite Receptions Card Examples
The following cards are designed to provide free-to-air broadcasting, but a subscription naturally provides additional or premium content and extends the viewer's service options. Each manufacturer offers additional services to distinguish itself from its competitors.
The Technisat Skystar 2 TV PCI Card
This is a multimedia card for HD satellite TV and radio and includes satellite internet download. Electronic programming information included.
TeVii S471 DVB-S2 PCI
A low profile and high speed card with bundled software. It supports the Linux driver and has electronic programming information. It features pre-scheduled, time shift, and wake-up recording with multi-language support.
Compro VideoMate S300 PCI
This is a feature-rich, high quality card that offers free-to-air DVB-Satellite TV for PC. It has an advanced silicon tuner and a Philips ADC 9-bits chip. There is support EPG, subtitle and teletext, and both standard and high definition signal. It also comes with picture purifying technology.
TBS6981 DBV-S2 Dual Tuner PCIe
This is a PCI express interface satellite TV tuner card with two tuners to allow for program viewing on one transponder whilst recording on another. It is designed to receive free to air high definition satellite TV including Freesat HD for UK viewer.
WinTV-Nova-HD-S2
A card designed simply for free-to-air satellite television that records TV broadcasting to the hard drive in original MPEG 2 quality. It includes multiple radio frequency options and has an IR remote control. The chart below specifies some of the different features between the various satellite cards.
| Model | Description |
| --- | --- |
| Technisat Skystar 2 TV PCI | TV and Radio, coverage of hundreds of free satellite channels; timeshift recording, the ability to playback whilst still recording; Techni-Router ready, compatible with all Techni-Router products |
| TeVii S471 DVB-S2 PCI | DVB-S2 /DVB-S TV plus digital radio; support for HDTV MPEG 4 up to 1080i; favourites list; on-screen display; remote control support |
| Compro VideoMate S300 PCI | Digital TV supports MPEG 2 and Transport Stream Recording; timeshifting, channel surfing, and still-frame capture; supports audio and language selection in available channels; IR remote control for TV and DVD playback; Microsoft BDA driver; visual display customisation for individual channels |
| TBS6981 DVB-S2 Dual Tuner PCIe | DVB-S2/DVB-S SD or HD TV receiving; timeshifting for pausing live TV; real time and scheduled recording (PVR); satellite TV and radio |
| WinTV-Nova-HD-S2 | Digital satellite TV and radio; pauses digital satellite TV with instant replay; DiSEqC 1.0 support |
The cards listed above can turn your PC into a digital television with satellite broadcasting. There are minor differences between these cards, but most offer PVR recording, timeshift, and various subtitle options. These cards normally allow users to pause broadcast programs. If bought new, they normally include a remote control. On top of the many viewing capabilities, there is also the option for digital satellite radio with hundreds of stations.
Choosing a Suitable Card
Before purchasing a satellite card, a customer should consider how they intend to install the card and what other installations are required in order to receive satellite television on their computer. A customer must ensure that their own hardware meets the compatibility requirements. A customer's choice of card should be based on hardware compatibility and the ability of a card's decoders to work with high definition TV and audio signals. This is why it is so important that a customer take note of their own system's specifications and those of their chosen product.
Important Considerations
Satellite reception cards for the desktop computer, like much other computer hardware, requires considerable technical knowledge. It is recommended that you shop for this item with the assistance of someone with the needed experience or knowledge base if you do not understand the jargon or item specifications.
It is advisable that you choose a particular satellite card only after having undertaken adequate research, rather than being sold on a sales pitch. You should also obtain an overview of the your planned purchase through the experiences of other users. Such information can usually be found in computer user forums or product reviews.
Satellite Regions
It is imperative that those who wish to purchase PC satellite reception cards check if their designated item can work in their location. Satellite TV subscriptions are restricted to the regions covered by their service providers and so are the satellite reception cards for PC. Most of the time, a service provider only covers a single country although some small European countries are covered under one provider.
How to Buy PC Satellite Reception Cards on eBay
eBay has a range of satellite cards listed under various names, so you should try several different search strings to see the full listing. When you are confident you have found the PC card that you need, double check all technical details again, especially checking region codes to make sure it is compatible with your location. Go to the seller's page and look for praiseworthy points pertaining to your designated seller. The feedback page and score rating gives you the best clue.
Before purchasing, check the seller's return policy. You want to know in the event that you make a mistake with your order, you can return the item. Postage and handling costs vary greatly from region to region, and some sellers do not ship to certain countries. Also, sometimes, you have a choice regarding the way you would like your item posted, whether by standard or registered mail, for example.
Conclusion
The demand for PC satellite reception cards is growing as more and more people tune into their computers for entertainment purposes. The market for this commodity is therefore developing and finding the right place to buy is not always easy. With more buying options readily available online than in the shops, eBay provides some saving opportunities that should be looked at first.
Moreover, in an age of constant availability of services, it is no surprise to find a demand for satellite television on the desktop computer and other applications. Finding the right PC satellite reception card rewards the customer with more entertainment options than they will likely ever have time for. Nevertheless, a myriad of options seems to be the increasing driver of modern demands, and the idea of unlimited entertainment possibilities thrust into the mind of the consumer, sets the fantasy in motion well beyond any real life expectations. With the knowledge of various models of PC satellite reception cards, a buyer is able to make the right purchase for their PC or laptop.