A treat for your feet
Famous for their luxurious sheepskin feel and warmth, UGG boots have set the standard of comfortable winter footwear in recent years.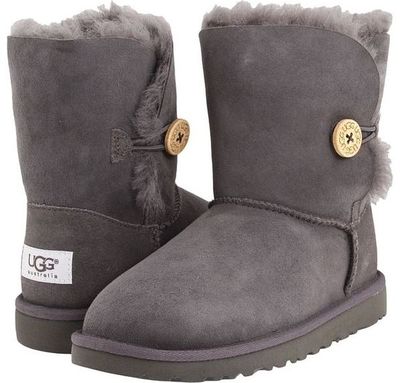 What to consider when buying UGG Boots
UGG Boot Styles
UGG Boot Colours
Caring for your UGG Boots
How to spot fakes
Which Boots to Buy?
The Colours, Styles & Sizes of UGG
Most people are familiar with the classic UGG boot look and colour, but the UGG collection has grown considerably in the few years since the craze began and boots are now available in a variety of brilliant styles.

Ugg Classic
Material:
Suede
Heel Type:
Flat
Lining:
Sheepskin
What you see when you think of UGG boots. Incredibly popular and forever fashionable, a pair of women's Classic boots are the perfect introduction to UGG.
| Style | Description | Colours |
| --- | --- | --- |
| Classic Mini | Ankle-high boots, featuring soft foam insole and genuine Twinface sheepskin for comfort. | 10 |
| Classic Short | Popular and comfortable style. Wear straight or rolled over to show off your sheepskin. | 8 |
| Classic Tall | An UGG Australia icon. Comfortable knee-length boots with reinforced heel and classic design. | 6 |
Material:
Suede
Heel Type:
Flat
Lining:
Sheepskin
UGG Classics with buttons! Bailey Button boots provide all of the warmth and comfort of their classic cousins with the added ability to customise how you wear them – straight or rolled. Also keep an eye out for the Bailey Bow with bows instead of buttons.
| Style | Description | Colours |
| --- | --- | --- |
| Mini Bailey Button | Perfect paired with jeans, shorts and dresses, and just as soft as Classic Mini boots. | 5 |
| Bailey Button | A fresh take on the Classic Short. Features wooden logo buttons and signature sheepskin. | 7 |
| Bailey Button Triplet | With three wooden logo buttons, the Bailey Button Triplet can also be worn unbuttoned. | 6 |



Other UGG Boot Styles
In addition to the classics, UGG Australia also produces a range of other fashion boot styles; the most popular of these include:
| | Style | Description |
| --- | --- | --- |
| | Amely | Classic mini ankle boot with adorable fringe collar. Made from water resistant suede and featuring an antique metal buckle. |
| | Cambridge | A folded over knit collar and adjustable strap provides a versatile fit in sumptuous sheepskin |
| | Cary | Versatile style with rear corset tie. With leather outer and natural wool interior, the Cary boot is perfect for all weather. |
| | Classic Cardy | Blends merino wool uppers, functional logo buttons and the cosiness of a cardigan into a single pair of UGGs. |
| | Darling | Suede ankle boots with scalloped collar binding and laser-etched heel logo. |
| | Noira | Waterproof with a heritage feel, Noira boots are crafted from full-grain leather and super-soft sheepskin. |
| | Mens | UGG Australia's range of men's boots continues to grow in popularity thanks to regular celebrity endorsements and a change of attitudes towards the brand. |
The Colours of UGG Boots
UGG boots are available in light sandy shades to deep black tones. Unless you're going for a waterproof style, the suede uppers of Classic designs can be prone to fading and staining.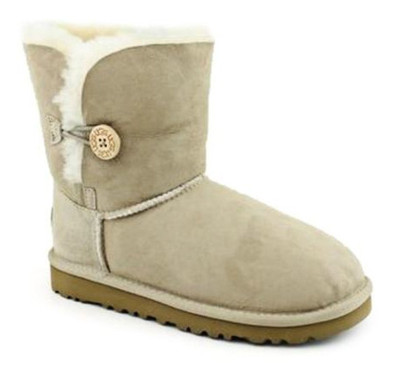 Going Light
– Lighter-coloured UGG boots are great for making a statement. They contrast and compliment outfits in equal measure but are also prone to unwanted marks and stains. As a result, lighter-coloured UGG boots, such as sand and grey, are best for the drier summer months.

Going Dark – In contrast – quite literally – darker colours such as chestnut and black are brilliant at hiding signs of winter wear and tear. However, they can fade if not looked after properly and cleaned quickly.
Caring for your UGG Boots
The UGG Sheepskin Care Kit
There are hundreds of articles and thousands of products that promise the best care for your new UGG boots. Fortunately, to save you from endless reading, UGG Australia has developed their own sheepskin care kit.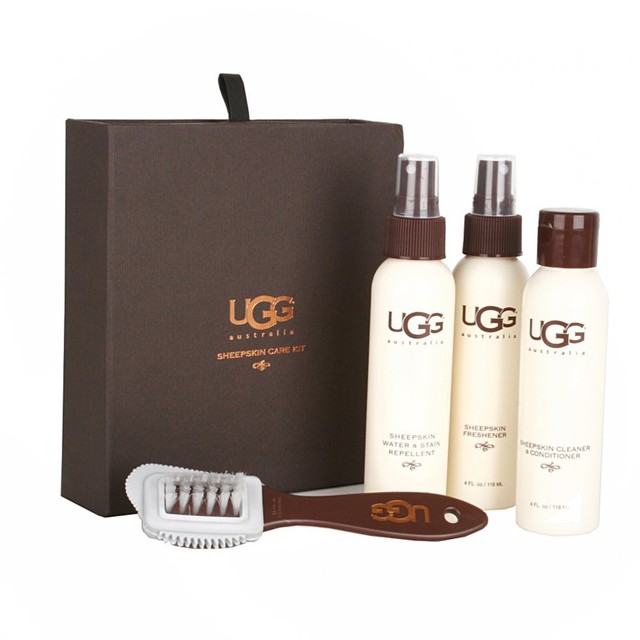 This great branded assortment usually retails for around £20 and includes:
UGG Cleaner & Conditioner
UGG Sheepskin Protector
UGG Sheepskin Freshener
Brush & Scuff Eraser


How to spot fake UGG boots
Buying UGG boots online can be quick and convenient, but it also increases the risk that you won't receive exactly what you're hoping for.
How can you check if the UGG boots you're looking at on screen are genuine with just pictures to go by?
Quantity & Quality of Photos
– People with nothing to hide, hide nothing. True UGG sellers will usually display a good selection of detailed photos to prove their boots' authenticity. Look for close ups, boots shots, box shots and label shots; inspect fully.
The Box
– New UGG boots are packaged in brown, 2-piece boxes with a starburst logo in the left corner. The size, style, colour and country of origin should be clearly stated on a white logo at one end. Newer boxes also feature a small hologram sticker that alternates between the starburst and UGG Australia logos.
Logo
– All classic UGG boots feature raised labels on the heels. The letters of the logo should overlap slightly without gaps. Inside, the details on the product label should match those on the box.