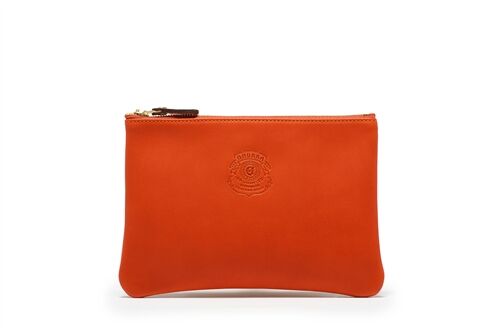 The significance of storing documents and other items for filing or for future use in a business and industrial setting has long been recognised. A one-page document or a very thin material would only need a simple filing envelope, but thick documents and bulkier items would require a certain type of container. The same thing goes in delivering or shipping bulky items. To ensure that content, such as documents and other items, are well protected, there is a certain type of container that is required.
Efficient storage and shipping of documents from small to large items could require a pouch. A storage and delivery pouch comes in different sizes and when storing or shipping multiple or large items, a large pouch comes in handy. There are different types of large pouches, and each can offer unique benefits. In addition, when buying a large pouch buyers should consider a number of things to make to get value for the money.
Large Polythene Pouches
Large polythene pouches are widely available compared to other types of pouches. Buyers can find it in shops with aisles for mailing bags, pouches, and sacks. They can also buy it online in a few pieces or in bulk. Those who are environmentally conscious prefer large pouches made from recycled polythene. There is a variety of size for large polythene pouches to suit different types of items.
Polythene pouches in general are very durable and moisture resistant. Some have multiple layers of co-extruded polythene film to make it even more flexible and strong. Polythene allows users to easily slip an item inside. This type of large pouch is lightweight, making users save more on cost for shipping, packaging, and mail orders. In addition, large polythene pouches adhere easily to marker pen inks as well as labels. The most common colours of large pouches are pink, green, black, violet, and opaque.
Sizes
A pouch larger than 9 x 13 inches can be called a large pouch.. The smallest of them, which is a common type, is 10 x 14 inches. Next, in line is 12 x 16 inches, which can also be bought in bulk. And there are also even larger pouches at 18 x 22, 21 x 24, and 23 x 28 inches, which is the largest.
Summary of Large Polythene Pouch Sizes
The table below shows the different sizes for large polythene pouches.. Some large polythene pouches online are expressed in standard sizes, but the table below also shows its proper imperial equivalent.
| Sizes of Large Polythene Pouch (in) | Proper Imperial Equivalent (mm) |
| --- | --- |
| 10 x 14 | 250 x 350 |
| 12 x 16 | 305 x 410 |
| 18 x 22 | 450 x 640 |
| 21 x 24 | 535 x 610 |
| 23 x 28 | 585 x 710 |
The table can be a quick reference that serves as a guide for buyers of large pouches. The measurements are the standard size in large polythene pouches.
Thickness
The thickness of a large polythene pouch determines its strength. It is always measured in microns. Unfortunately, as the size of a large pouch progresses the thickness does not always follow. For example, a 10 x 14 inches pouch can have a thickness of 60 microns (mu) and a 12x 16 inches pouch can only be thinner, having 55 microns. The thickness varies from one brand to another, and a large plastic pouch can have a thickness of 55, 60, 70, 75 microns, or more.
Other Types of Large Pouches
Although large polythene pouches are widely available, there are other options for large pouches. Large pouches can also come as bubble bag pouches and PVC mesh pouches.
Large Bubble Wrap Pouches
Large bubble pouches or bubble wrap bags are great storage and shipping materials. The pockets that trap air provide padding or cushion to the content. Large bubble pouches are great for storing or delivering books, magazines, computer parts and accessories, and much more.
Anti-static large bubble wrap pouches provide static protection and padding for static-sensitive products, such as computer parts and electronic gadgets. Being a lightweight type of pouch, they are also economical to use in shipping.
Large PVC Mesh Pouches
Large PVC mesh pouches are also available in brick-and-mortar shops as well as online. These pouches are very sturdy due to the thick material it is made of. Ideally, PVC mesh pouches are for storing items. They can be great for neatly storing notebooks and pens in a bag, letters and documents, and other things users want to keep organised and protected. PVC mesh pouches can have a resealable opening or a zipper. The most common pouch of this type has an opaque colour, but it can also come in a variety of colours, including red, green, violet, blue, yellow, and pink.
Factors to Consider When Buying Large Pouches
With a few types and so many different brands of large pouches available it can be quite confusing to choose which one is right. As a guide, there are a number of factors to consider before buying a large pouch.
Size and Weight
When considering the size of a large pouch, buyers should know the size of the item or items to put inside the pouch. An item may be too large for the pouch, which, if overstuffed, can pop open at the sides or the bottom of the pouch. On the other hand, if the item is too small for the pouch, the item inside would move or shake, leading to its eventual damage. The weight of a large pouch should also be considered because the more lightweight it is, the more buyers can save on post. Thankfully, most polythene, bubble, and PVC mesh pouches are lightweight.
Thickness and Protection
Large pouches should provide the optimal protection for the items they carry. For large polythene and PVC mesh pouches, the thickness is an essential consideration. As mentioned, thick and often multi-layered polythene pouches provide flexibility to ensure that the pouch does not rip even if the item inside has a pointed edge or part.
In addition, thick polythene pouches do not easily rip open even if they are bulging with items. For bubble wrap pouches, the thickness of the plastic is also important, not just the body but also the bubble wrap. The plastic bubbles are the feature that gives the most protection to the items inside. The ideal bubble wrap pouch has all its plastic bubbles still intact.
Seal
The seal protects the content outside from being tampered or taken. Most large pouches have a strong adhesive flap that sticks securely on the front side of the pouch. Buyers can see "self seal" on the description of many large plastic or bubble wrap pouches, which means that the flap has the adhesive strip that seals the pouch.
PVC mesh pouches may have a zipper or feature a flanged interlocking profile that allows the pouches to be resealable. Although these seal features are great, they are not reliable when shipping items because they can easily be opened.
Waterproofing, Adherence to Ink and Labels, and Colour
Large waterproof or moisture-proof pouches should always be preferred when planning to use the pouch for shipping or mail order. Because delivering of mails and packages could expose the pouch to rain and moisture, it is important that pouch does not allow water to drip or absorb inside.
Large pouches should also adhere easily to inks and labels because it is almost always necessary to slap a label or write something on the surface of the pouch when having it delivered. The colour is more of a preference than a necessary condition. However, black and dark shades of grey, blue, red, green, and other colours provide the most covering for the pouch so the contents inside are not seen.
Buying Large Pouches on eBay
Large pouches are widely available on eBay,, especially large polythene pouches.. There are plenty of size variations for large pouches that can be bought on eBay. You can also choose from different types of thickness and colours. On eBay you can buy large pouch individually or in bulk. Bubble wrap pouches and PVC mesh pouches are also available on the site.
When buying a large pouch on eBay,, simply type in relevant keywords to be presented with a list of products to choose from. Many of the large pouch listings include a description of the size, thickness, and material type. Also, while navigating around eBay, buyers can easily filter the listings for faster and specific search results. In addition, buyers should note that top-rated sellers are the most credible sellers on the site. They are individuals or companies that have a very high positive feedback score.
Conclusion
A large pouch is a very useful item in storing and shipping items. Large polythene pouches are the most common type, and their size ranges from 10 x 14 to 23 x 28 inches. A large polythene pouch is often made of multiple layers of co-extruded polythene film that contributes to its flexibility and strength. Large bubble wrap pouches, on the other hand, rely mostly on the air pockets to provide protection and padding to the contents. Large PVC mesh pouches are made of very strong materials, but they are more useful in storing and organising rather than in shipping things. This type of pouch has a seal feature that is often a zipper or resealable.
Before buying a large pouch, consider its size, weight, waterproofing and protection capacity, sealing feature, and adherence to ink and labels. A flexible, strong, and lightweight large pouch that is waterproof is a must-have when storing and shipping items. Buying large pouches not only protects items but also offers discreet and cost-efficient shipping.