Hello! This guide will help you learn more about the game of Bingo.
Bingo is a great game for anyone of any age. This guide will cover
general information about the game of bingo, items you will need while
playing the game of bingo and gift ideas for any friends or family that
enjoy they game of bingo.
Learning the Game of Bingo
The most important part to Bingo is the game boards/papers. Now if you play bingo you know that there are 25 spaces that consist of 24 numbers (the 25th spot located in the center is a "free spot"). You have the word Bingo at the top and that forms five different columns under each column is five numbers. If you play in bingo halls the numbers will go as such:
B
will have 1-15 under it,
I
will have 16-30 under it,
N
31-45 (you will also find the free spot in this column),
G
46-60 and
O
61-75. Different variations may have numbers in different spots, and may have words or pictures instead of numbers.
Next you will have the caller. This is the person that will call out
the numbers you will daub or mark. They usually have a bingo ball cage (balls will have one number/letter on each one) and a board to help them keep track of what numbers they have called. There are also decks of bingo cards that you can use instead of a bingo cage.
Lastly you will need to win a bingo. There are so many different bingo
patterns you can get, such as: Straight line (five numbers in a row),
four corners, cover-all A.K.A blackout, six pack (looks like a six
pack), pig pen (this is everything around the free spot), large picture
frame (everything around the outside, nothing touching the free spot),
B and O Railroad (as pictured below), etc. It is important to know
which pattern you are playing when trying to get a bingo.
Once you are sure you have a bingo, this is the time you need to yell "BINGO!". The louder the better. Have pride in your bingo!
Tools or Items You May Need For The Game Bingo
A.K.A Gift Ideas
It is important you have the right items when playing bingo. Ebay is a
great place to find everything you need at great prices. This list will
also help you with that bingo player in your life (some day you may
need gift for them, this should help you find it).
1.
Bingo Dauber :
This item is what you use to mark on your cards. They come in all shapes and colors. You can find them as clowns, Elvis, Santa, Easter Bunny, regular shaped, etc. Also daubers have different colors of ink such as pink, blue, green, red, etc. If your bingo doesn't use daubers, you will need markers. These are small round disks to put on your cards. Some markers come with magnets on them and you can use a wand to pick them up easily. If you are putting on a bingo and have a limited amount of money to spend, try using beans or macaroni.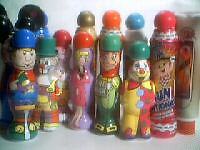 2.
Bingo Bag :
Hey, you have to put all your bingo items some where when you are not playing. Bingo bags can be just about anything. An old trick or treat bag, lunch box, old purse. There are also some bags that are made just for the game of bingo. Ones that are designed for the game of bingo will usually have an area for daubers around the outside and storage area in the middle of bag for all other items.
3.
Good Luck Charms :
This can be anything such as a troll or elephant (trunk pointing up) shaped item or just about anything that will bring you good luck. Some trolls will even have bingo shirts on.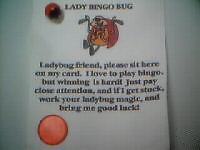 4. Bingo Paddle: This is a great item to have on those days you just can not yell. Usually they are shaped like a stop sign but have BINGO across them.
5. Tape or Glue: This is important because your papers will slide around on the tables and makes it hard to mark them. There is a special glue for just bingo also that won't leave a mess on the table when you use it.
6. Other Bingo Accessories: You can find many items to wear or show off such as: Bumper stickers, Hats,
Shirts
, Key chains, etc. These items are also great for gift ideas. Most bingo shirts will have funny sayings on them that most bingo players will get a kick out of. Also Boyds Bears has a very cute bear that is holding a bingo card, hard to find (remember to check eBay often for it!) but a great gift idea and that bingo player in your life will love it!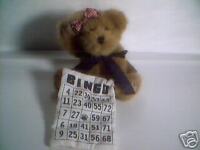 Helpful Hints While Playing Bingo
*Don't play more cards than you can handle. You don't want to miss a bingo.
*Have everything ready and sitting out before the game starts. The more organized you can get the better.
*Never be afraid to ask for help.
If you are going to throw a bingo party, make sure you have everything you need. Such as bingo balls (which you will also need a cage) or bingo deck of cards (which have all the numbers just like the bingo balls). Remember to have enough playing sheets, markers or daubers for everyone. Also if you need prize ideas ask everyone to bring a white elephant gift or a little knick knack.
Also bingo is a great game to learn from. There are bingo cards that
you can get that have words or pictures on them. This will help younger children learn words/pictures faster and in a fun way. Even in high school, our Spanish teacher had a bingo set to help us learn Spanish with.
Fun Facts About The Game of Bingo
*Bingo can be traced back to year 1530.
*At one time it was called "Beano".
*Got the name "Bingo" after someone accidentally yelled it.
Thank you for reading my guide. I hope you enjoyed it!