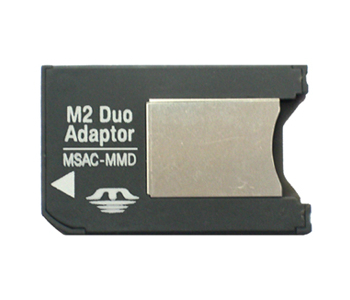 With the ubiquitous availability of multi-functionality SMART phones and PDAs, it is becoming advisable to purchase extra memory storage in order that the technology may be fully utilised. In short, mobile phones can now facilitate all types of downloads and file transfers from a PC, but the natural storage capacities available may not be enough to hold the volume of music, photographs, video clips, audio files, and documents required. Buying a removable memory device for a mobile phone is a good way to expand this storage capacity, just in the same way that using an external hard drive can extend storage capacity for a PC. Although there are a variety of storage cards on the market, Memory Stick is a Sony creation that comes with a slider lock to protect the data. Available as Memory Stick and Memory Stick Pro, the Memory Stick Duo was designed specifically for mobile phone use.
Memory Stick Types
Memory card and Memory stick have rapidly become interchangeable terms used to describe a storage device. CompactFlash cards tend to have the largest storage capacity, but are only generally compatible with PDAs. Instead, Secure Digital cards, Multi Media Cards and, of course, Memory Sticks are the most commonly used memory devices for a mobile phone.
| Memory Stick Types | Description |
| --- | --- |
| | This is the most commonly used secure flash memory card and is compatible with the majority of camera brands. An SD slot in a phone will accept an MMC card. |
| MMC card | MMC cards look the same as an SD card, but do not have the access lock. They are often used as an alternative to SD cards, but an MMC slot will not accept an SD card. |
| | Available with a wide range of storage capacities, the Memory Stick Duo device was developed by Sony and intended specifically for mobile phone usage. |
Some brands of mobile phone only take reduced size SD and MMC cards. Although exceptionally small, these cards nevertheless have the same storage capacity as the larger devices. Despite the technological differences between SD and MMC cards, there is arguably little difference in terms of performance and storage capacity. When considering speed, which is related to the rate at which data can be accessed, the general rule applies that the faster the card, the less likely audio playback will be to skip or jump. It is often considered that an SD card will be faster than an MMC card, with the former accessing data at around 10 megabytes per second in comparison to 2 megabytes per second for an MMC card.
Flexibility and Capacity
A card adapter will permit multifunctional usage, allowing a Micro SD or Mini SD card to fit into a standard SD slot on another device. In this way, data can be exchanged between electronic devices such as PCs, PDAs, cameras or camcorders and, of course, mobile phones. Not only that, but the memory stick or card can be used in any of the devices at any time allowing a much greater flexibility of storage. In order to determine which card will match either one or all of the devices it is always advisable to check the manufacturer's manual for recommendations. Consider the ultimate needs of the memory card before purchase to ensure that the right speed and capacity are available. Again, picture resolution and audio playback will require higher speeds for smooth reproduction.
| | | | | | |
| --- | --- | --- | --- | --- | --- |
| Size | 2 GB | 4 GB | 8 GB | 16 GB | 32 GB |
| Audio (ACC/MP3 HQ mode) | 250 songs | 1,000 songs | 2,000 songs | 4,000 songs | 8,000 songs |
| Photos (3648 x 2736) | 770 photos | 1,540 photos | 3,080 photos | 6,160 photos | 12,320 photos |
| Films (9Mbps/VBR) | 30 minutes | 60 minutes | 120 minutes | 240 minutes | 480 minutes |
Although the storage capacities are relatively easy to calculate, it should be noted that the full capacity will not be able to be used as a certain amount of memory will be needed to 'power' the device, therefore all capacities will be approximate.
Other Storage Cards
Although the Sony Memory Stick Duo was designed for mobile phones, there are other memory cards which can also be used.
| Other Storage Cards | Description |
| --- | --- |
| | Although, with an adapter, the Micro SD can be used in any SD-compatible device, the Micro can often be used in mobile phones without one. This type of SD uses eight pins to connect to a device and capacity ranges from a standard 2 GB to a 2 TB storage volume. |
| Mini SD | Physically larger than the Micro SD, a Mini SD will also need an adapter to fit into a standard SD slot, uses 11 pins to connect to a device, and has a capacity range of 2 GB to 32 GB. |
| MMC | MMCs are available with capacities of between 2 GB and 32 GB. Compatible with a standard SD slot, they are not interchangeable. |
| Trans Flash | Designed specifically for mobile phones, a Trans Flash card (with dimensions of 11mm by 15mm by1mm) is physically the same size as a Micro SD. Data can be exchanged via adapters with any SD compatible host such as a digital camera, PDA or PC. Like SD cards, Trans Flash cards have built-in content protection management tools. |
| XD cards | Although designed for high resolution data storage and access, XD cards are only available for more advanced PDAs and digital cameras. |
How to Use a Memory Card
Memory cards are considered solid state storage media, which means that they have no moving parts making them lighter, faster and quieter than traditional drive devices. Depending on the model of mobile phone or PDA, a memory card will have a dedicated slot in a certain area of the phone. Uploading and downloading data from a memory card tends to follow a standard method:
| How to Use a Memory Card | Description |
| --- | --- |
| To transfer photographs and other files from a memory stick or card to a PC. | After removing the card from the phone, insert it into a memory card reader. These are often connected to a PC through a USB port. As a PC will often consider these adapters as an additional drive, it is easy to drag and drop the files to the required folders on the computer's desktop. To transfer audio files or other data from a PC to a mobile phone memory card, simply drag and drop the files from the PC file they are located in to the memory card. |
| To transfer business data. | If audio files and business emails need to be transferred from device to device on a regular basis, it would be easier to purchase a memory card that is naturally compatible with each piece of equipment. If this is not possible, however, the adapter can be used to make sure that the files can be read, and enable transfer. |
| Bluetooth transfer. | It is possible to use Bluetooth to transfer files from one device to another, particularly if the devices do not share memory card compatibility. If, however, the PC or other device is not within range, it may be advisable to carry an adapter in order that transfer may be made to a temporary storage device (such as a portable hard drive) before ultimately relocating the files on a home computer or laptop so that the restricted capacity of any 'on board storage' does not interfere with the accumulation of further files or other data. |
How to Buy Mobile Phone Accessories on eBay
To buy mobile phone accessories, first go to the eBay homepage, opening the All Categories tab, then scroll down the page until reaching Electronics & Technology, click the Mobile & Home Phones tab and then select Mobile Phone & PDA Accessories. Further filters will then appear in the left hand filter and clicking on the required item will bring up all the item listings available. Alternatively, use the bar at the top of any eBay page and type in "mobile phone memory card".
Conclusion
Expanding the phone's natural storage capacity is easy to do, and is certainly something to be considered if the device is used for storing or transferring data. By uploading audio files onto a storage card, it is also possible to use the phone as an MP3 player. Plugging in mini speakers or headphones also enables a user to either listen privately to a playlist, or provide musical entertainment to a crowd. Each level of declared capacity (i.e. 2 GB or 8 GB) has comparative file availability. That is to say, a 2 BG memory card can hold up to 500 songs, 770 photographs or 30 minutes of video. It should be noted, however, that the full storage capacity will not be available as a certain amount is needed in order to power the card. If a memory card is not automatically compatible with a PC or other home device, it is possible to buy an adapter that will facilitate the transfer of files.