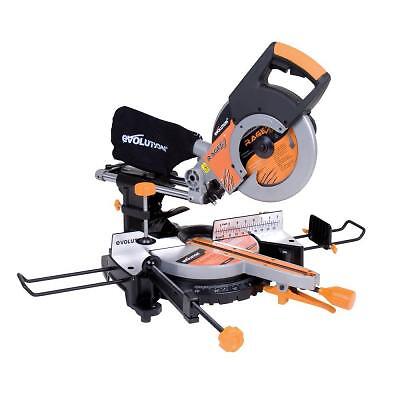 Multipurpose power tools continue to find an increasing number of takers primarily because these tools come with the functionality of multiple tools, resulting in the requirement of less storage space, as well as saving money from not having to purchase several different tools. These tools, aimed at simplifying working conditions, tend to come in both corded and cordless variants, and most cordless options are easily portable. In today's world, buyers have various multipurpose power tools from which to choose, which often include drills, routers, jigsaws, and more.
Buying multipurpose tools presents buyers with various alternatives, and turning to hardware shops and DIY shops that stock power tools is always an option. With the Internet becoming a quickly growing marketplace, websites like eBay present buyers with a plethora of options, and it is known that the online realm now offers tool buyers a far greater variety of multipurpose power tools. Knowing just what is required in terms of functionality is suggested; buyers should be able to differentiate between the different models that are made available, which includes addressing aspects like design, size, power, and attachments.
Buying Multipurpose Power Drills
A good multipurpose drill comes with the capability to drill through just about any given surface, whether it is steel, concrete, hardwood, softwood, ceramic, or glass, which is accomplished by using different kinds of drill bits. One of the first things buyers should establish when looking for multipurpose drills is whether or not they require corded or cordless variants.
Corded or Cordless Drills?
Corded drills almost always come with more power and torque when compared with cordless drills, and although cordless drills are not as powerful, they offer easy handling given that they are lighter, and they are also typically safer to use. Besides, cordless drills can be used in hard-to-reach places with relative ease since they are not dependant on the availability of power points. Working with cordless drills requires that the batteries be charged periodically, and users do have the option to carry spare batteries with them. While multipurpose cordless drills work with most materials, not all models are capable of tackling masonry jobs, which is something buyers should keep in mind.
Power Drill Specifications
While the power of cordless drills is typically indicated by voltage, when it comes to corded drills,, higher wattage translates into more power. While low-powered drills work in undertaking simple jobs like making holes through drywall, when it comes to looking for a multipurpose drill that is capable of handling different kinds of jobs, going the high-powered way is suggested. More power, however, typically means heavier and more expensive drills.
Chuck Type and Size
Some power drills come with chucks that require chuck wrenches to fit and remove drill bits, and some others come with keyless chucks, in which the drill bits are easier to fit and remove. Drills that have larger chucks tend to come with powerful motors, and the two most common chuck sizes are 10 mm and 13 mm. While 10 mm chucks are suitable for most day-to-day uses, 13 mm chucks are used when it comes to heavy duty jobs.
Torque and Drill Speed
Torque refers to the rotational force that a drill can exert, and when looking for multipurpose power drills,, looking for those with higher torque is suggested. Drill speed, measured in RPM, plays a role in the kind of jobs for which a drill can be used, and those that offer higher RPM ranges can be used for a wider variety of purposes. While 300 to 400 RPM classifies as low speed, high speed is anywhere in excess of 1,200 RPM. A good multipurpose power drill should come with the ability to switch between low and high speed as, and when, required.
Drill Bits
The kind of drill bits that can be used with any given power drill should be taken into account before buying one simply because not all power drills are compatible with all drill bits. What classifies as a good multipurpose power drill is one that can be used with just about any kind of a drill bit, be it steel, high-speed steel, titanium-coated, zirconium-coated, diamond-coated, carbide-tipped, black oxide, cobalt, rotary, percussion, auger, carbide spear point, or brad point.
Buying Routers
Routers are looked upon as multipurpose tools given the array of applications for which they are used, and when used with different router bits, they can be used for an assortment of woodworking jobs.
Fixed Base or Plunge?
Fixed-based routers are typically cheaper and lighter than plunge models, and are favoured by many do-it-yourself enthusiasts as well as professionals. While cutting depth is fixed in fixed-based routers, it can be changed when it comes to plunge routers, and some plunge routers come with depth stops that plunge the router to accurate depths. Fixed-based routers are favoured by users because they tend to offer easier manoeuvrability, and work well with tasks that involve shaping of edges. Plunge routers,, on the other hand, allow users to work freely within the inner surface of any workpiece, enabling cuts, grooves, and template and pattern work.
Router Specifications
The power of most routers is displayed as horsepower, or HP, which can be sustained or peak, so addressing this aspect is important when making comparisons. While small routers are designed to work with 6.35 mm bit shanks, bigger routers are capable of working with both 6.35 mm and 12.7 mm bit shanks, and some variants can work with 9.5 mm bit shanks as well. When larger diameter bits are used with routers, their routing speed reduces, which makes routers that offer wider speed ranges more multipurpose.
Buying Jigsaws
A number of people who start looking for power saws end up buying jigsaws,, because jigsaws, when used with different blades, can be used to cut through an assortment of materials. As with power drills, buyers have the option to look for corded and cordless jigsaws, and again, corded variants tend to be more powerful than their cordless counterparts.
Jigsaw Specifications
Orbital jigsaws are so called because of the blade action that they employ, and in addition to the blade moving up and down, it also moves back and forth, which results in quicker cutting. Looking for models that offer variable speed is suggested, as this gives users not only the freedom to work with different materials, but to work on developing their technique when working on intricate projects. Jigsaw blade speed can also vary in between 500 to 3,000 strokes per minute. Looking for models that come with tool-free, single-lever, controlled blade changing, adjustable feet, and blowers is also suggested.
Buying Multipurpose Power Tools on eBay
Turning to eBay in order to buy multipurpose power tools makes sense because the variety of such tools made available through eBay is truly diverse. For instance, buyers looking for multipurpose power tools, when shopping through eBay, can expect to find drills, drill sets, routers, jigsaws, sanding sheets, discs, and belts,, router bits, and much more. Another definite plus is that eBay gives buyers the opportunity to look for used multipurpose power tools..
Since different sellers use eBay as a platform to sell their multipurpose power tools, it is not uncommon to find extremely similar products priced rather differently, and from a buyer's point of view, this can be used to an advantage by carrying out a thorough search.
Another aspect that requires buyers' attention is the postage and packaging costs that accompany each order. Buyers ought to note that there is no set protocol that eBay sellers follow in establishing postage and packaging costs, and as a result, these can vary considerably. Looking for local sellers can result in reduced postage and packaging costs, and some sellers even give buyers the option to pick up their purchase in person, for free.
Conclusion
With most multipurpose power tools, higher power almost always translates into higher prices, and with most cheap variants that offer high power, quality often leaves a lot to be desired. Consequently, basing the buying decision entirely on how much a multipurpose tool costs is definitely not recommended. What is recommended, though, is establishing just how the tool in question is to be used. If a buyer is looking for a drill to work with wood, spending extra money to buy a really high-powered drill designed to work with metal and concrete serves no real purpose.
When buying multipurpose power tools, buyers should take some time to establish just which functionalities come with it, and just how often these functions may be used. Looking for tools that can be used with small and large surfaces and objects is suggested because, although most multipurpose power tools are designed with versatility in mind, this is one aspect that tends to present users with some limitations. Importantly, aspects like portability and access to a regular source of power should be taken into account, as this can help decide between corded and cordless alternatives.