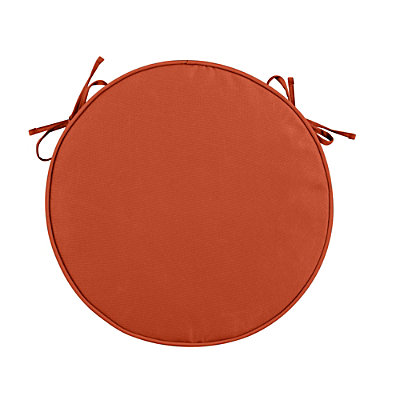 Cushions are frequently used in households for various reasons - support for the back or neck, comfort, or as a decorative element. They can add a touch of contrasting or toning colour to the overall colour scheme of a room, and are available in a variety of shapes and sizes. Round cushions, with no corners or straight edges, can add a quirky look or contribute to a feeling of softness and comfort in a room. Round cushions may come in a variety of shapes and sizes. Before buying, research cushion types, shapes and sizes in order to make a decision about what type is needed.
Round Cushion Shapes
| | |
| --- | --- |
| Flat | Cushion created by sewing two pieces of circular fabric together, with padding of some sort between them. |
| Centre button | This type of round cushion has a button in the centre of the circle, usually creating a sort of 'dimple' with the fabric gathered towards the button. They often have built-in covers rather than changeable ones. |
| Cylindrical | These cushions are shaped like a cylinder - often a short 'coin-shaped' cylinder, but longer cylindrical cushions like bolsters are also available. |
Cushion Types
| | |
| --- | --- |
| Scatter cushions | These cushions are usually designed for decoration, though they may be used to provide back or neck support, or for sitting on hard chairs. Sizes range from as small as six inches across to 16-18 inches. |
| | These cushions are designed to provide a soft place to sit on the floor, particularly for children who may play, draw or watch television on the floor. Generally larger than scatter cushions, they may contain extra padding and are sometimes filled with beanbag-style filling. They are often made from tougher, stronger fabric than other cushions and some also have wipe-clean surfaces such as imitation leather. |
| Chair cushions | These cushions are designed specifically for use with hard wooden chairs or stools. They are available in a range of sizes to fit the chair, and some are even made in custom sizes to ensure a perfect fit. |
Cushion Covers
When buying cushions, always consider the type and style of cover required. Many cushions have removable covers, while others, particularly button-centre round cushions, have covers permanently built in. Both options offer certain advantages - removable covers are easier to clean and can be replaced if torn or stained, whereas built-in covers mean that there are no zips, buttons or fastenings which could potentially catch on clothing or affect the look and design of the cushion.
Cushion Cover Materials
Cushion covers come in a wide variety of materials, colours and designs.
| | |
| --- | --- |
| Cotton | A classic and traditional choice, cotton comes in a huge range of colours, prints and designs, from raw unbleached cotton for a natural look to bright colours and elaborate designs. Cotton covers are easy to wash and care for. |
| Silk | A smooth, luxurious fabric with a distinctive look, silk covers can be expensive and difficult to care for, but are very comfortable and add a touch of luxury and elegance to a room. Various types of silk are available, such as shot silk, watered silk and shantung silk. |
| Faux silk | Made from artificial fibres such as polyester, faux silk can be a less expensive alternative to silk with a similar look. |
| Wool and felt | Wool and felt are natural fibres made from the fleece of animals such as sheep, goats and llamas. Felt generally has a thicker, "fuzzier" texture than wool. Both are warm, soft fabrics which are available in a variety of colours and designs. Some wool can be quite harsh and tough, whereas other types such as merino are very soft against the skin. |
| Satin | Satin is a glossy, lustrous fabric created by using a particular weaving technique with silk, nylon or polyester fibres. It has a distinctive, shiny appearance and smooth texture. |
| Velvet | Velvet is a soft, tufted fabric with short, dense raised threads which give it a distinctive look and texture. Velvet tends to be thick and warm, and often drapes well, which has made it a popular fabric for interior decor. Velvet comes in various types such as crushed velvet, hammered velvet, and patterned varieties such as devore and embossed velvet. |
| Chenille | A tufted fabric which shares some similarities with velvet, chenille is a soft and warm fabric created using a special weaving technique. One problem with chenille is that the tufts can sometimes wear away leaving patches of bare fabric, but with modern fibres and manufacturing techniques this happens far less. |
Removable cushion covers come with a variety of closure types, and before buying, it can be advisable to consider what type of closure is needed. In the case of round cushions, the most common closure types are zips, velcro or buttons.
| | |
| --- | --- |
| Zip closure | Zip closures are very common. They are generally concealed and sewn into seams in order to avoid snagging clothes, causing discomfort or spoiling the look of the cushion. |
| Velcro | Usually concealed in a similar way to zip closures, velcro fasteners are quick and easy to open and close, but may catch on delicate fabrics. |
| Buttons | Buttons may be small, unobtrusive and concealed, or may be larger in a matching or contrasting colour to form part of the cushion's design. They may take longer to fasten that zips or velcro, but are less likely to snag on clothes or couch fabric. |
Cushion Fillings
A very wide range of cushion fillings are available in various natural and synthetic fibres, to suit different needs and different types of cushion. It's advisable to research different filling types before purchasing a cushion.
| | |
| --- | --- |
| Feather | A natural, traditional filling, feather cushion fillings are soft and comfortable. However, feather cushions may need 'plumping up' frequently. They may also be inconvenient or even dangerous for allergy sufferers. |
| Down | An even softer option than feather filling, down is made from the smallest, softest feathers, without the quills which can sometimes feel spiky. These cushions are very soft, but like feathers, can cause allergy problems for some people. |
| Fibre | Usually made from synthetic fibres, this is a hypo-allergenic filling which is slightly firmer and lighter than feather filling. |
| Foam | Foam cushion filling creates a cushion which feels much firmer than feather, down or fibre cushions, and which is also safe for allergy sufferers. These cushions are less soft and flexible, but hold their shape well and offer firm support. |
| Beanbag | This type of filling is composed of numerous small 'beads', which are now usually made from polystyrene. This type of filling creates a very flexible cushion which doesn't hold a particular shape, and is most popular for floor cushions. |
| Combination | Some cushions are available with various combinations of fillings - for example, a cushion with a foam centre and feather or fibre layer at the top, to create a cushion which is soft and comfortable while still holding its shape well. |
How to Find Round Cushions on eBay
To find and purchase velvet cushion covers on eBay, first load the eBay homepage, and select the link for Homes and Gardens from the All Categories tab. From there, select Home Decor, and then click on the Cushions link. From there, browse or search for round cushions, or narrow down the search parameters further by selecting attributes from the left-hand menu such as colour, style, material or condition.
Conclusion
Cushions bring comfort, warmth and character to a room, and are have both aesthetic and practical value. Round cushions in particular can give a soft look with no hard edges, or add a quirky dash of colour to a modern, stylish room. They are available in a huge variety of styles, materials, colours and shapes, with different fillings according to their intended purpose. If well cared for, they can last for years. Research fabrics, cushion types and sizes, and filling materials before buying in order to decide on the right product and get the best deals.