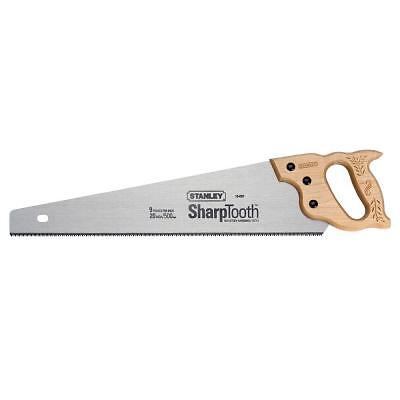 A saw is a tool with a toothed edge that facilitates cutting. The cutting implement may be a blade, chain, or wire, with each appropriate for specific projects. To operate a saw, the handyman places the implement's edge against the material to be cut, usually wood, and guides it back and forth. Outside of being powered by hand, a saw's motion may be driven by electricity, steam, or water, amongst other sources.
Saws have come a long way since their prehistoric beginnings, when each instrument was painstakingly created, and operated, by hand. While hand saws are still appropriate for smaller projects, in general, professional carpenters and construction workers look to larger, high-power models to get things done. Prior to making a purchase, a review of types and functions is in order. After learning about various saw and reviewing the tool's many options, prospective saw buyers are ready to visit eBay and find the products that meet their cutting needs.
A Brief History of Saws
Saws have been traced back to the Early Dynastic Period, which lasted from 2,700 to 3,100 B.C. In ancient Egypt, different types and sizes of saws have been identified through relics and paintings on tomb walls. The time-consuming and labour-intensive creation of saws was performed by hand, with craftsmen having to file each tooth individually, until the middle of the 19th century.
Saw and Blade Types
Amongst the more popular types of handheld, power, and chain saws are the following: abrasive saw, back saw, band saw, bow saw, circular saw, hand saw, pit saw, and reciprocating saw. Within each category reside multiple specific kinds of saws, some of which are discussed below. Also closely related to the saw is the milling cutter.
Although tungsten carbide and standard or high-speed steel are the primary materials from which saw blade teeth are fashioned, other sources may be brass or diamond. A list of the most useful blades and blade types encompasses the following: band saw blade, crosscut, dado blade, plytooth blade, rip cut, and strobe saw blade. Where a circular saw's plytooth blade is perhaps the best for cutting plywood, its dado blade is more useful in creating wide-grooved cuts or notches. With its circular blade, the abrasive saw is built to cut through metal, rather than wood.
Popular Saws for Business and Industry
While hand saws are appropriate for certain smaller tasks, in general, business and industry cutting is best accomplished through the use of electrical or other mechanical sources. Falling within this category are a number of varieties, amongst them: abrasive saw; circular saw; concrete saw; electrical mitre saw, also referred to as cut-off saw, chop saw, or power mitre box; pendulum, or swing, saw; radial arm saw; reciprocating blade saw; rotary saw, also called RotoZip or spiral-cut saw; and table saw.
| Type of Saw | Material to Be Cut | Power Source | Common Uses |
| --- | --- | --- | --- |
| Hand saw | Wood | Manual | Smaller jobs |
| Mitre Saw | Wood | Manual, power | Wood crosscuts |
| Reciprocating Saw | Wood, metal, bone | Power | Construction, window fittings, operating rooms, dental offices, emergency rescues |
| Power hacksaw | Metal | Power | Sheet metal |
Although this table provides a quick comparison between these four saw types at a glance, in some cases, more than one type of saw would handle the job. A slightly more detailed overview of the hand saw, mitre saw, reciprocating saw, and power hacksaw may be helpful before deciding to make a purchase.
Hand Saw
The oldest entry into the construction saw market is the hand saw. The most basic of this type of tool, this panel saw cuts wood via hand-powered, back-and-forth motions. Throughout developed nations, two of the more popular types of hand saws are the ripsaw and the crosscut saw.
In all hand saws, sharp, shark-like teeth deliver distinctive, reliable slices through panels of wood. Hand saw blades are generally made of steel; however, historic models may have been crafted from bronze. Although these saws are ubiquitous in home workshops and professional carpentry tool boxes alike, they do come with some disadvantages, as well, including inconsistency of cut, potentially crooked lines, and the need for repeated human exertion.
Mitre Saw
A mitre saw has a metal guide that is secured in place by rollers. There are two types of mitre saws: manual and power. Also known as a drop or chop saw, this tool is the carpenter's choice when making accurate crosscuts quickly.
Reciprocating Saw
A reciprocating saw, also known as a sabre or oscillating saw, is a popular tool in demolition and construction activities. The push-and-pull motion, both horizontal and vertical, is achieved through a blade resembling a jigsaw and enables quick cuts in wood. Beyond their use in construction and window fitting, reciprocating saws can also be found in operating rooms, dental offices, and emergency rescue sites.
Power Hacksaw
When the material needing to be cut is metal rather than wood, workers turn to a power hacksaw. Designed without a frame, this type of saw facilitates the cutting of lengthy panels of sheet metal with no limit imposed by the tool. The power hacksaw is driven by either a stationary engine or electric motor. Although most power hacksaws are locked in place, handheld models are available for smaller jobs.
Proper Saw Operation
While a hand saw is relatively simple to use, more advanced power models can be quite dangerous if not operated properly. For this reason, it is essential for the worker to thorough read the manufacturer's instructions before putting the tool into use. It is important to note that power saw operation may vary from one model to another, so familiarity with each specific saw is essential.
The workspace is another important consideration, as it should be properly set up before setting saw to wood or metal. This includes a clear, secure workspace, with all necessary equipment within reach. Safety precautions must also be observed, including protective goggles, thick work gloves, and attire that fits well and is not loose. Prior to making the final, important cuts, a test cut should be undertaken, if possible. A power saw should be unplugged and safely stored when not in use.
Industrial Panel Saw Operation
When a carpenter or industrial building needs to create panels from flat pieces of wood, the industrial panel saw is up to the task. With two formations, horizontal and vertical, this panel saw is guided via handle either up and down or side to side across the wood. More advanced models may utilise CNC technology in which a computer, not manual operation, propels the saw across the wood.
Operating a Panel Saw in Three Steps
It is essential to learn proper manual operation of an industrial panel saw via three easy-to-remember steps. Prior to connecting the machine to an electrical source, the saw should be placed on a stable, level surface. Once the threat of tipping over has been removed, it is safe to plug in the saw. Next, the operator must don the proper safety gear. While well-fitting clothes and heavy gloves are a given, protective glasses should not be overlooked, as bits of wood and sawdust are likely to become airborne.
The third step varies slightly depending on if a vertical or horizontal panel saw is being used. For the former, users should take advantage of the saw's built-in tape measure to ensure proper cutting dimensions. Next, they should secure the unit via its built-in clamps and then lower the blade to the proper location at the top of the wood. Once the downward cut has been executed, the clamps can be removed and the saw returned to the top of the wood for the next cut. Using both tape measure and clamp is a part of horizontal operation, as well. After securely fastening the blade, the carpenter should make the cut, loosen the clamps, and repeat the process until the project is complete.
How to Buy a Saw for Business and Industry on eBay
Armed with a broad overview of saw types, functions, and operation, you are now ready to visit eBay and make a purchase. Based on the nature of your project or the demands of your work site, you may be looking for a mitre saw, reciprocating saw, or even a basic hand saw. Depending on the tool you seek, you can explore general eBay saw categories or type precise terms into the search bar like the ones previously mentioned.
Comprehensive product listings provide comprehensive information at a glance, including photographs, titles, summaries, prices, seller ratings, and shipping charges. Clicking on an individual listing returns detailed information about the product, including shipping options and the seller's return policy, if applicable. If you would prefer to view the tool in person, eBay Local displays products within a specified geographic area.
Making a purchase on eBay is simple and straightforward. Upon receipt of your new saw, be sure to open and inspect the product to ensure all parts are included and functional. A quick test drive is a good idea, especially if you have only a limited time to return something that is not entirely to your liking.
Conclusion
Saws come in a number of styles, constructions, and functions; as such, it is important to assess the project at hand to determine the proper tool for the job. Larger, more high-powered saws are an essential part of most business and industry projects, from construction to carpentry, building to breakdown. Amongst the more professional models are power hacksaws, mitre saws, and reciprocating saws.
Different saw types are appropriate for cutting different materials. For example, a tool designed to cut wood is not probably going to be appropriate for cutting metal panels. The expanse of the project at hand is another crucial consideration, as the saw needs to be large enough for the job, yet not so large that it includes unnecessary features and exceeds the budget. After reviewing various types of saws, including their operation and use, buyers can visit eBay and find the saw that is just right for them.