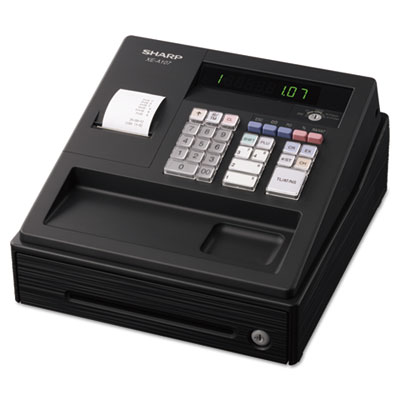 Shop tills, sometimes known as cash registers, are a necessary component of businesses that regularly handle the exchange of cash. Shop tills provide the basic tools similar to that of calculators, and advanced versions manage inventory, retain copies of receipts, and automatically reorder merchandise. Nearly all shop tills prompt the printing of receipts as well as the opening and closing of the cash drawer.
There are multiple types of shop tills on the market, and selecting the right one can be challenging. After all, shop tills are no small investment, especially in medium to large businesses where several units may be required. Therefore, it is helpful to take into account the various considerations involved in purchasing a shop till.
The Internet provides a wide range of shop till options to fit every need. Finding the right type of shop till online for one's business means locating a reputable dealer, capable of providing precisely the type of register that is required. A great online resource is eBay, which hosts a large network of sellers located worldwide. This offers the advantage of finding the shop till that meets all the requirements of a business.
Points to Consider Before Selecting a Shop Till
There are many factors to consider when deciding what type of shop till to purchase. Choices are based on the environment, the number of average transactions, and the source of power. For example, the same till may not work as effectively for a bakery as it might for a retail store.
Carefully deliberating on the type of shop till required for a business makes it easier to stay within budget and ensure a long-lasting relationship with the machine. A good quality till can last decades with proper maintenance. Taking a bit of time to conduct the appropriate research so that one can make a sound investment is worth every minute.
Type of Business
The type of shop is extremely important in the selection of a shop till. Manufacturers of tills divide all types of business into three main categories. There is hospitality, grocery, and retail. Though not every business may fall into one of these categories, it should be close enough to one of the categories to benefit from the device.
Grocery store tills have the ability to handle multiple, small transactions without wearing down. They typically come with a barcode scanner as well as a connected weight system for pricing produce and other products that are sold by the ounce. Grocery store tills also offer sophisticated mechanisms, making it possible for the input of coupons or the facilitation of alternate tax charges for different products.
Retail and speciality shops frequently require tills that are slightly less complex than those used by grocery stores. Single transactions can be used to accommodate multiple purchases. Often, business is conducted over the counter. Some retailers may need a more basic machine or one that can run on batteries to provide portability.
Businesses specialising in hospitality vary in what is necessary. The needs of restaurants, for example, are based on the size of the establishment as well as the type of food being served. These devices are often managed with a protective cover to keep the keys or processor from becoming damaged by dripping drinks or food. While fast food diners and bakeries, where several small transactions take place throughout the day, need a sturdy, workhorse of a till, formal sit-down restaurants can opt for something that is more sleek in design than tough.
Hotels, however, may have different criteria for shop tills when compared to the typical restaurant. Hotels often require complex computer systems since credit card information may be saved but not charged until the guest actually checks in.
Reporting Needs
The types of reports required for business management also dictate the sort of till necessary for a business. Shop tills have varying amounts of storage memory, and different models hold different types of information. Some advanced models make inventory a breeze by retaining an itemised list of products sold, even saving copies of every receipt digitally.
Other tills are set up to print out thermal or digital copies of the original receipt with every purchase. This provides a receipt for the merchant as well as the consumer, an important concept for shopkeepers who want to keep a hard copy of every transaction. Nearly all types of business need to maintain copies of receipts for tax purposes at the end of the year.
It is important to check with the manufacturer or review the product description to determine what reporting options are available on a shop till before ordering online.
Security Needs
Security is yet another important factor when purchasing a shop till online. A cash drawer typically features a lock to keep funds secure from intruders. Other systems go a step further by requiring a password from the cashier before initiating a transaction.
Some cash registers feature a battery backup system that allows the device to at least partially function during a power outage. This additional backup security option can be more expensive, however, so it is more appropriate for larger businesses.
Budget
Clearly, the budget must be taken into consideration when making a large purchase, whether for a business or for one's home. Shop tills vary greatly in price. Additionally, some businesses may require several till set-ups, while others only require only one or two.
When a business is just opening, it is acceptable to buy an inexpensive, simple register. However, premium models offer more benefits because they last several years, up to a decade or more in some instances. When purchasing a low-priced register, remember that it may have to be upgraded or even replaced multiple times, often making the more expensive register suddenly seem far less expensive.
Power Source
Not all businesses are managed within the confines of a permanent structure. As a result, tills need to have flexible power sources. There are tills designed to run strictly off of electrical outlets, as well as those that accept batteries. Additionally, there are tills that plug into wall outlets but also feature internal backup battery sources in case of unexpected power outage.
Understanding the Difference Between a Shop Till and a Point-of-Sale System
Often, the terms shop till and point-of-sale are used interchangeably. In the past, a shop till was little more than a calculator with a few extra features, such as a cash drawer. The point-of-sale system is basically an updated version of the traditional set-up. To a great extent, the point-of-sale (POS) system is replacing more antiquated systems.
The big difference is that a POS system features an advanced computer. POS systems are pricier than conventional shop tills, but offer multiple additional features. This type of system is typically connected to a main system capable of logging and managing a large amount of information. As a result, these devices do away with much of the manual labour associated with running a cash register by automatically updating inventory and tax documents, and even signalling the main office to reorder a product with dwindling inventory levels.
Buying Shop Tills on eBay
eBay is a great place to find shop tills in both new and used conditions. With sellers from all over the world converging in one location, unique options that may not be available at local shops may be available through eBay. This means great prices and a wide selection.
To find the right stop till on eBay, you can begin by typing related keywords into the website's search bar. Examples of related keywords are "shop till" or "POS". Adding descriptive words to the search, such as "retail shop till" or "hospitality POS" may help restrict search results to more specific items. Additionally, eBay's categories and filters make it possible to omit unwanted criteria from the results.
When making a large purchase on eBay, many consumers desire contact with the seller with whom they plan to do business. This task can be managed by visiting a seller's feedback profile to retrieve contact information. A quick and private email can then be sent to the seller to request pertinent information before a purchase is made. You can also read reviews about a seller from previous clients, so that you can be sure that you are working with someone who is reliable.
Conclusion
Shop tills exist for every type of business. Finding the right one can be a challenge, but is far from impossible. It is important to remain vigilant of online retailers before doing business with them and to know the difference between various types of tills in the marketplace. This helps to make the process of seeking shop tills easier, especially when making the purchase online.
Learn more about retailers by studying the website or sending in questions about the product one wishes to purchase. Stay on top of current trends and styles before committing to buy a shop till. Also, do research into various types of registers, in an attempt to find a model capable of accommodating the requirements of a business.
An online retailer such as eBay can make the process of finding the right shop till for a business easier. First of all, the website hosts a number of sellers in diverse locations. These sellers offer access to different types of new and used equipment that can meet the needs of a business at the right price.