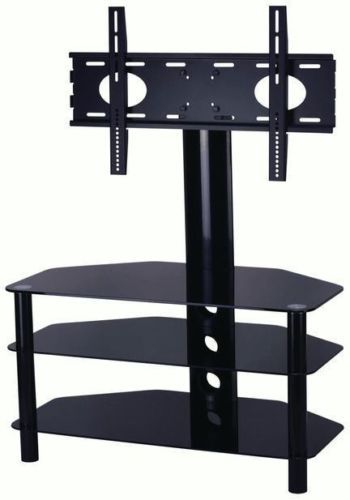 With the seemingly endless advances in technology occurring, gadgets large and small are increasingly important in everyday life. Perhaps one of the biggest purchases any household will make is a new TV. A safe and secure TV stand is a must-have to protect this expensive household investment.
Types of TV Stands
The layout of the room in which the television is to be located is important when choosing an appropriate stand. Naturally it needs to be near a power source and it makes sense to put any digital box, DVD, or Blu-Ray player on the stand with the TV to keep them all together. Many TV stands have a couple of shelves built in specifically for this. The television is likely to be the focal point of any room, and, therefore, notice will be made of the unit on which it rests. A TV stand is a piece of furniture, and like any other, it needs to complement the room in which it sits. However, it also needs to complement the television itself. A black framed television in a room predominantly decorated in pine accoutrements will look best on either a pine cabinet or a black glass stand, not a silver glass or white wood unit. A television sitting in the corner of a room will benefit from a dedicated corner unit, whereas a slim-line unit would best suit a room with limited space. An important element to take into consideration is that some TV stands have maximum weight or size capabilities; that is, they will only support televisions of certain sizes or weights. An easy guide is to work out whether the television will overhang the stand by a significant amount. If so, it may be unsuitable in terms of balance and aesthetic appearance. In addition, always check the weight tolerance of any stand before purchase.
| | | |
| --- | --- | --- |
| Glass | Black, clear with silver separators between shelves | Tempered glass makes it incredibly strong and scratch proof; heavy and solid to support large television; open back to allow cabling to pass out to the socket or a slim cable tidy; shelves for additional items; flat or corner unit |
| Wood | Oak, pine, yew | Usually solid wood for strength to support large television; variety of woods and styles from classic chunky wood to low, slim lacquered units; flat or corner unit; often have doors and/or multiple shelved beneath the main standing area |
| Bracket stand | Black or clear glass | A stand with a couple of shelves and a bracket extending from the top to which the television is attached. This frees up the top shelf for additional media; the bracket usually includes a cable tidy extending down to the bottom of the shelving unit |
| Corner stand | Glass or wood in a variety of shades | Exclusively made to fit in the corner of a room, these have a wide front and narrow towards the rear to make the most of the corner space; some have cable tidies, others open backs; wooden varieties may have doors to small inner cupboards |
| TV cabinet | Usually wood in a variety of species and finishes | These very often have doors at the front and the television sits inside the cabinet; some can double as wall units with the television on the top and cupboards and shelved below for multiple storage options |
Glass TV Stand
Glass stands are probably the most popular makes on the market at the moment. The nature of the construction means they can appear light and unobtrusive when compared with their solid wood counterparts. Many come with cable tidies fitted at the back through which to thread all the wires, though these can be purchased separately as necessary. Glass stands come in black tempered glass with silver accessories or clear glass with silver separators between shelves. The black glass stands can be quite dramatic and act as a focal point in a room, so purchasers need to ensure the stand will complement the rest of the room. Glass stands are delivered as flat pack items which will need building in the home, and can be extremely heavy. Appropriate care should be taken to lift and move the stand both before and after it has been put together. Well-made glass stands come with a ten-year manufacturer's warranty as a guarantee of their quality and longevity.
Wood TV Stand
Wooden TV stands come in a variety of styles and colours. If choosing one of these stands, ensure the species of wood from which the stand is made is the same as that in the rest of the room. Oak and pine may look similar, but standing next to each other they present with very different colours and grains which may jar in an otherwise complementary room. Many wooden TV stands also double up as wall units or cabinets. They often come with either shelves or small cupboards in the main body of the stand, perfect for storing DVDs or Blu-Rays and the devices themselves, keeping clutter from visible display. The best wooden TV stands will be made from solid wood rather than veneer, giving them the strength and sturdiness to hold large, heavy flat screen televisions. Stands can be contemporary, sleek, and highly finished or far more rustic and vintage in appearance, depending on the style preferred.
TV Stand and Bracket
Some television stands specifically made for flat screen LCD orplasma televisions now come with a television bracket built in. The stand has the usual two or three shelves to accommodate accessories with a bracket extending above the stand upon which the television depends. The benefit to this type of stand is that it both frees up the top shelf of the stand and raises the height of the television for easy viewing. These bracket stands are also often of a slimmer design as they do not need to provide a wide stable base upon which to sit the television, meaning they are great space savers in smaller rooms. TV stands with brackets only come in glass, but in varying colours, shapes and sizes, from slim and compact black glass to futuristic curved glass with a swivelling bracket for ease of viewing from a variety of angles.
Corner TV Unit
Corner TV units are particularly useful in rooms with space issues. They come in a variety of styles and finishes including both glass and wood, so matching to the existing decor should not be too much of a problem. Corner units have a wide front edge on which to stand the television, but narrow towards the rear so that they can be pushed back into a corner and so not project into the room. As with other stands, they come with two or three shelves and/or cupboards within which to store television accessories and digital extras.
TV Cabinet
Television cabinets are another popular choice. Cabinets in which TVs sit are invariably of wooden construction, with solid wood or wood-and-glass doors which are opened in order to use the television. They often have a shelf or drawer beneath the main space in which the television sits, ideal for storing a media device or other useful items. Like other wooden TV stands, the more ideal models are made of solid wood in order to support the weight of a television. Care must be taken to measure the existing television and ensure it will fit within the TV cabinet, a concern not as pressing with TV stands where the set rests on the top of the stand.
TV Stand Accessories
The purchase of accessories such as a television cleaner kit,, DVD player lens cleaner and HDMI cables for the optimal viewing experience can often be just as important as the main kit itself.
How to Buy a TV Stand on eBay
A wide variety of TV stands, both new and used, are available on eBay. Head to the homepage and then select Sound & Vision from the All Categories drop down list, then on the left hand side of the page select TV & Home Audio Accessories from the list and then filter the search through TV Stands or TV Wall Mounts & Brackets as necessary. Or simply type in a more specific search into the top search bar. Any matches will then be displayed.
Conclusion
The purchase of a television is often one of the most expensive any household will make, and so naturally much attention to detail will be employed for the purchase. The purchase of a television stand, for safety, aesthetic and space reasons can often be just as important. The purchase of a decent, sturdy and aesthetically complementary television stand cannot be overstated for overall room appearance and viewing pleasure.