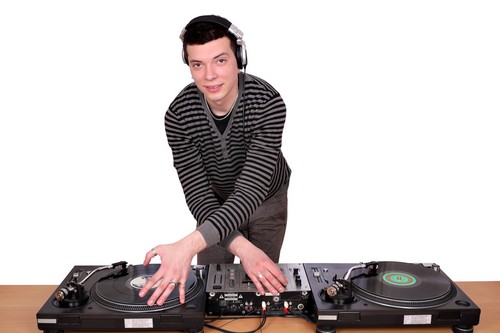 Arguably the oldest and most cherished form of audio recording available to music enthusiasts worldwide, the vinyl record has endured the advent of a number of more convenient, modern storage mediums, such as audio cassettes and CDs. Despite these competing formats, more than just die-hard enthusiasts continue to enjoy the analogue sound provided by vinyl records. In addition to being the only playback device for vinyl records, turntables have been adopted by enterprising musicians and disc jockeys who have developed their own musical style. The differences between the two styles, available features, and manufacturers can make purchasing a turntable at a retail electronics or music supply shop confusing and costly. Purchasing a turntable used, online from auction sites, such as eBay, can alleviate many of these concerns, if the savvy consumer is familiar with the styles of turntables available, as well as what to expect from purchasing a used turntable.
Playback Turntables
A turntable designed solely to play back vinyl records, also called a record player, gramophone, or phonograph, is radically different than a turntable built for disc jockeying, and requires special consideration when purchasing used. Among the most important considerations are the turn speeds available, which are important for the variety of available discs, the output format, as well as any other miscellaneous features.
Turn Speed
One of the most important features of a used turntable is its ability to play the many varieties of speeds of vinyl records available, both current and archaic. Because vinyl records produced throughout history have been different sizes, they are meant to be played back at different speeds, measured in revolutions per minute (RPMs). Turntables are designed to play back at multiple speeds, accommodating many of the formats available throughout recording history. In general, while there have been a wide range of playback speeds associated with vinyl records, there are three major playback speeds, which most playback turntables should be able to achieve, all measured in RPMs: 33 1/3, 45, and 78.
Output Formats
The primary feature of playback turntables is that they present the best quality audio from vinyl records. In any case, the turntable needs a set of speakers to convert what the needle reads into clear audio.
Many turntables come with speakers built into the base of the turntable, making it as easy as possible to lie down a vinyl record and begin listening. Other turntables have stereo cables for outputting the audio to a receiver, and then to bookshelf or standing speakers.
As part of the decline of vinyl format from popularity, and the rise of CDs and digital mediums, many turntables now allow the user to record a vinyl record to a CD, these specialty record players occasionally even allow the user to save the album to a USB drive.
Of the variety of output formats, one of the most important is an auxiliary audio output. This is the standard size of most headphone jacks and makes for an important feature to have on playback turntables, if at any point private listening is desired.
Miscellaneous Features
There are a wide variety of miscellaneous features, which have been steadily incorporated into turntables since their inception.
Among the many additional features, which come bundled on a playback turntable, alternate sources of audio are among the most common. Turntables can often be found sporting compact disc (CD) players, cassette players, and even built in MP3 players to further enhance the device's appeal and versatility. These multi-functional turntables can take the form of sleek, modernised receivers, which handling almost any form of media that can be thrown at them, or vintage-styled, self-contained playback devices meant to entertain an entire room.
Finally, there are other aspects of the turntable to be considered, such as lids and audio controllers. Many of these features are designed to fine tune the end user's experience, ensuring the smoothest operation and most appealing playback.
Disc Jockeying Turntables
A turntable designed for musicians to create, modify, or mix extant tracks can be very different from a turntable entirely meant for playback, and are usually referred to as DJ turntables. In the hands of an accomplished disc jockey, a reliable set of turntables can be the perfect tool for keeping a gathering going, or even as precise and complex an instrument as any more traditional string, brass, or woodwind instrument. With this in mind, the disc jockey's turntable should be as personalised as a musician's instrument. While the most basic functions of a turntable remain the same, including things like output methods and playback speeds, a turntable designed for a disc jockey is a considerably more modern machine. It can contain a variety of features which are unique to disc jockey turntables, such as multiple platters, control surfaces, and alternate inputs.
Multiple Platters
While multiple platters, the section of the turntable on which the disc rests and spins, are useless on a playback turntable, for a disc jockey, the ability to load up the next track ahead of time can be invaluable, allowing the disc jockey to keep the music flowing without interruption.
Control Surfaces
Usually mounted to the platter, control surfaces allow a disc jockey to have finer controls over the speed and direction of the discs' rotation, even allowing for scratching or intentionally pulling or pushing the disc faster than it was intended to spin.
Alternate Inputs
Among the most interesting features available in disc jockey turntables is the ability to use a variety of inputs. In some cases, this can result in an entirely electronic turntable, where an MP3 player is piped into the turntable or where the disc jockey performs his or her mixing. These turntables are designed less for the playback of individual records, and more for the mixing of party music.
What to Expect from a Used Turntable
There are any number of factors to consider when purchasing a used turntable, regardless if the turntable is a playback turntable or a disc jockey turntable.
There are a variety of drive systems, which control the rotation of the platter. It is important to be familiar with the different types of drive, such as belt drives, or direct drives. While many of these drives function in a similar fashion, the important part to consider is the wear that can occur in each drive system. A drive system that is completely shot does not turn, and one that is near breaking affects the performance and playback of a turntable.
Issues with these drive systems can be repaired, and parts replaced; however, being aware of the issues before a purchase is made can save a consumer considerable headache.
While the condition of the item should be clearly outlined in the item's description, because of the large number of moving parts, a used turntable should be cleaned upon acquisition. If any dirt or grime has been allowed to build up under any knobs or the platters, it can inhibit the operation of a turntable.
How to Buy a Used Turntable on eBay
Once you have decided on the type of turntable in which you are interested, you can use eBay's built-in categories to specify used turntables. Among the important additions you can make to your search, the most pertinent are any extra features you wish to see in the turntable. Features, such as a turntable which can convert the audio on a vinyl record to an MP3 file, or a turntable with a radio can be useful to add to your search. If you are interested in a playback turntable that displays a bit of class, a vintage turntable can be both functional and a conversation piece.
If you are more interested in DJ turntables, there are several unique search terms, which can clarify your results. At times, turntables may be called decks, and because of their interchangeability, many are available in pairs.
Regardless of the type of turntable in which you invest, be sure to check the item's description for any included or needed cables, power cords, or accessories, such as needles, for the turntable.
As with any eBay purchase, be sure to double-check the seller's eBay rating as well as the postage terms and conditions.
Conclusion
Turntables can be among the most rewarding pieces of audio equipment a music enthusiast owns. Whether paired with a decent set of bookshelf speakers, or allowed to playback through built in speakers; a long play record, spinning both classical and modern music in an elegant setting, makes a playback turntable one of the more attractive pieces of audio equipment for any audiophile. Likewise, any disc jockey worth his salt needs a good turntable or two, sometimes with multiple platters, or even additional inputs. Because the confusion and cost of purchasing a turntable brand new can be prohibitive, purchasing a turntable used on eBay offers the savvy consumer a variety of easier options and simplified searching. While searching for a turntable on eBay, the wise customer needs to be aware of which type of turntable is desired, a playback turntable or a disc jockey turntable, as well as the expectations a consumer has when purchasing a used turntable. Armed with these steps, and a basic understanding of what they are looking for, consumers can take a usually convoluted process, and make it both simple and easy.