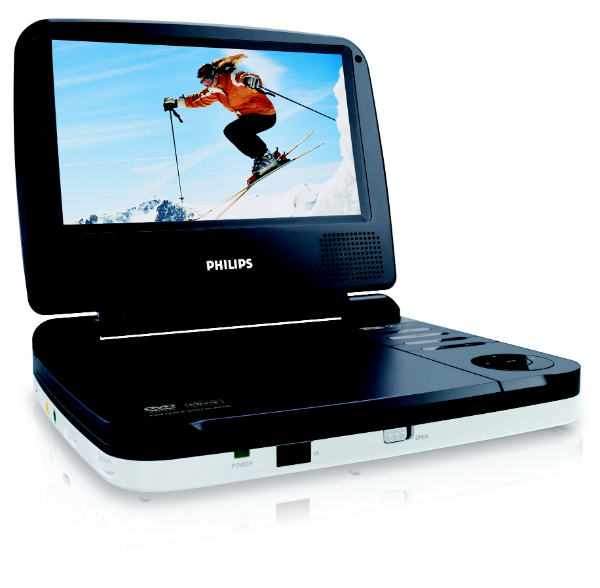 Portable DVD players have been the lifesavers of many families on long road trips with bored children in the back. But they are also great for frequent flyers who simply cannot stand to see the same in-flight movie over and over. Vacationers who want to take a little personal time out on their trip might also enjoy a portable DVD player. While laptop computers, and tablets, have largely replaced the portable DVD player in many markets, they are still highly popular because of their price.
Customers can score one for a third of the cost of a computer, through a website such as eBay.. There are many different models of portable DVD players on the market, so customers need to choose which type works best for them prior to making an investment in one. When buying a portable DVD player, select a model based on its size, connectivity, battery life, as well as overall price.
Portable DVD Player Screens
Size is the biggest factor in determining the overall price. Specifically the size of the screen, determines how much the portable player will ultimately cost. Models with an 8 inch to 10 inch screen are typically more expensive than those with a 7 inch screen.
For buyers who are going to mount their DVD player in the car, consider the size of the screen in relation to the headrest where it is going to be attached. It is more difficult to mount the larger models onto the back of a car seat, so purchasing a smaller player is the better option. Smaller players are also a viable option to take along on long flights, since everyone knows there isn't much room to move around in an airplane seat.
Screen Resolution
There are a few HD DVD players,, but these are mainly the Blu-ray players that cost considerably more than an average player. For homeowners who simply want a portable DVD player for watching movies, a standard resolution LCD screen is probably the best choice. LCD technology produces sharp colours and bright lights so that the screen can clearly be seen, even in the dark. Movies still look wonderful on LCD screens, and due to their smaller size, most viewers probably will not notice a difference in resolution.
Portable DVD Player Connectivity
connections are the key to a great portable DVD player since they control what the player can do, besides simply playing movies. Buying the right portable DVD player depends on how the customer plans to use it. If the player is only going to be purchased for watching store-bought DVDs, then selecting a model that just plays DVD format is the best option. However, if the homeowner likes to download and record their own movies onto CDs or SD cards, then he or she will need a player that can work with this format. By understanding the different connection abilities between players, potential buyers can make a smart shopping decision.
Playing Format
A big component of portable DVD player connections includes video formats. Obviously, DVD players are compatible with DVD discs, but some models are also able to read different formats. Players with the ability to work with DIVX or AVI format files, can be used for movies that were downloaded online and saved onto either a disc or SD card. Other players can even read MP3 or JPEG files, which is a good choice if the customer wants their DVD player to double as a portable presentation machine. Finally, many of the latest Blu-ray players are able to read Blu-ray discs, as well as ordinary DVDs.
Connection Ports
It is also important to choose a player, with the right connection ports, that meets the buyer's lifestyle. For example, if a buyer is going to primarily use the player in the car, then he or she needs to select one that has an adapter that works with the car battery. Furthermore, if it is mainly going to be used in the car or out in public, a headphone jack is usually preferred. Some models even come with dual headphone jacks so that two people can listen at once.
Buyers who want their portable DVD player to work with their TV at home need to select one with an AV connection. There are even models that offer surround sound capability. Choosing a player with multiple connection ports allows it to expand its role from a simple portable machine, into a necessary piece of equipment.
Battery Power
While portable DVD players come with adapters that can run off of electricity, both at home and in the car, chances are likely that the majority of the DVD player's life will be spent using its battery. Therefore, how much juice the battery has, is an important consideration when purchasing a player. A good rule of thumb is to aim for a DVD player with at least a four hour battery life. This allows viewers to watch a couple of normal-length movies, or a long extended edition of a feature film.
Newer portable players can have six hours of battery life, but customers can expect to pay slightly more for this powerful battery. Nevertheless, if the buyer plans on spending a good deal of time watching films on battery power, it is worth the extra expense for a stronger battery.
Portable DVD Player Styles
There are two main types of portable DVD players available on the market. The first is the laptop style, which looks very similar to a portable computer. It comes with a screen that folds down over the player for compact storage during travelling trips. Viewers watch these DVD players by putting them on their laps, so they are the best choice for anyone who plans to use the player while waiting at the airport, sitting on the plane, or simply relaxing beside the pool while on vacation.
Car DVD Players
Portable DVD players that are designed for the car, look remarkably different than their laptop counterparts. These car DVD players usually come with two screens that can be attached to the back of the headrest in the car, as well as an adapter cable that runs off of the car's battery. While they work wonderfully in the car, their design makes them a poor choice to take along on an airplane, or pack into a suitcase. Buyers who want to be able to watch DVD movies, both in the car and on the airplane, should select a laptop model that comes with mounting straps. By using the straps, the entire player becomes attached to the back of the headrest, allowing it to double as a car DVD player.
Buying Portable DVD Players on eBay
When it comes to purchasing a portable DVD player a buyer has several options. Buyers will typically end up paying a premium price for a DVD player without using a marketplace like eBay. Since the overall design of portable DVD players does not change much from year to year, buyers can really save money by purchasing an older model that is either new, or in gently used condition on eBay.. Using eBay is a great way to score an excellent deal on a portable DVD player that will provide years of excitement.
Considerations When Buying Used Portable DVD Players
Used players can really save the buyer a bundle of money, but there is no point in buying a player that is in poor condition. It is the buyer's responsibility to only bid on items that seem to be in good condition based on the seller's description and pictures of the item. Run a search for a 'used portable DVD player&', and look at the results. A player that is in good condition may have slight surface wear, but be wary of severe scratches, since this is a sign that the player wasn't treated very well.
Searching for Portable DVD Players on eBay
When searching for portable DVD players, there are several different strategies buyers can use. One is to search by format, so if a buyer wants a player that plays Blu-ray discs, then they need to search for 'portable Blu-ray player&'. If they want a player that works with MP3 files, then they need to search for 'portable DVD player MP3&'. Another way to search is by type, such as 'car DVD player&'. Remember that adding in search terms can help to narrow down the search parameters, while removing terms, and broadening the overall search.
Conclusion
Portable DVD players can save many buyers from boredom during long trips in a car, or on an airplane. Their price point makes them easily affordable for almost anyone, and their wide variety of features allows them to easily be adapted for other uses. Therefore, when buying a portable DVD player, the customer should consider how they plan to use the player. If it is only going to be used while travelling, then buying a laptop style DVD player without all of the extras is the probably the best decision.
However, customers who want to use their portable DVD player for playing movies at home, or displaying presentations while on a business trip, can find models that meet their needs. Examine the different selection of players available on eBay and find the right model that meets everyone's needs. By purchasing a portable DVD player that meets its owner's lifestyle, the product can be enjoyed for many years to come.