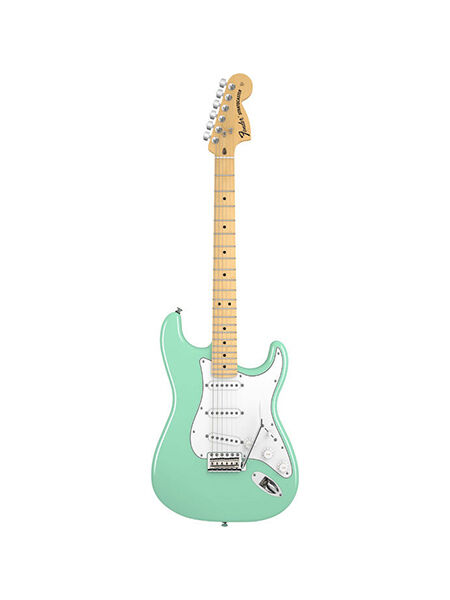 One of the best things about Fender Stratocaster guitars is their endless variety. This is perfect for musicians who like the individuality of their instrument to reflect the uniqueness of their playing style, and collectors who love to customise their instruments. The only downside of this huge range is having to choose only one instrument. The majority of this choice can only be made with personal taste, but this guide outlines some of the different technical variables that need to be taken into account when buying a Fender Stratocaster.
About Fender Stratocaster Guitars
Founded in 1938 by Leo Fender, Fender Musical Instruments Corporation has helped to revolutionise the music industry during its 75 years at the forefront of guitar creation. The two instruments that Fender are best known for are the Telecaster and the Stratocaster. Apart from the stylistic differences, the main physical differences between the Stratocaster and the Telecaster are that the Stratocaster has three single coil pickups, whereas a Telecaster has only two. Stratocasters also have a tremolo (''whammy'') bar compared to the Telecaster's fixed bridge.

The musical genres played by the Stratocaster include rock, pop, jazz, funk, blues, country, the list goes on and on. Telecasters are not as common - country music is where a lot of guitarists playing Telecasters can be found. Fender's Stratocasters became the signature instruments of music industry icons such as Bob Dylan and Eric Clapton. The Stratocaster is arguably the most popular and recognisable guitar ever made. The Stratocaster was the third instrument released by Leo Fender, the first release in 1954 saw around twenty guitars produced. Their success was almost guaranteed by Jimi Hendrix who adopted a Stratocaster and blew away the music industry with some legendary solos he recorded with his new guitar.
Choosing a Fender Stratocaster Guitar
Purchasing a guitar is almost always an enjoyable experience. Most guitar enthusiasts have their eye on the market to keep up to date with latest developments, so many players and collectors feel liberated when they are finally able to purchase what they have spent so long admiring. With so many variations on the base Stratocaster model, trying to find the right one can be a long and arduous task. The following section of this article highlights some of the positive and negative aspects of the different technical specifications available.
Stratocaster Models
As Leo Fender's third, and arguably most iconic, guitar the Stratocaster has undergone very few changes to both its form and quality of sound. Since the main form of the instrument has stayed the same a large variety of slightly differing models have been created over time. This table presents a selection of the most common models.
| | |
| --- | --- |
| Squire | The Squire model produces the classic Stratocaster sound while retaining an affordable price, but only includes one pickup. Its adaptability and potential for customisation make it a favourite amongst guitarists. |
| Standard | The Standard Stratocaster model sets the bar for all Stratocaster models in terms of sound and playability. |
| Classic | The Classic range of Stratocasters features period-specific components to give an authentic vintage sound. |
| Artist | The Artist Stratocasters are built to specific guitarist's specifications and they are very popular with collectors. Owning one of these allows a player to experience what it would be like to play as stars like Eric Clapton. |
| Fender Custom Shop | The Fender Custom Shop Stratocasters are amongst the highest quality guitars available from Fender. Each of these guitars has been handmade at the Custom Shop in California. Some of these guitars are designed and built by the Master Builders, others are commissioned. The opportunity for a player to have his instrument custom built creates an intimate and intensely personal bond that is every guitarist's dream. |
Stratocaster Material
There are many potential types of wood for making Stratocasters, each on has subtle implications on the noise and resale price of the guitar. This table shows some of the more common materials for guitar bodies, necks, and fretboards.
Poplar


Poplar produces an attractive, bright tone. Unfortunately it doesn't produce quite as an attractive finish so any bodies made from this wood tend to be painted. This has incorrectly led to it being associated with cheap, low quality instruments.



Alder


Alder is a lightweight wood and often used in Stratocasters. It is favoured for its crisp sound and its low price. It is visually quite an uninteresting wood, so it is usually finished in a selection of colours.



Ash


Ash comes in a hard or soft variety. Hard or 'Northern' Ash produces a clean, hard tone and is used for its longevity whereas soft ash was only really used in early Fender guitars.



Maple


There are four main types of maple used in guitar construction: hard rock, flame, quilted and birdseye. Guitar necks and fretboards typically use maple for its density and strength. It is easy to identify because of its typical grain patterns and clear sound. It produces a good strong tone with a bit of an edge.



Mahogany


The two main sources of mahogany are South America and Kenya. Kenyan mahogany is much rarer and heavily protected.

Mahogany is physically very similar to maple, however, Kenyan mahogany is much more expensive. It has good sustain and it carries a soft and warm tone. Due to its price, mahogany isn't used in factory produced Stratocasters, however, it is sometimes used in custom builds; with the correct finish, it can make a very attractive guitar body



Rosewood


Rosewood is one of the densest and heaviest woods used in guitar construction. Due to its fairly high price, Rosewood is usually only used in fretboard construction, but it has been known to be used in guitar bodies. It also has a very attractive rose-tinted colour and produces an uncommonly warm sound.



Ebony


Ebony is largely used in fingerboards. It is a very dark material and it is quite heavy, but has a very bright sound with good sustain. It is also very tough and lasts longer than materials like rosewood.


Stratocaster Budget
New Fender Stratocasters are very expensive guitars, so buying a used instrument can result in making a large saving. This allows players, who wouldn't necessarily have access to the funds needed to buy a new model, to sample the quality of sound produced by a Fender guitar.
A used Stratocaster should cost no more than a couple of hundred pounds, a mid-range Stratocaster typically costs between three hundred and a thousand pounds. The rare Custom Shop or artist-specific models can reach a couple of thousand pounds in cost. When spending such a large amount of money, it is always important for the buyer to satisfy themselves that the item they are buying matches the seller's description; one way of doing this is to test the instrument before purchasing. For collectors hunting for bargains, a good indication of a genuine product is the inclusion of the official Fender manual. Clearly this isn't a guarantee of a genuine product, but it can be a positive sign.
Aftermarket components installed on the guitar provide another consideration to be taken into account when searching for a potential purchase. The combination of these additions can often create unpredictable and guitar-specific results. If the buyer is confident in their ability to swap components on and off their guitar, then it can be a very rewarding experience, too.
Find Fender Stratocaster Electric Guitars on eBay
To browse the current listings of Fender Stratocaster guitars, start at the eBay homepage. Firstly, navigate to the All Categories button, from there click the Musical Instruments link followed by the Guitars option. Then use the options listed at the side of the page to highlight Electric and then Fender. If a specific model of Stratocaster is being searched for, then it is simple to use the search bar present at the top of every eBay webpage. In order to find all the auction lots for Artist Stratocasters, simply type in 'Fender Stratocaster Artist new' and press the Search button.
Conclusion
Buying a Stratocaster is a big step for a musician or a collector. Every musician's attitude to purchasing a used instrument will be different - some artists and collectors will have a very clear idea of what they are looking for, whereas others will be less sure. To ensure the right guitar is chosen each of these approaches should be respected. Despite all of this information and range of choice it is important to relax and enjoy the process of choosing a new instrument. Whether a Stratocaster has been bought to be played or admired everyday, once the instrument has arrived all of the effort and thought that has gone into the purchase will be fully realised.
Fender Telecasters are some of the most expensive guitars available to buy new, so buying a second hand instrument can result in making a significant saving. A used beginner's Telecaster should cost in the region of one or two hundred pounds, an intermediate Telecaster can cost from three hundred pounds to almost a thousand, and the rarer Custom Shop models can easily fetch a couple of thousand. When parting with that amount of money, it is a good idea to ask the seller several questions or even arrange to test the instrument before purchasing. Aftermarket additions can also affect the price and performance of a guitar, another consideration to be made when buying a guitar.
Conclusion
Buying a Telecaster is a big undertaking, both financially and artistically. Every musician's path to buying a new instrument will be different: some artists know exactly what they want, others are less sure. It is important to research the different options that are available so that an informed choice is made. However, it is also equally important to enjoy the process of selecting a new instrument. If due consideration is taken, then the right guitar is a privilege to use. Fender Telecasters are instruments of the highest quality that have been used by some of the most gifted musicians.