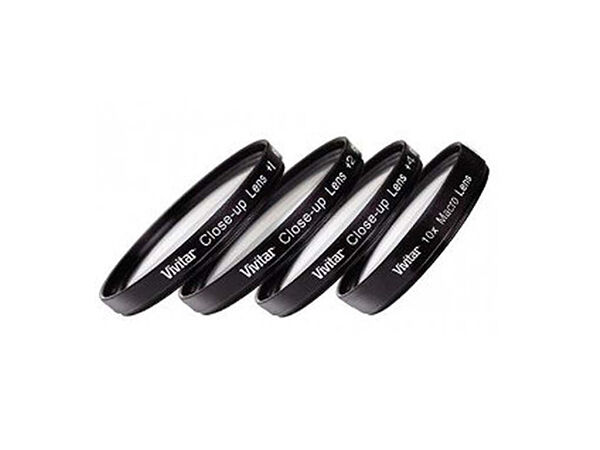 Close-up lenses allow a photographer to take a full-size enlarged image of any subject. They work in the same way as a magnifying glass, focussing the picture and delivering a well-proportioned image. Working with a photographers existing equipment, close-up lenses screw onto a camera and act as a fine tuner for more detailed shots. Close-ups lenses are available in a number of sizes and specifications, meaning every photographer can be sure of obtaining a lens to produce the kind of results they desire. Investigate the various brands available and then look at sellers and individual items before making a final choice.
About Close-up Lenses
Close-up lenses are a secondary device that is added to a conventional camera, enabling it to produce closer and clearer photographs. Their power of magnification is measured in dioptres, a term invented by the French optometrist, Ferdinand Monoyer in the late 1800s; it is sometimes abbreviated to Dpt.
Close-up photography has many applications; some photographers choose to enlarge one aspect of the subject, while the remainder of the shot has a slightly softer unfocussed feel. Objects that have intricate colour or texture, but are generally overlooked in everyday life, can be revealed in fascinating detail when rendered on a grand scale.
Close-up lenses require careful use of lighting and depth of field. Lighting is an issue because the closer a photographer gets to the subject, the more likely they are to cast a shadow. Moreover, the more intricate details of small subjects are likely to be hidden, unless they have sufficient illumination.
Depth of field refers to the elements of an image that are in focus, close-up photographs can be perfectly acceptable with peripheral softness. However, obtaining a fully focussed shot at such close range maybe more complicated. One common method employed is to take a shot with just the required element in focus, then crop the image to the required size.
Choosing a Close-Up Lens
Finding the best close-up lens will depend on the personal preferences of each photographer, and the results they hope to achieve. However, in order to narrow a search, there are a number of factors that can be taken into consideration. These are what the subject matter will be, the depth of magnification expected, and the anticipated cost.
Types of Close-Up Lens
There are two main types of close-up lens: the single element close-up lens and the double element close-up lens. The factors that separate them are performance and cost. Here is a table to show the two types of close-up lens.
| | |
| --- | --- |
| Single Element Close-Up Lens | Single element close-up lenses are the cheapest option for consumers. They may come as a set, each having a different magnification. However, the single element design means they can struggle to achieve page-wide clarity and sharpness. Nevertheless, the single element lens is an adequate product for casual use; it is good for beginners and those working to a tight budget. |
| Double Element Close-Up Lens | A double element close-up lens has two layers of lens that complement each other. The second lens optimises the image produced by the first. So, if an entire composition needs sharpness and depth, the double element close-up lens is the best option. They are more expensive and harder to obtain, but will provide consistently high-quality images. |
Using a Close-Up Lens
When using a close-up lens, begin by selecting a topic; there are many inspirational subjects in familiar surroundings, so photographers should choose something that appeals to their own interest and is accessible. Next, make sure the composition is suitable, either arrange the subjects or manoeuvre the camera to an advantageous angle.
Then, gain a view point which enhances the best aspects of the subject, practice zooming in or out of focus until the shot comes together in a satisfactory way. Remember, images with superfluous elements can always be cropped later. Finally, take the shot using a well-supported camera. Tripods are ideal for close-up photography because they hold the equipment steady and minimise any micro movements that would otherwise affect such a detailed shot. Working with Digital cameras means photographers can afford to take multiple shots, making minor adjustments to framing and perspective. They can then choose the best shots to share with others online or display in a frame.
The Difference between Macro Photography and Close-Up Photography
Macro and close-up photography are related; however, the results and equipment costs are quite different. A close-up photograph is a fully framed shot of a small subject; details will be highlighted with greater clarity than the naked eye would expect. However, a macro shot brings the same concept to microscopic subjects, like insects, revealing the tiny hairs, compound eyes, and menacing mandibles.
Popular Subjects of Close-Up Lens Photography
Almost any mundane object will give an entirely different impression to a viewer when observed through the medium of a close-up lens. However, there are some subjects which are favoured by close up photographers above others. Here is a table showing three topics which are often photographed using a close-up lens.
| | |
| --- | --- |
| Flora | Close-up images of flowers and plants reveal a world of design and colour, which is otherwise lost on the naked eye. Weather conditions may dictate that the subject has to be photographed indoors as the slightest wind can cause unwanted movement and blurring. |
| Faces | Portraiture is a popular and diverse branch of close-up photography. Most facial shots tend to focus on a person's eyes, and any imperfections in skin tone can of course be corrected using an appropriate software package. |
| Insects | Busy insects can take on an entirely new appearance when viewed close-up. Their tiny bodies reveal previously unknown patterns and features. The interplay between insects can also provide fascinating and unexpected images. |
Stacking Close-Up Lenses
It is possible to stack close-up lenses to achieve an otherwise awkward shot. Just start by mounting the close-up lens with the highest dioptre, followed by the lower one. The dioptre is then estimated as the combined sums of the two lenses. Stacking more than two lenses is not recommended as the image becomes less defined.
Caring for a Close-Up Lens
The nature of close-up lens photography means that the smallest of lens imperfections can impact on an image. However, with the right care and maintenance, there are ways to avoid this.
Firstly, when mounting a close-up lens, be sure to switch off the camera; static electricity attracts dust, which can cling to vulnerable areas of glass. After use, store the close-up lens in an airtight container with its cap on.
If the camera and close-up lens have been used outside, remove any debris from the case before reusing. Movement, combined with tiny particles, may mean the lens receives perceptible scratches to its surface. Cleaning should be done as infrequently as possible, so the protective coating on each close-up lens is preserved. If finger prints are observed or if dust build-up is a problem, use nothing harsher than a soft bristled brush, air blower, or a slightly damp micro-cloth for cleaning purposes.
Buying a Close-Up Lens on eBay
In order to find the right close-up lens on eBay, begin by heading to the homepage. Start the search by selecting the All Categories link and then choose Cameras & Photography. Next, click on the tab marked Lenses & Filters followed by Lenses in the shaded Categories section to the left hand side. Next, choose Macro/Close Up from Types in the shaded area. Browse through the listings or narrow the results by using the options that are available. To find a more specific item, type a more detailed description into the search field. For example, in order to find an unused close-up lens for a Canon camera, type 'new Canon close-up lens' into the query box.
Conclusion
A close-up lens is a valuable addition to the kit of any photographer, whether they are an enthusiastic amateur or a professional. Close-up lenses are available in a number of sizes and strengths to match the needs and budget of each customer. To be sure of buying a good close-up lens that will provide the most use, spend time researching the various brands available and then focus on individual sellers and the items they have on offer to be confident in a final choice. A close-up lens that is well maintained and used correctly will provide a photographer with years of quality shots and enjoyable use.