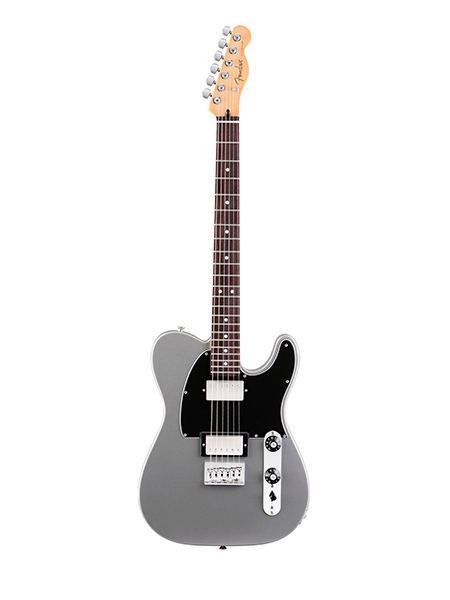 There are a huge number of electric guitars on the market, and picking one to buy is a very personal choice. They vary in so many ways, and it is important for any guitar player to find one that has both the right style and sound for the type of music that they are going to be playing. As big money can be paid for vintage guitars and popular guitars from the big brands, price is not always the best indicator of quality. Carefully researching both the brands and specific models of guitars available within a suitable price range is the best way of finding an affordable guitar that produces the right sound and will last for many years to come.
About Electric Guitars
The electric guitar was invented in 1931 and in the early days was used to help jazz musicians amplify their sound, before becoming increasingly important in the world of pop music during the 1950s and 1960s.
These days, electric guitars are a popular choice over acoustic guitars as they make it easy to choose from a variety of sounds with the help of an effect peddle and amp, of which there are many on the market. For learners they are good as unplugging the guitar from the amp will allow them to be played very quietly, giving the opportunity to do a lot of practice without bothering anybody else.
Choosing an Electric Guitar
Picking an electric guitar will always be a personal choice, however there are several things that need to be considered before making a purchase. These include brand, style, tonewood, and price.
Electric Guitar Brands
There are many famous brands of electric guitar, and even people who have never played before will often have a favourite as they each have their own unique style.
| | |
| --- | --- |
| Fender | Fender are an extremely popular electric guitar manufacturer. Two of the best known models are the Stratocaster and Telecaster. The Stratocaster was introduced in 1954 and has been continuously manufactured since this time. It is popular with people playing all kinds of music ranging from country, the original intended genre, through to jazz and heavy metal. The telecaster has, in one form or other, been manufactured constantly since its debut in 1950 and is particularly popular with those playing country and rock music. |
| Gibson | Gibson were founded in 1902 and were originally a maker of mandolins. Their most famous model is the Gibson Les Paul, which debuted in 1952. Along with the Fender Stratocaster and Telecaster, it is one of the most well recognised and copied guitars in the world. Gibson are, however, one of the more expensive brands of electric guitars. |
| Ibanez | Ibanez were founded in 1957 and, being a Japanese company, were at the time well known for their unusual designs. Ibanez guitars are often the first choice for people playing metal music. |
| Epiphone | Ephiphone were founded in 1873 and were originally Gibson's main rival, however the company have since been absorbed by Gibson. The guitars made by Epiphone are now generally cheaper to buy than their older models were, with the company also selling licenced versions of Gibson guitars such as the Les Paul, for less than half the price. |
| Paul Reed Smith (PRS) | Paul Reed Smith founded this guitar company in 1985. PRS guitars were initially at the higher end of the market, however having shifted production into Asia in the 1990s they now make a more affordable line of instruments branded SE. |
Electric Guitar Body Styles
Many people opt for a guitar in a similar style to that used by their favourite musician. The four most common shapes are based around the Fender Stratocaster and Telecaster, and the Gibson Les Paul and SG guitars, however, with all of these styles, very similar looking alternatives are available from other manufacturers.
Electric guitars typically have solid bodies, with hollowed places only carved to create space for electronics and pickups.
| | |
| --- | --- |
| Stratocaster | Originally made by Fender, the Stratocaster is one of the most famous and most copied guitars in the world. With such a large number of copies, some are of low quality, whilst others sound as good as, or even better than the Fenders themselves. Fender even make different versions at different price points. These guitars are good for playing many different types of music and can be distinguished by their cutaway horns which give access to the higher frets. |
| Telecaster | The Telecaster is another Fender design that has been imitated all over the world. It has a slightly simpler design than the Stratocaster with just a single cutaway and no tremolo bar. These guitars have historically been associated with country music but have more recently been popular with indie musicians. |
| Les Paul | The Gibson Les Paul has a distinctive cutaway shape, offering thick sound and plenty of sustain. The Gibson versions are often quite pricey for beginners, however the Epiphone version, along with imitations by other companies make more affordable alternatives. This type of guitar is popular with bluesy heavy rock guitarists. |
| SG | The double humbucker pickups and independent tone and volume controls are what make the SG distinctive. Gibson came up with the design, however as with anything popular it is now possible to find cheaper alternatives with a similar look. The SG is particularly popular with rock and indie guitarists at present, however it has a high level of versatility making it suitable for other types of music such as blues and metal. |
Electric Guitar Tonewoods
Electric guitars can be made using one of a number of woods, commonly referred to as tonewoods. Each will give the guitar a different tone, however, one guitar made from a particular kind of wood can still sound very different to another made from the same wood.
| | |
| --- | --- |
| Alder | Alder is a light to medium weight wood offering a clear, full-bodied sound with strong mids and lows. The highs can sizzle slightly but are not usually too harsh, and it offers a good amount of sustain. This wood was used prominently in the late 1950s and early 1960s by Fender. |
| Ash | Swamp ash will be both light and resonant, producing a balanced tone with firm lows, good highs and decent mid range sounds. This type of ash was well used by Fender in the 1950s. Ash from the upper parts of trees is usually denser and heavier than swamp ash, producing a brighter and harder sound which is useful for cutting and distorted tones. |
| Basswood | Basswood is easy to come by, making guitars made from this material affordable on low and mid-priced guitars. This does not mean that it does not produce good sounds, offering a very muscular midrange, whilst at the same time managing to give a softness to the sound. |
| Korina | Korina is a light hardwood and produces a warm, resonant and balanced sound with clarity, definition and sustain. It is best known for its use in Gibson's Modernistic Series in the late 1950s, such as the Flying V and explorer. |
| Mahogany | Mahogany is a medium-to-heavy wood, so guitars made from mahogany can vary in weight. Its tone can be characterised as warm and somewhat soft, but overall well balanced with a good depth to the sound, however, the lows are not particularly tight and the highs are a little unpronounced. |
| Maple | Maple is a hard and heavy wood, so is often partnered with a lighter wood for a multi-wood body. It is commonly blended with mahogany, which leads to a rich, warm and resonant sound giving smooth lows with good sustain with a bit of extra clarity and definition compared to maple on its own. |
| Poplar | Poplar is often used in affordable, Asian-made guitars. Whilst the sound is quite well balanced, this tonewood does not really enhance any particular frequency range or overtones. |
Price
The price of guitars varies greatly, so rather than focus too much on price, the easiest thing to do is come up with a list of desired features, such as style, tonewoods and make, and then choose a guitar that fits as many of these desirable qualities as possible whilst remaining affordable.
Conclusion
An electric guitar is a very personal choice, with a very wide variety of styles, brands and wood types to pick from. Each will suit different people and the type of music that they wish to play, so it is important to think about individual requirements as well as what looks good. Researching sellers and specific makes and models of electric guitars will help to find the best guitars at the lowest prices. Picking the right one now can mean it will continue to make great sounds for many years.
This is a bit more advanced than the E233 and, at less than 5 kilograms in weight, is one of the most easily transportable models on the market. Comes complete with Y.E.S.
EZ200
The EZ200 is the only Yamaha electronic keyboard to offer guide lights for easier playing, making it the ideal choice for beginners and youngsters. The 61 keys are touch sensitive.
PSRE423
Although inexpensive, this model has features more frequently found on more costly counterparts such as USB connectivity. It gives a very smooth, traditional, and genuine sound.
NP-V60
This model is the junior version of the NP-V80, and both claim to simulate the sounds of a grand piano rather than a standard electronic keyboard. Boasts superior sound quality.
P-35
With 88 keys, this is an electronic piano rather than an electronic keyboard as such. The display is minimal and easy to use, and it comes complete with a sustain pedal.
Conclusion
Used Yamaha electronic keyboards can be a worthwhile investment when purchased in a good and usable condition. Opening up the search to include used instruments provides a greater variety of choice and also provides opportunities for big discounts. Yamaha are a well-respected brand and are a world leader in the digital keyboard and piano industry, so their models are typically very long lasting, meaning they are items that do very well when passed down from one owner to another. Used Yamaha electronic keyboards can be purchased through eBay, which is a fantastic place to find a wide variety of products.